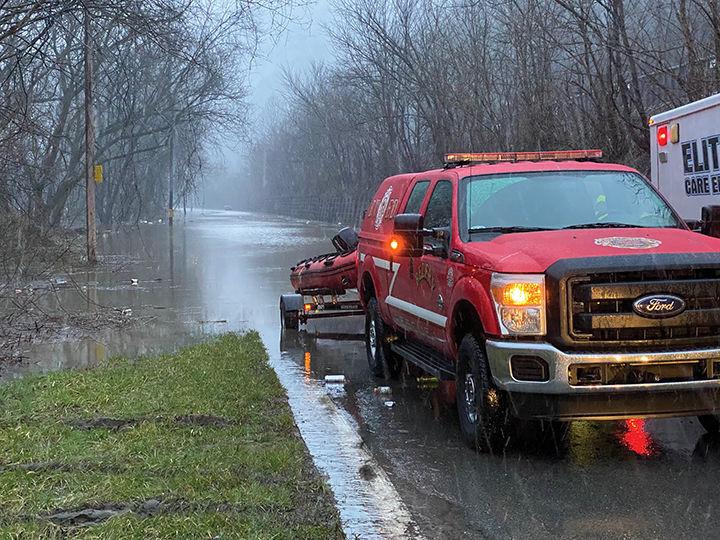 Although for the second week in a row the region only incurred minor water issues following consecutive heavy rain events, the resulting saturated ground did bring about a number of other headaches on both sides of the Tug River.
One major problem area with this week's rain occurred in the Fairview Addition of Williamson around 10 p.m. Wednesday when a large rockslide covered both lanes of old U.S. 52 and knocked out power and water service to local homes and businesses. First responders said local businessman Shawn Williamson escaped injury after slamming into the massive slide just seconds after it occurred.
According to West Virignia State Division of Highways District 2 Engineer Scott Epling, an emergency contract was immediately let to contractor Jason Hannah to bring in workers and heavy equipment to begin the cleanup. Due to the volume of material associated with the slide, however, Epling said it could be as many as two days before the cleanup is completed and the road reopened.
Mingo County Emergency Management Director Doug Goolsby said the one redeeming factor of Wednesday evening's slide was the location where it occurred.
"Fortunately people living in Fairview have an alternate way of getting to and from their homes by accessing U.S. 119, and people going to and from the college can get there by crossing the tracks at the community center and using Parkway Drive," he said.
Goolsby said there were additional slides reported throughout the county overnight Wednesday into Thursday, with one of the most notable having occurred on the right fork of Laurel Creek near Lenore.
The area's first massive slide occurred Monday evening in South Williamson on Ky. 292 near the Tug Valley ARH Regional Medical Center, which also blocked both lanes of the roadway. Kentucky DOH workers began clearing that slide early Tuesday and the road was reopened to traffic later that evening.
Traffic to and from the hospital and Turkey Creek had to be rerouted both ways to the U.S. 119/Ky. 292 exit/onramp near Slater's Branch until the slide could be cleared and the road reopened.
While the usual low-lying areas and roads along the Tug River in Mingo County experienced varying degrees of flooding during the first heavy rain event last week, officials say it could have been much worse even for the majority of towns and communities situated at higher elevations along the Tug River.
Officials said these much worse results were avoided in spite of the fact that the three towns most affected by a flooding Tug River — Matewan, Williamson and Kermit— saw water levels rise well above initially predicted flood stages.
According to the National Weather Service in Charleston, heavier rainfall totals Thursday and overnight into Friday near the Tug River's headwaters in McDowell County caused significant flooding in places like Welch.
The heavier rainfall there, in turn, caused a relatively rapid rise in the river at downstream locations like Matewan, Williamson, Kermit and communities farther north.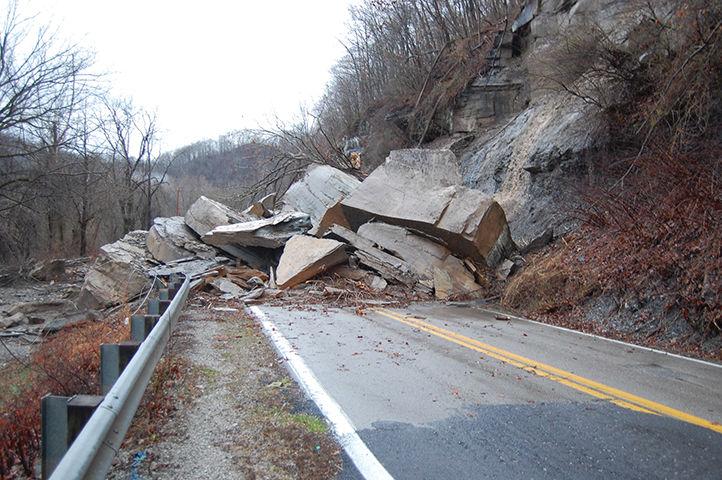 "Generally, most of McDowell suffered a lot of flash-flooding which spilled  into the Tug River and affected communities with minor flooding downstream," said Meteorologist Ross Giarrantana.
"Fortunately the rain finally came to an end in the heavier hit locations south of Williamson and Mingo County, and these locations were spared of any major flooding."
Giarrantana said rainfall amounts in McDowell County averaged a little more than four inches, compared to Mingo County's average of a little less than three inches that fell during the same period.
While the floodgate on low-lying 3rd Ave. near the Williamson Water Plant had to be closed last Thursday evening and U.S. 52 at Maher and old U.S. 52 at  Fairview necessitating closure to traffic on Friday, Goolsby said no homes were affected by flooding in those areas.
"We also had some water issues Gilbert Creek and Beech Creek, as well as at Wharncliffe, but no houses were involved in those locations either," Goolsby said. "Last week, especially, could have been a lot worse than it was, but luckily we got through it fairly well."
Chattaroy Volunteer Fire Department Chief Joe Rumore said Doolittle St. at Chattaroy was blocked by water for a time as well.
He said two motorists attempting to drive through water at Maher became stranded and required rescue from the Belfry Volunteer Fire Department's swift water rescue team on Friday.
"The first to become stuck was a woman on her way home from work heading toward Williamson and the other was a man from Van Lear (Kentucky) on his way to work in Williamson," Rumore said. "I called Belfry and their team came and got them safely out. These two were perfect examples of why people should never attempt to drive through water."
Once U.S. 52 was closed at Maher, Rumore said, Lenore VFD diverted traffic at Naugatuck through Lenore on Rt. 65 until the water receded and U.S. 52 at Maher could be reopened.