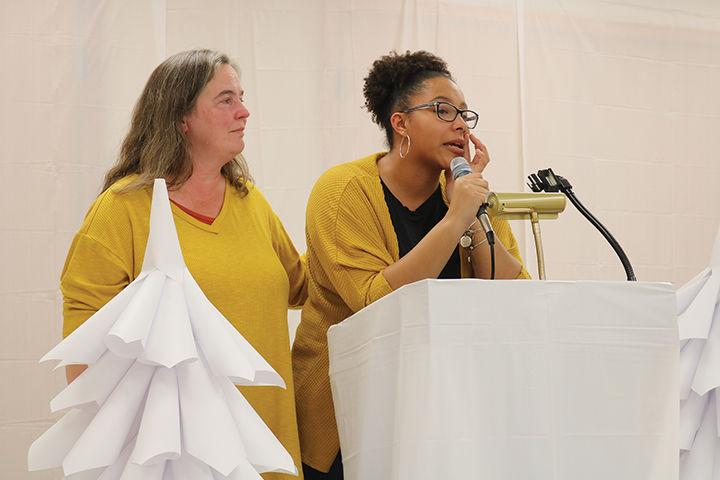 The Mingo County Partners in Prevention, along with the Williamson Health and Wellness Center, hosted a dinner Monday night to honor families that have adopted children into their homes and to encourage other families who are considering adoption.
The event was part of local efforts to celebrate National Adoption Awareness Month. According to Amy Hannah, director of the Mingo County Family Resource Network, the awareness event began in Massachusetts in 1976 as week-long observation. President Ronald Regan elevated it to the national level in 1984. It was expanded to include the entire month of November under the administration of President Bill Clinton.
The White Out Adoption Celebration program included a dinner and several guest speakers. Attendees were asked to wear white and all the decorations were white and silver.
Williamson Health and Wellness Center CFO David Jewell was the first speaker and told the audience of adoptive families the journey he and his wife found themselves taking when it was determined they would not be able to biologically conceive a child.
While the Jewells were able to move through the process fairly quickly, approximately about eight months, it was fraught with challenges.
"We were living in Kentucky at the time and met with an adoption agency in Owensboro in January of 2008 to discuss what we needed to do and to get information," Jewell said. "We were told the process usually takes around two years. The first thing we had to do was a home inspection. We had to have the house ready for a baby at that time. We were childproofing the house and putting locks on the cabinets and everything else even though we were told it would be about two years before we could expect a child."
The home inspection was conducted in February. At that point, the Jewell's were told to make a portfolio to sell themselves to expecting mothers with things about their families, traditions and what they could offer a child.
"We finished that and sent it to the agency on Memorial Day weekend," Jewell said. "Three days later, we got a call from the adoption agency. They told me, 'We have a unique situation, but we don't want you to get your hopes up.'"
It turned out a case worker who had recently joined the staff from New York still had some clients she was working with and one of the mothers had liked the portfolio the Jewells had created and had chosen them to adopt her unborn son. The due date was July 22.
"We were scheduled to have a conference call with the mother on July 7 at 6 p.m.," Jewell said. "At seven, there wasn't a call. At eight, there was no call. At ten, we started expecting the worst and that the mother had changed her mind. At 11, we got a call to pack our bags and head to New York. The mother had gone into labor."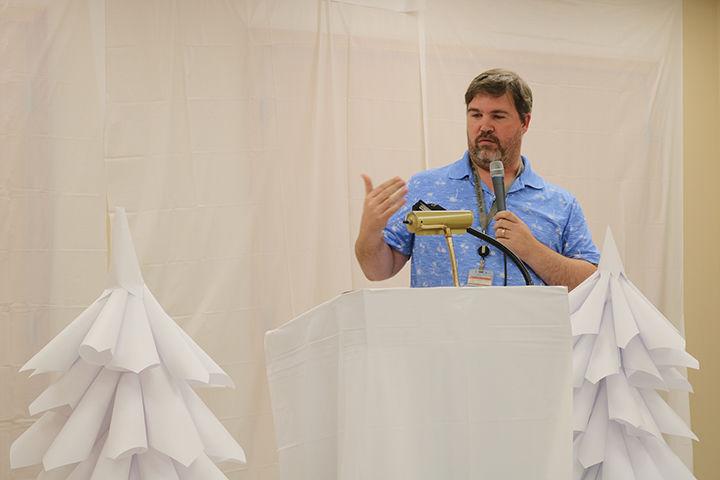 The couple got everything together and started to Niagara Falls the first thing the next morning.
"About the time we got to Charleston, they texted me a picture of my son," Jewell said. "He was my son right then there at South Ridge."
Over the next few days, various issues arose one after another that lasted for about four weeks. Among those were adoption residency problems because the couple had been approved to adopt a child in Kentucky and from New York. This forced Jewell, his wife and new son to live with his mother in West Virginia until the situation could be resolved.
"I could take my son to Alaska or West Virginia or anywhere else, but I couldn't bring him to our home in Kentucky," Jewell said. "Finally, after a month, we were able to go home."
Fast forward 11 years and Jewell says, "As troublesome as it was, I wouldn't take anything for the opportunity to have Dereck. One minute, I want to choke him. The next, I want to hug him and never let him go."
Jewell said his son knows that he is adopted and that he has a biological mother and three siblings somewhere in the country.
"He is wonderful. He is happy, but he does have questions like any other adopted child," Jewell said. "We tell him his birth mom made a really hard decision out of love. She decided to give him to someone with the ability to take care of him when she couldn't."
Jewell said he believes the adoption process could be improved in many ways and is a strong advocate for changes in adoption laws.
Jewell was followed by 19-year-old Lexie Elswick who was adopted when she was 13.
"My story is kind of crazy," she said. "I was born in Florida and adopted in Boone County, W.Va."
She and her younger sister had been moved from place to place in the foster system until they were eventually adopted and given a permanent home.
"When we were placed with my mom and dad, the house they were living in had burned and they were in the process of rebuilding. So for a while, we spent the week with what became our new sister and the weekends with my mom and dad," Elswick said. "We were embraced with love and when we got out of the car, there was a banner with 'Welcome to the family' written on it.
"I had an attitude, but I was trying to be strong for my younger sister," she continued. "I had a wall up like most other foster kids do because you never know when your last day in a home might be. But, it was instant love."
As she tried to continue talking about her experience, Elswick was overtaken with emotions and could not speak. She was joined by Hannah and her mother who hugged her tightly and held her and stood with her as she finished talking about her new life.
Hannah read the dictionary definition of adoption.
"While that is simple and accurate, adoption is more than a legal matter," Hannah said. "Adoption is about people who open their hearts and homes to children in need."