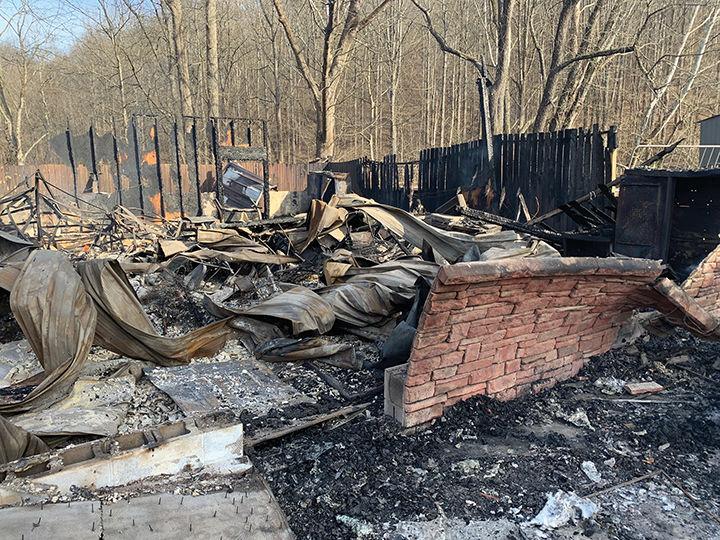 Fire investigators are still trying to determine the cause of an early Wednesday morning fire that destroyed a Blackberry City home.
Fire officials said a fire broke out in the two-story home of Curry (Jr.) and Kathleen Anderson at around 1 a.m. and was fully involved by the time firefighters from the Matewan Volunteer Fire Department, as well as those from the Blackberry (Kentucky) VFD that provided mutual aid, arrived on the scene shortly after being called out.
"His wife was out of town, but he was home when the fire broke out," MVFD Chief Bryan Casto said. "He had gotten home from work and fixed himself something to eat and then a little later fell asleep in his recliner.
"He said the smoke alarm woke him up and he was able to get out of the house in time. That's just a really good example of how important smoke alarms are."
Casto, who also is a West Virginia assistant state fire marshal III, said because determining an exact source and/or cause for the fire will be difficult due to the destruction of the structure, the State Fire Marshal's office is assisting in the investigation.
"Although we will continue the investigation, there's not anything suspicious about the fire," he said. "We just want to try to determine the cause if we can."
The MVFD utilized eight firefighters and three trucks, while the BVFD assisted with six firefighters and two trucks.
Despite temperatures hovering around 17 degrees causing water to freeze on the surrounding ground and pavement which created hazardous conditions for firefighters, Casto said there were no injuries.