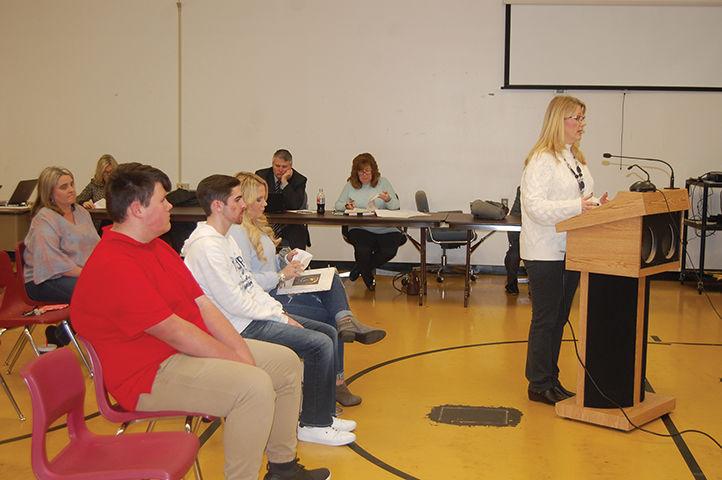 The business class students at Mingo Central High School are now getting a real feel for the business world via a Virtual Enterprise program that began at the school at the start of the current school year.
The details of the innovative program, which was initiated by Associate Superintendent of WV Schools Kathy D'Antoni and part the state's CTE (Career Technical Education) Simulated Workplace Program, were presented during last week's Mingo County Board of Education meeting by business class teacher Teresa Cline and three of her students.
Cline said seven West Virginia high schools, which included MCHS, were selected for the pilot program. She said the VE pilot program was specifically implemented to determine whether it can be as successful for business students as it has been for students in other Simulated Workplace models at MCHS and other schools.
"What our students do is participate in a classroom setting in a virtual business, which means they have to start a business from the ground up," she explained. "They have to think of a service or product that they're going to offer, and they have to come up with a name of the business and a logo."
Cline said the VE program has been implemented in several states throughout the country as well as schools in other countries.
"This is a huge undertaking that has an excellent curriculum...students are divided into different compartments just as if they were in a major corporation and employment setting," she said.
Cline said the MCHS virtual business model, which is named "Fire and Ice Footwear," has already won honorable mention in the national competition for its sales pitch, which she noted was a major achievement for a school in a pilot program.
She explained that a Business Youth Summit is being held in New York City later this year on April 20-24, and, should MCHS's students make the trip, they will have the chance to compete in the sales pitch as well as a trade show competitions.
Dylan Blackburn is the chief financial officer of the simulated business. Blackburn said the experience that he has gained in his virtual position has inspired him to pursue a career in the business world after he completes his education.
"This position has actually encouraged me to be a chief financial officer," he said. "I've learned how to use Quickbooks, accounts payable and accounts receivable...I have an account manager and a payroll manager.
"My payroll manager actually pays our employees every two weeks, who in turn buy things from other companies."
James Cline, who is the company's chief operating officer, said his duties include keeping employees happy in their jobs.
"Happy employees will work efficiently," he said. "The most challenging are the policies, which I think the most important is the attendance policy because the employees have to be there to do their tasks, and I enforce that rule."
Summer Runyon is the company's marketing manager. Among other duties her department was tasked to do was to come up with a name for the business as well as a company logo.
"We've done a lot in marketing," she said. "Our target market is huge and I really didn't realize how much goes into it. We've done our demographics, behavioral and social-economic status, our product description which includes our sizes, colors and retail costs. We've done a lot of research and have worked really hard."
Runyon said the business has additionally carried out an email campaign with other businesses in the state, and has "sold" its product at MCHS as well to other schools and people in other countries.
The virtual shoes are listed in a catalog and, among other selling points, can be adjusted for temperature control, be purchased in low-cut or high-cut styles, and can even be customer designed, Runyon said.