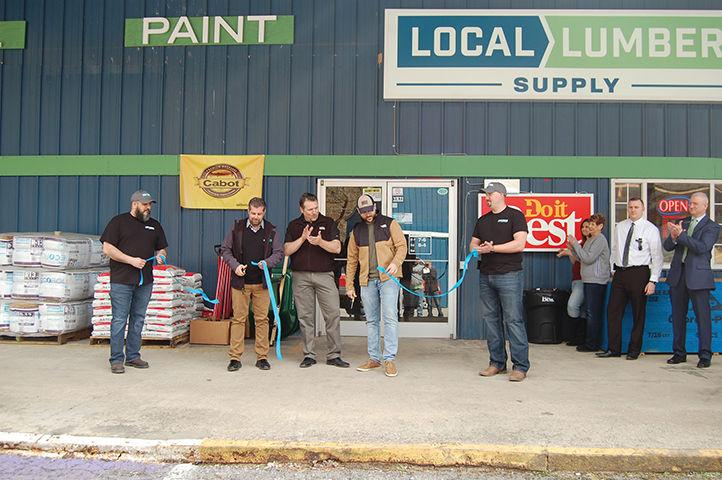 When longtime regional chain store 84 Lumber at Chattaroy closed its doors in December, 2018, one of the consequences of the closure was that it eliminated several good-paying and much needed jobs.
Another consequence of the closure was that it also meant local building contractors as well as countless home project do-it-yourselfers, who had frequented 84 Lumber on a regular basis throughout the years, suddenly found themselves having to travel long distances to Logan or Pikeville, Kentucky, for all their building and remodeling supplies.
These consequences not only distressed and inconvenienced 84's employees and loyal patrons, but they additionally were a cause of concern for Dr. Dino Beckett and Jody Gooslin, the latter being a building contractor himself.
This was the reason the two made the decision last year to  reopen another building supply store in that location. Unofficially Local Lumber & Supply opened for business on Dec. 22, but officially it opened last Thursday when a ribbon-cutting ceremony was held and attended by approximately 30 people.
"Since I'm a contractor I knew first-hand the hardship 84's closure created for a lot of people, but the most important hardship it created was the loss of jobs," Gooslin said. "Dr. Beckett and I thought the best solution for both was to open another building supply store in this same location."
Beckett said the new enterprise also represents another step towards economy diversification through entrepreneurship.
"As Jody said, the biggest thing was the substantial job loss along with the inconvenience of people having to travel long distances just to get the things they used to be able to get right here," Beckett said. "But we also see the future for our area as being bright for business growth in general and this store is just another piece of the puzzle toward us reaching that end."
Along with hardware, flooring, lumber, paint and tools, Gooslin said, Local Lumber & Supply also has an ample inventory of mobile home supplies such as windows and doors, water heaters, tubs and other plumbing and electrical supplies.
"We really wanted to place an emphasis on mobile home supplies because other than Dil's in Pikeville, there are not too many other options for mobile home owners in this immediate area" he said. "That's always created an inconvenience for them and we wanted to make sure we addressed that as well."
Business hours for Local Lumber & Supply are 7 a.m. to 6 p.m., Monday through Friday, and 8 a.m. to 4 p.m. on Saturday. The phone number is, (304) 236-3565.