An appropriate ending was given June 14 for roughly 40 American flags that for various amounts of time had flapped in the breezes atop the masts of local schools, government houses and even private homes but ultimately required official retirement.
Matthew Gilliam, who is scout master for local Boy Scout Troop 321 whose members along with those of the Williamson Fire Department were charged with the retirement of the banners by ceremoniously burning them, said the fact that it was Flag Day made the occasion even more fitting.
"What better day could you possibly choose other than Flag Day to retire American flags that have served their time?" Gilliam said. "And because you need an appropriate place to hold the ceremony, what better place than here at the Williamson Fire Department?"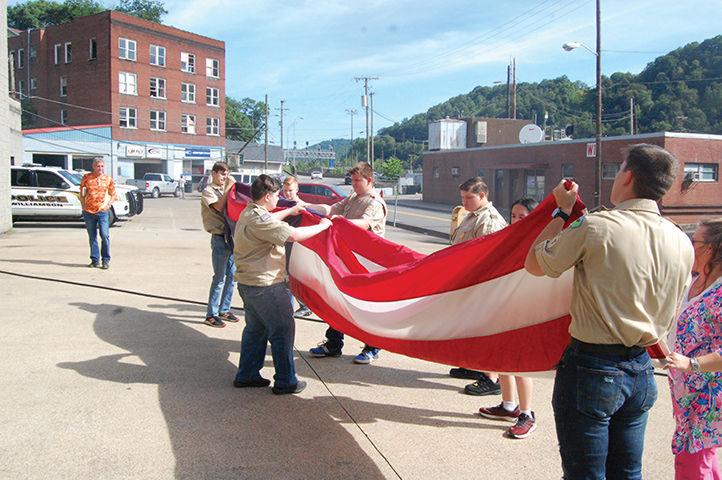 Gilliam said Boy Scout troops are often asked to retire flags because it is just one of the many services the Scouts provide the public.
He said Troop 321 had been approached by several people who requested that the scouts take on the task of officially retiring their expended flags. Those scouts who participated in last week's ceremony were Max Gilliam, Ethan Collins, Mike Le, Braydon Thacker, Alex Bucci, Terry Vance and Garrett Spencer.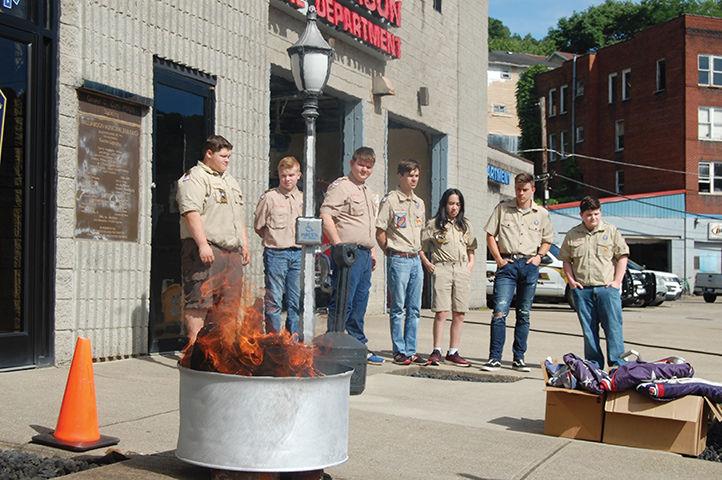 "People know the Scouts in general perform flag retirement, so naturally several people came to me and brought flags and I've always taken them," he said.  "But our troop had never actually done a flag retirement before because we felt if we were going to do it we should wait and have a really nice program … it ought to be done ceremoniously like this."
Since the WFD had been receiving flags for retirement as well, Gilliam said WFD Firefighter John Burchett suggested that the scouts and the fire department get together and conduct a formal ceremony on Flag Day and properly retire all the flags that had been accumulated by both organizations.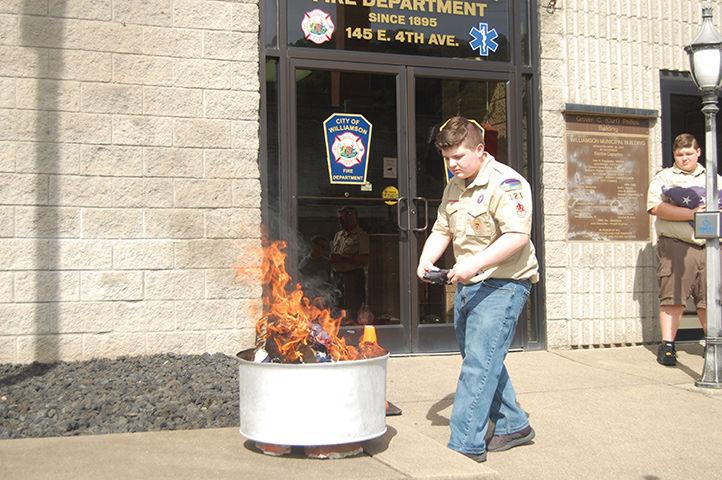 There are three generally accepted ways to retire a flag, Gilliam said.
"You can bury it as is and you can shred it, but the most preferred way is to burn it and then either bury or scatter the ashes in an appropriate location," he said.
Gilliam said members of Belfry, Kentucky DAV Chapter 141 had originally planned to participate in the ceremony but couldn't be there due to having to conduct a military funeral in Logan.
Because the number of flags being turned in to the WFD and Troop 321 almost on a regular basis, Gilliam said Scout Garrett Spencer will be attempting to earn his Eagle Scout Badge by constructing a drop-off container in which spent flags can be stored at the WFD until they're officially retired.
"For his Eagle project Garrett is hoping to construct a box, and he's a pretty good carpenter, that we can have here where people can bring their old flags," he said. "And then once a year, hopefully always on Flag Day, we'll try to have a ceremony like this one because, over the span of a year, it's going to add up to a lot of flags."
Williamson Mayor Charlie Hatfield, who attended last Friday's flag retirement ceremony, said he also hopes the observance will become a yearly event.
"I'm very proud that I got to be a part of this ceremony, and I would really like to see this become an annual event because there's such a need for it," he said. "Nearly 40 flags were properly retired today, and I think that's evident of how most people feel about the flag and how it should always be respected and retired at the end of its useful service."