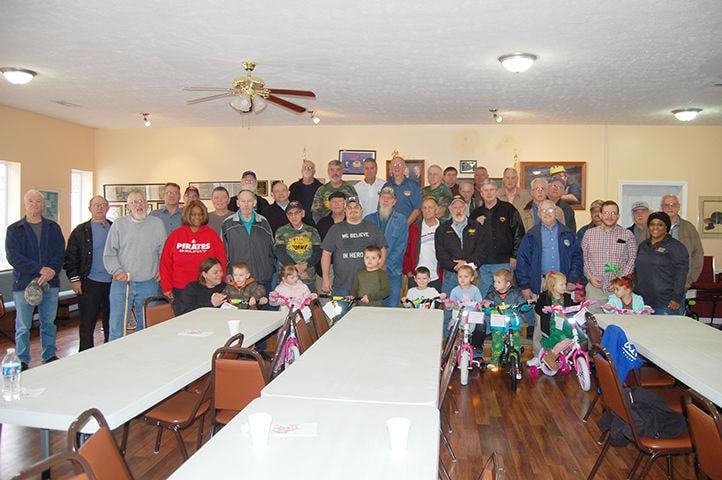 Having always tried to help out with Matewan Head Start's other needs whenever possible, earlier this year the Matewan Senior Citizens Center had an idea to do something special this Christmas for the preschool students.
Trouble was the center itself really didn't have the funding that was needed to do what it had in mind — purchase a bicycle for each of the 17 students.
Casting even more doubt over the potential project, and in spite of the fact that Christmas was still several months away and the purchase of the bicycles was not immediately urgent, was the reality that the MSCC had no immediate prospects of getting the money even with the amount of time it had          remaining to come up with the funds.
The center decided it would be better to seek help elsewhere so it approached UMWA Local 1440 in Matewan to see if its members might be able to provide some help with the plan.
That request was specifically made by the MSCC in April during the local's regular monthly meeting.
Fast forward to last Saturday's December meeting.
That was the day when the Head Start students and their parents turned out at the union hall to receive breakfast along with the new Christmas bicycles.
"(MSCC Director Wesley Blankenship) came to us and explained what they wanted to do and to see if we might be able to buy the bicycles for the kids," said Danny Whitt, Local 1440's recording secretary. "He said that this was something they wanted to do but that they really didn't have the money to make it happen.
 "Our guys really wanted to help so they stepped up at every meeting thereafter and donated money until we had raised the amount that was needed to buy them."
Over the next few months, Whitt said, Local 1440 members collected the $1,100 needed and just recently were able to purchase the bicycles in time for Christmas.
"This was just something the guys wanted to do for those kids, and they deserve all the praise and credit for stepping up and doing it," Whitt said.
Matewan Head Start teacher Erica Joplin said, like the senior center, Local 1440 members have never failed to assist her class whenever a need has come up.
"They've always been really good to help us out anytime we've needed something, especially with providing with the use of the union hall during our end-of-year activities," she said. "So, while I'm again so very appreciative for them doing this for our kids, I'm not at all surprised that they did it.
"They're just a really great group of guys who are always there to help out any way they can whenever anyone needs them."