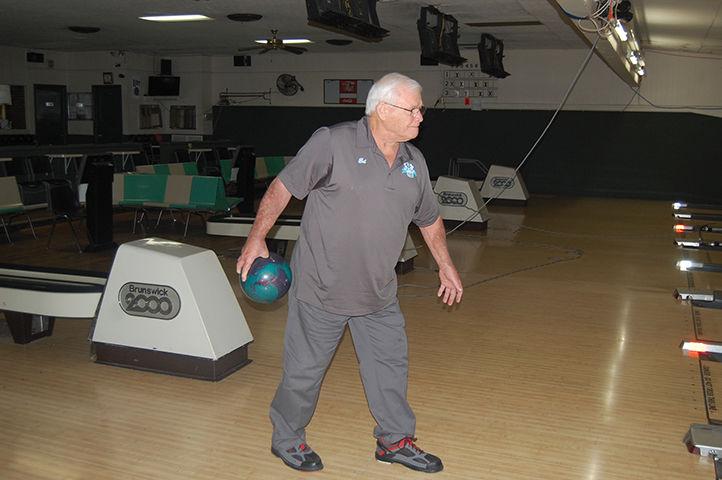 While sitting in a Charleston doctor's office early last October, Ed Twardy was asked by another bowling enthusiast if he was aware of the bowling tournament that was coming up in about two weeks in Parkersburg.
The 78 year-old Twardy admitted that he hadn't heard or read anything about the event, which as it turned out was for senior bowlers age 55 and over, but that he would check into it when he got back to his home in Gilbert.
Having been an avid bowler since 1987, after he learned a little more about the United States Bowling Conference (USBC) Senior Tournament Twardy talked it over with his longtime friend and bowling buddy Doug Vinson and the two decided to enter the competition.
"Doug thought we should give it a try," Twardy said. "So we did."
Little did Twardy know at the time that he would "be on" the day of the tournament, but two weeks later he would indeed leave Parkersburg as the top scorer for the daylong singles and doubles competitions with a 202 average.
"In the years that I've bowled my best average at any time was around 202," he said. "I was able to score that average on the day of the USBC tournament and it turned out to be good enough to win it. I guess I was just on that day."
As the winner of the Parkersburg competition, Twardy will now go on to represent West Virginia in the USBC National Senior Tournament being held July 27-29 in Louisville, Kentucky. His expenses are being picked up by the West Virginia USBC, he added.
In that competition, Twardy explained, he will be competing against the 49 other individual state winners of their respective USBC Senior Tournaments and will be required to "be on" over the entirety of a rather grueling three-day tournament if he intends on coming home with the trophy.
"The first two days competitors will bowl six  qualifying games each day and the top six scorers of those two days will then go to the 'stepladder rolloff,' which means they will be paired off until finally the one with the highest score for the day is declared the national champion" he said.
Although it remains to be formally announced, Twardy said he was informed by a WV USBC official that the final day's competition will likely be televised by ESPN.
"I really feel confident I can get to the final day," he said. "But just to get to the national tournament is a pretty big honor for me. You're bowling against the best 49 other guys in the country ... actually it's kind of mind-boggling when I think about it."
Twardy retired from what is now Verizon in 1991, which coincidentally enough was the year he won his first state bowling title in the doubles division. But due to his love of bowling and sports in general, his retirement didn't last long.
Shortly after retiring from the phone company he took the manager's position at Twisted Gun Golf Course near his home in Gilbert, where he remained for 10 years.
But because of his love for bowling and his desire to stay as close to the sport as possible, he went on to become manager of Bowl Mor Lanes in Gilbert for three years (the bowling alley at which he rolled his first ball) and then followed up that position by working six additional years as manager at Landmark Lanes in Welch.
Currently he just bowls at Plaza Lanes in Logan, first as a team member with Vinson in one league on Monday evenings, and then again on Thursday evenings in a second league with his wife and another friend.
Twardy said there's really no mystery as to why he has been bowling for more than three decades and why he will continue to bowl for as long as he's physically capable.
"For one thing it's very good exercise, and for another it's a great way to meet and make a lot of really great friends," he said. "But more than anything it's a sport that gets into your blood. It got into mine all those years ago and has never left, and I suspect it's never going to."