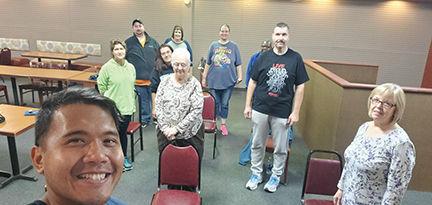 A local group which advocates healthy lifestyles for the residents of Mingo County is attempting to gain admission to a new program through the state Department for Health and Human Resources.
Amy Hannah, with the Williamson Health and Wellness Center's Healthy in the Hills initiative, said the new program by DHHR, "Healthy People, Healthy Places," is a program open to all cities and counties in West Virginia and to organizations which represent a city or county. She said Healthy in the Hills has been encouraged by the West Virginia University's school of medicine to participate in the new initiative in recognition of the group's ongoing efforts.
The general concept of the program is to assist effort to get members of local communities engaged in healthy projects that involve encourages better eating, increased movement and being tobacco free, she said.
"We want to apply for this designation on behalf of Mingo County because our partners represent all of Mingo County," Hannah said. "We have people and organizations from Gilbert to Kermit that address these issues."
Examples of such organizations included the STOP Coalition, Christian Help, and the Williamson Farmer's Market mobile truck.
Two of the most current projects Health in the Hills is currently working on toward healthier and more active lifestyles are an ongoing gentle/chair yoga class and the upcoming Walk With Ease program, Hannah said
The gentle yoga classes are held each week in the party room at South Side Mall in Goody, Kentucky, and focus on low-impact yoga, stretching, breathing techniques and relaxation, Hannah said. The classes are approximately 45 minutes in duration and are available at no cost.
The gentle yoga class is led by Alexis Batausa, a certified yoga instructor. The classes are open to people of all ages and all activity levels because the participants are seated during the classes. Participation in the class has ranged from ten to 50 people with the average number of people attending being around 20 each week.
The Walk With Ease project is now in its eighth year and will be held in Delbarton and Gilbert in Mingo County and in Goody and Hardy in Pike County, Kentucky. Hannah said the six-week program begins Jan. 13 and continues through Feb. 21.
The program encourages people to walk and begins with an initial walk of 10 minutes. Hannah said each the program is more about duration rather than duration. Throughout the program, participants will be encouraged to add more time. The goal is to get people to the point where they are able to walk 30 minutes or more at a time.
"Our goal is to engage people of all ages and all levels to promote a healthier lifestyle," Hannah said.
Hannah appeared before the Wednesday session of the Mingo County Commission seeking a letter of support for the group's application to Healthy People, Healthy Places.