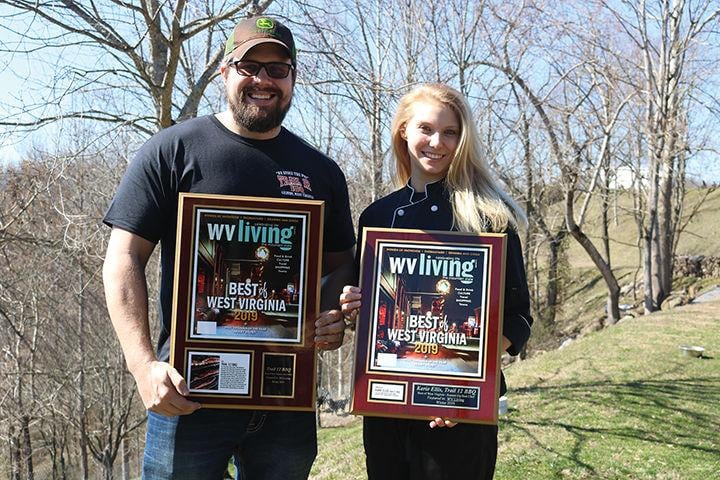 A Gilbert restaurant won the top honors in one of the many categories offered by West Virginia Living magazine's Best of West Virginia 2019. Gilbert businesses also won runner-up awards in several categories.
Sitting high atop of a mountain overlooking Gilbert is a small open-air restaurant that has seating for about 20 people around outdoor picnic tables. Yet, that humble environment has not gone unnoticed. Trail 12 BBQ was voted as the Best BBQ Joint in the Mountain State.
According to owners Cameron Ellis and his wife Chef Karie Ellis, the restaurant moved up in the rankings from 2018 when Trail 12 was runner-up to Smoke On The Water in Elkins (which was named the 2019 runner-up).
"We have fed people from almost every state," Cameron Ellis said. "People have traveled up to two hours to come here to eat."
Trial 12 BBQ is a part of Twin Hollows Campground and is opened all year, however, it is mostly a seasonal restaurant that serves riders on the Hatfield-McCoy Trails and a small local following. But, the Ellis family hopes that will change soon. The restaurant is in the process of expanding to an almost 8,000 square-foot facility that is currently under construction.
Chef Ellis said that the new restaurant will continue its barbeque favorites but will greatly expand the menu to include regional comfort foods along with fine dining fares, hand-cut steaks and seafood. She also hopes to offer farm-to-table dinners featuring wild game such as venison.
The new restaurant will feature floor-to-ceiling windows to showcase the mountaintop views, a full bar, an outdoor dining deck, and an event venue. A portion of the restaurant is expected to open by National TrailFest in October with the remaining sections of the restaurant to open in 2021.
In addition to winning awards for Trail 12, Chef Ellis, who was formerly the executive chef at Sleepy Hollow Golf Club in Teays Valley before returning home to Gilbert in 2017, was named the runner-up in the Best Chef category.
"My first reaction to learning that I had won this award was 'Why me?'" Chef Ellis said. "There are so many great chefs who were nominated that trained me. I am very excited about this award"
She attributed her culinary abilities to her mother, grandmother and Daniel Sizemore with the Mingo County Pro-Start program. She earned her credentials as a certified chef through the culinary program at the Carver Career and Technical Center.
"The best part of working at Trail 12 is the view," Ellis said. "Also, I love all the people I work with and our customers are the best. It is great to be able to wake up every morning and love what you do."
In addition to the West Virginia Living awards, Trail 12 has earned Trip Advisor Certificates of Excellence for the past two years.
"The very first award we won was the Coalfields Best Award for Best Sandwich from the Mingo Messenger," Cameron Ellis said.
In addition to the awards for Trail 12 and Best Chef, Cameron Ellis said that Twin Hollows was named runner-up for Best Campground (which took first place in 2018 and has three Trip Advisor certificates) and its subsidiary Moutaintop Adventures was runner-up in the Adventure Outfitter category.
Hatfield & McCoy Moonshine, also located in Gilbert, was named runner-up in the Best Distillery category.