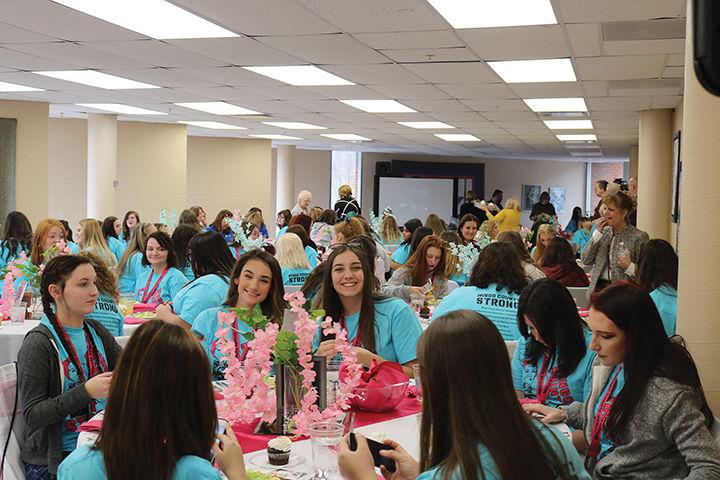 Girls of the Junior Classes of Mingo Central and Tug Valley high schools were invited to attend a special program last Tuesday hosted by the Mingo-Pike Chapter of AAUW (American Association of University Women). The program — Mingo County Strong — was designed to encourage and inspire these young women toward their futures beyond high school.
The program was based on a similar endeavor in Pikeville, Kentucky, called East Kentucky Strong in which some of the AAUW members have been involved with for several years, according to Jada Hunter, AAUW president.
"Dee Kapourales, who was our previous president, was the first to become aware of East Kentucky Strong and brought it to our attention," Hunter said. "We thought it would be a good program for the young women in the Mingo County schools."
The program consisted of workshops throughout the morning that included topics such as internet safety, college entrance requirements and financial aid, human trafficking, and money management among others. In addition t the workshops the students were all given Mingo County Strong tee shirts as a way of equalizing all participants and making them feel more as a unified group rather than two separate schools. They were served a formal luncheon and were given several opportunities to interact with each other and to form new relationships.
"AAUW is an organization to help women and young girls to gain confidence in themselves," Hunter said. "We wanted these young women to see other women in careers and places of leadership and to learn from them. So, other than one trooper who assisted in a workshop, all the presenters were women from education, banking, social work and other areas."
The keynote speaker was former POW Jessica Lynch. She told those attending Mingo County Strong about her military experience and her capture in March 2003.
"A part of the convoy I was traveling with became lost in the deserts of Iraq for more than a day and a half. We kept trying to find a way back to the rest of the convoy," she said. "We finally saw city lights and crossed the Euphrates River Bridge into Nasiriyah and realized this was the place we did not need to be in.
"We had 17 vehicles and 33 soldiers. Soon, we were approached by Iraqis who were watching us from streets, windows and rooftops. Then they started pointing AK-47s at us," Lynch continued. "That is when it kicked in how real the situation had become."
She said their efforts to get out of the city, the vehicle in which she was riding slammed into the back of a semi. Other than Lynch, none of the passengers in that vehicle survived. She was severely injured and taken to an Iraqi hospital for treatment and detained there until she was rescued.
"That is part of my story," Lynch told the girls attending the event. "The other part is that I overcame everything. No matter what obstacles that are put in your life you can come through the other side of them stronger than before."
Lynch, who sustained multiple injuries including breaking her back which left her unable to move from the waist down, said when she returned to the United States she was given two options — sitting in a wheelchair the rest of her life or putting in countless hours of hard work to try and regain the use of her legs.
"I was always an optimistic person with the attitude 'just watch me' to everything," she said. "Today, I walk with a limp, but I am walking and I am still alive."
Sixteen years and 22 surgeries later, Lynch has obtained her master's degree in education and leads a busy life of teaching, public speaking and writing.
Her parting words to the female students in her audience: "Don't let anything hold you back."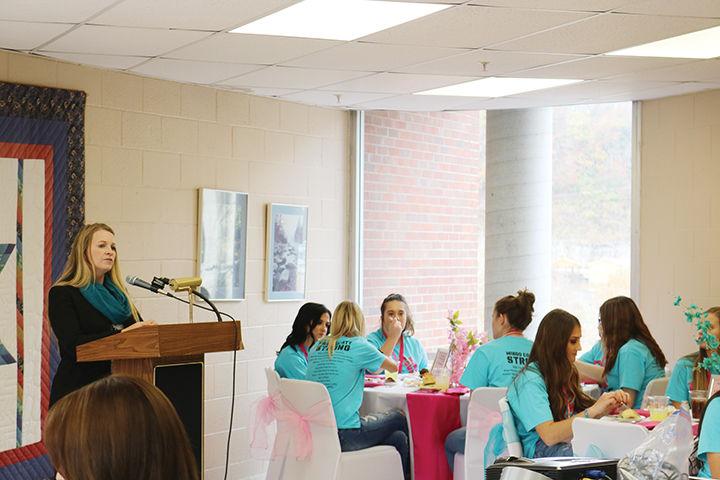 Hunter said approximately 89 students participated in the first Mingo County Strong.
"It was a marvelous event," Hunter said. "I base that on the reaction of the girls who participated in the event. They all seemed to love it. There were several who wanted to know if it could be opened to open to seniors next year. It was just fantastic. Those girls left with smiles on their faces."
Hunter said the AAUW would like for this to become an annual event.