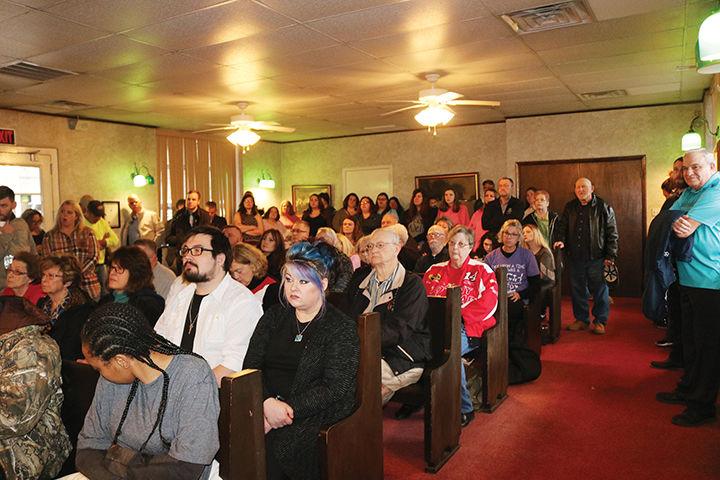 Serenity Pointe, a sober living facility in downtown Williamson, was once again the focal point of the most recent city council meeting held last Thursday.
The item on the agenda was: "Discussion of Serenity Pointe's business license and multiple complaints."
In a previous meeting, Tug Valley Area Convention and Visitors' Bureau Executive Director Wes Wilson and Mingo County Chief Probation Officer Tonya Webb both complained about the facility and asked the council to seek avenues to close it.
Both Wilson and Webb told the council they were acting as private citizens in making the request and were not acting in their official capacities.
In the same meeting Williamson Police Chief Grady Dotson said one of his officers was injured in the line of duty while responding to a complaint at Serenity Pointe. He added that his office receives numerous calls regarding the facility.
The audience at last week's meeting swelled to standing-room only as people on both sides of the issue filled the council chamber.
Mayor Charlie Hatfield asked if members of the audience who had signed up to make public comments about Serenity Pointe to wait and speak on the matter when it came up on the agenda. They agreed to do so.
However, the council voted to table any action on the matter pending advice from the city attorney because Councilman Randall Price was concerned about the legality of withdrawing the business license. At that time, Hatfield attempted to have public comments on the matter wait until the time it came back before the council.
Councilwoman Sherry Hairston Brown refused to allow that to happen.
"I want to hear it today," Brown said. "Every last one of them showed up and I want to hear what they have to say right now."
Several people proceeded to make comments in support of Serenity Pointe.
"This is 'Ground Zero' we are on," said Serenity Point resident Rakeem Saydid. "There is a bigger picture here. There is a Goliath in your town and we've been fortunate to have a David with the right pebble to take it down."
He went on to say that there are some problems at the facility but they are few and mostly minor.
"Every war is going to have its casualties," he continued. "We have issues at that place, but we don't have all the issues that's been blown up."
"What if our county was no longer known for addiction and poverty, but we became the platform for recovery?" asked Wes Thomasson who described himself as "an advocate" for Serenity Pointe. "If we shut down Serenity Pointe, we do a detriment to ourselves and our local economy and community."
In total, about seven individuals spoke on behalf of the facility, including Elder Thomas Moore of Christ Temple Church.
"A lot of people have been helped at Serenity Pointe," he said. "They have a vision for people struggling with addiction."
Moore said he has personally counseled residents of the facility and believes Serenity Pointe is providing a significant benefit to its residents.
During the public comments, no one spoke in opposition to the facility.