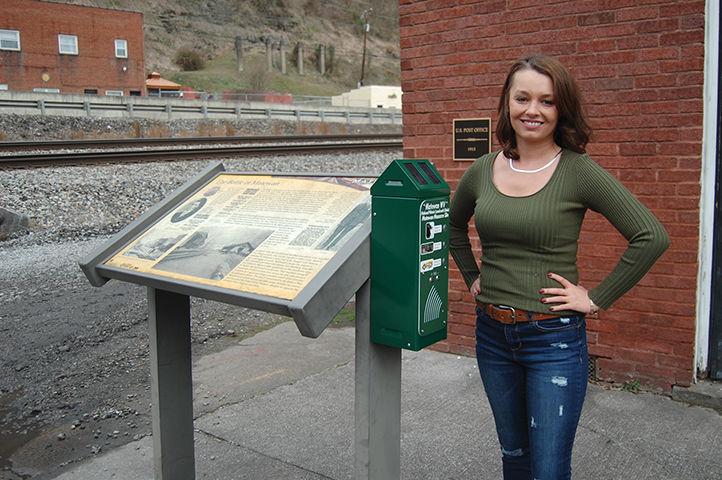 Whenever people from other parts of the country visit  Matewan in a normal year they typically come to learn more about the town's rich history surrounding the infamous Matewan Massacre and/or the Hatfield McCoy Feud, and then tour the sites.
And when these visitors arrive, particularly via bus tours, they are typically greeted by one or more local town historians who stand ready to relate the history in great detail, even going as far to direct and/or guide them to the most noteworthy historical locations in and around town.
However, frequently the town's best-laid plans don't work out and sometimes these informative historians and guides are not immediately available for visitors. And with the centennial commemoration of the Matewan Massacre coming up in May, town officials are quick to point out that this is not an ideal situation to be in.
That's why the town took steps to get a surrogate historian and guide of sorts and appropriately have it installed in time for May's centennial commemoration on Ferrell Street, the precise spot where the famed gun battle between miners and Baldwin-Felts detectives took place 100 years ago.
This stand-in historian and guide is a solar-powered ECO Post storytelling device which aside from providing detailed information on the Matewan Massacre also includes audio presentations covering the Battle of Blair Mountain, the directing of visitors to the town's many historical sites, as well as educating visitors on the history of the coal industry in Southern West Virginia.
Local historian and guide Kimberly McCoy is the four-times great-grandniece of Devil Anse Hatfield, as well as the great-niece of Sheriff Sid Hatfield. She is also CEO of the Hatfield McCoy Arts Council and a Program Fellow at the WV Mine Wars Museum.
While wearing all these different hats, the Matewan native has additionally been working directly with tourism in both Mingo and Pike, Kentucky, counties for more than 15 years.
McCoy said the project was funded by a grant to the Matewan CVB by the National Coal Heritage Area Authority and was installed on Jan. 23 by CVB President and project leader David Hatfield, CVB Director Juan Joyce, and Appalachian Lost and Found co-owner Herbie Dotson.
"This project was the direct result of the effort and cooperation put into it by David and numerous other people in Matewan who like me have strong connections to both historical events," she said. "We want everyone, no matter where they're from, to be as passionate about Matewan and its history as we are."
McCoy, who hosts an audio tour on the device which gives historical insights into the various area attractions that Matewan provides and where to find them, as well as information on lodging, restaurants and other points of interest, said the ECO Post also provides an audio account of the the Matewan Massacre by Rev. Hawthorne "Cy" Burgraff.
Burgraff was a firsthand witness of the infamous shootout and recorded his account of the event three years before his death in 1992, McCoy said.
"We all feel the need to tell these stories and relate the history because it's our history," she said. "I was born and raised here so it's a direct link to my family's history, as well as that of many others who call Matewan home."
"And with the centennial commemoration of the Massacre coming up in May, the ECO Post will take on an even greater importance for Matewan and all the people who will be coming to town to help us celebrate and remember."