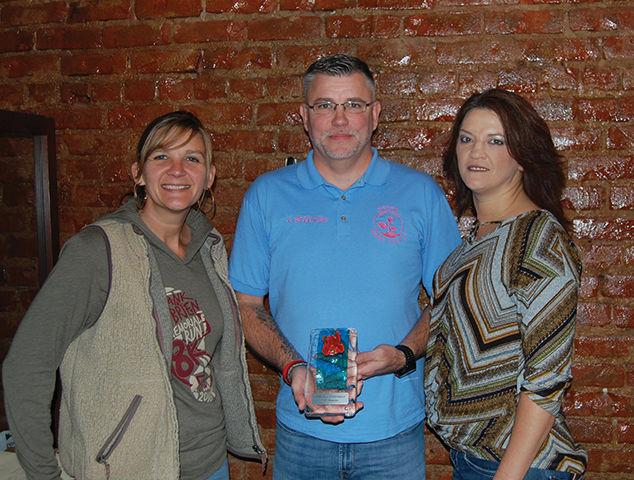 If someone had suggested 31 months ago that a little more than a year and a half into the future he would become the Fresh Start Case Manager as well as a Peer Recovery Support Specialist in Mingo County, Jessie Spaulding would have likely raised an understandably cynical eyebrow.
If someone had suggested during this same time that, on Nov. 18, 2019 he would be in Charleston accepting a Power of Performance Award from the Alliance for the Economic Development of Southern West Virginia, even more likely he would have considered the person suggesting it as being someone skirting very closely to sheer foolishness.
n fact, as little as two years ago the West Williamson resident seemed to be anyone but a viable candidate, future or otherwise, for an award of any kind.
That's because on April 20, 2017, an opioid addiction that, for 20 years, had Spaulding's life in an out-of-control downward spiral finally resulted in him hitting bottom when he was arrested and jailed for two counts of delivery of a controlled substance and two counts of conspiracy.
Yet, along with other individuals also there to receive similar awards in other community service categories, Spaulding was indeed at the Bridge Valley Advanced Technology Center on Nov. 18 to be recognized for the work and successes he's had in the more than two years since he graduated Mingo County Drug Court and set his life on an all-new course.
"It's really hard to believe," Spaulding said. "But once I'd fallen about as far as you can go, I was determined I was going to make my way back up and show others it can be done, that there is hope and life after addiction, and that there are a lot of really good people who stand ready and willing to help you make it."
Spaulding said he was as surprised as anyone that he had even been nominated for the award, even more astounded that he had actually won it.
As it turned out, he didn't find out until just a few days prior to having to be in Charleston to accept the award.
That was when he learned it directly from the person who had nominated him in July and who had only found out herself that he had won—Williamson Health and Wellness Marketing and Nutrition Manager Kristin DeBoard.
"Jessie not only works to help others to overcome their addictions but he also volunteers his time to work all the monthly 5Ks and other races," DeBoard said. "He also volunteers his Saturdays to come and help out at the Farmers Market, and he is always the first person to set up and man a resource table at every event we have."
"He willingly does anything and everything he possibly can as a recovery coach and as friend and partner. There's just not anyone else I know of who deserved to be nominated and to win this award more than Jessie."
Spaulding's fiancé Francis Williamson, who is also recovering from addiction and who was among the first-ever graduating class of the Mingo County Drug Court in July, 2017, knows first-hand how far Spaulding has come just in the small amount of time since he also graduated from Drug Court two months later in September.
"We've been together 11 years and no one would ever believe what Jessie was like for nine of those years," she said. "He pretty much stayed locked up in his room and never came out, not even for his kids.
"He has accomplished so much in such a short time…I just can't say enough about the person he has become."
Spaulding said he doesn't have any plans to slow down soon, even a little.
"I want to continue bringing about awareness out in the community, and I want to continue to support and help those like me who have battled addiction and are attempting to begin an all-new life," he said. "But I think more than anything else I want to be the example to those still struggling that it can be done, and to show them that there really is hope for a normal life if they're willing to work hard enough for it."