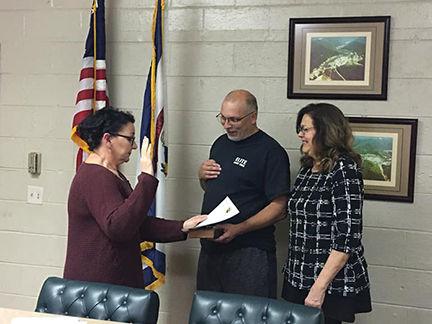 After more than a decade of service to the town of Gilbert and its residents, Mayor Vivian Kennedy Livingood resigned her post during the Monday night's council meeting.
The announcement was made following an executive session in which she informed the council of her decision. Councilwoman Jennifer Miller was selected to finish Livingood's term which is up for reelection next year. If she desires to continue in that post, Miller will have to file her candidacy in January 2021.
"Choosing Jennifer Miller as the new mayor was one of the best decisions the council has ever made," Livingood said. "She is energetic, intelligent and level-headed."
Livingood told the Mingo Messenger there were several factors that lead her to make the decision to resign. One of the foremost reasons was her convictions about term limits for political officeholders.
"I'm a firm believer in term limits," the mayor said. "If people stay in office too long they can become stale. They get used to a routine and are not as energetic as they once were."
Livingood said she had not planned on serving more than two terms but now finds herself three years into a third term.
"I took my job very seriously and I loved being the mayor of Gilbert. Even though I have the same inspiration, dedication and drive as I first did, I still believe in term limits," she said. "It is time to let someone else take over to see if they can bring new ideas."
Livingood also there were personal and family reasons behind her decision as well.
"My son recently moved to Tennessee for work. Randy and I are very attached our grandchildren in Huntington and Tennessee, so we will be going back and forth a lot," she said.
She said that recent controversies over the county's distribution of hotel-motel tax revenues also played a part in her resignation.
"I took my job as mayor very seriously. All the bickering back and forth with the county commission to strip away what we built in Gilbert really got to me. I have had many sleepless nights over it." Livingood said. "I found myself fighting a battle that never should have been fought."
Livingood became mayor 13 years ago. She had been on the town council for three years when her predecessor resigned and she was chosen to replace him.
"During that time, I've always tried to do what was right and to do it in the proper manner," Livingood said. "It is like I always say: 'What's wrong with doing what's right?' That way you can go to sleep knowing you have given 110 percent."
Over the years, Livingood has proven herself as a competent leader for her town. During her tenure, Gilbert has:
• Taken over National Trailfest when the Hatfield-McCoy Trails decided putting on festivals was not within the scope of the trail system;
• Seen public water being made available in outlying areas including Horsepen Mountian, Browning Fork, Gilbert Creek, Verner and now to Hanover through a special project in conjunction with the Mingo County Public Service District;
• Purchased new equipment to allow town employees make repairs to things themselves that was previously performed by outside vendors, thereby, saving the town thousands of dollars over the years;
• Opened Veterans' Park last year along the banks of the Guyandotte River at Gilbert Beach; and
• Completed Phase 1 of a Transportation Enhancement Grant which provided $740,000 in funding to construct sidewalks throughout the town with Phase II set to begin in the spring.
She said she leaves the mayor's office with mixed emotions.
"I cried all night after I resigned and wondered if I did the right thing. We will be traveling back and forth and will still be a presence in Gilbert" Livingood said. "I asked the council to let me stay on the CVB (Convention and Visitors' Bureau) board and they have allowed me to do so. I would never walkout and leave National Trailfest.
Livingood said that by being able to concentrate only on the CVB board and not having to conduct the day-to-day operations of the town, she will have even more opportunities to dedicate toward tourism promotion and development.