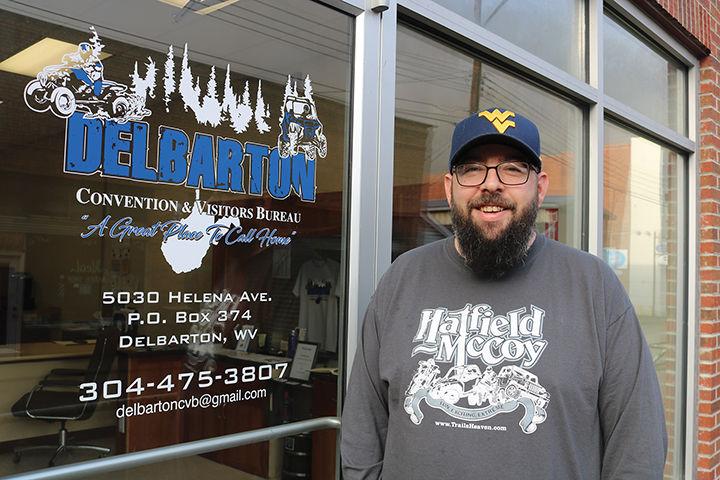 A Delbarton native faces an uphill battle has he takes the reigns of the town's struggling Convention and Visitors Bureau.
On Monday, Matt Harris assumed the Delbarton CVB director's seat after it sat vacant for around three months after former Director Ina Mahon was laid off in the fall of 2019. Two days later, he sits behind his desk and exudes a confident demeanor as he contemplates what the future holds in store for him and for the organization which he now represents.
"I grew up here in Delbarton and I always wanted to do something to help my community," Harris said.
That desire to "help" never led to an interest in politics for Harris. Yet, his occupation as the town barber, just like that of a bartender at the pub down on the corner, gave him a unique opportunity to talk with and to listen to a wide variety of the town's population.
"I get to see a lot of people from around town and the whole area and it's great," Harris explained. "I get to hear what they want and what they think this area should have. Because of that, I thought I could help out with something like this."
Harris talked about the decline in the economy over past number of years and sees tourism as a method to develop a new stream of revenue for the area. He believes in the importance of thinking on a wider, more regional level and understands the economic theory of the recycled dollar.
"When trail riders are in our area, this is their vacation. That means they may eat out an extra night or do an activity they normally wouldn't," he said. "If we attract enough of those it may mean a local pizza place may need to hire an extra employee. Then that employee may then feel he is in a position to get an extra haircut a month.
"That means there is an extra $12 in my pocket.  I may go out and buy and extra pizza a month. And, there before you know it, that dollar has made a full circle," he continued. "It's a chain effect and people need to understand that just because you don't own the pizza place or the rental properties, it is still going to affect you."
Harris questioned exactly what tourism is, what it means "to bring people into Delbarton" and what it will take to achieve that.
"Does bringing people into town mean they have to be from out of state? No," Harris said. "If we have a small event and attract people from Belfry (Kentucky) or Logan or even Matewan, that is bringing people in that ordinarily would not be here and it means they will probably spend money at a store or restaurant that would not have gotten that dollar otherwise.
"Do we want to have big events that draw a lot of people from far away? Of course," he continued. "But having small events like an organized flea market or a holiday event that gives our local people something to do is as important as something bringing back the Delbarton Hill Climb  or creating a new trail event that could attract riders from all over."
To that end, Harris said that everyone must realize they have to work together on big projects as well as small projects to make a possible tourism effort work and pay off in the long run.
"We all have got to work together and not fight over every dollar or every idea. Communities don't work like that," he said. "Communities raise communities. We have in this area – not just Delbarton alone – but in this area we have the Hatfield-McCoy Trail System. We have these beautiful mountains. We have the history of the Matewan Massacre. We have the Tug River and the R.D. Bailey Lake. We have all that here in Mingo County. Every bit of that can be used in one way or another to bring tourists in. We need to use what we have available."
Harris is personable and outgoing. Two qualities that is much needed in his position. While Harris does his best to avoid politics, he is articulate and expresses his opinions well yet knows how to discreetly dance around a hot button topic.
When asked about the rift between the town of Delbarton and the CVB and the recent changes made in the county's new method of distributing the hotel/motel tax to the four local CVBs, Harris simply responded:
"I don't know enough to speak on it, but being in a barber shop you hear everything about everybody. Anything I know is just hearsay. Within the next few weeks, I'm going to contact the other CVBs to introduce myself and to formally introduce myself to the town of Delbarton. Hopefully, that way, we can all start working together. There has to be a relationship there – no matter what – one cannot work without the other.
"There's no need in have a Delbarton CVB without having a Delbarton, but at the same time they need to realize we here to help them," Harrison continued, "My mission is to help Delbarton grow."