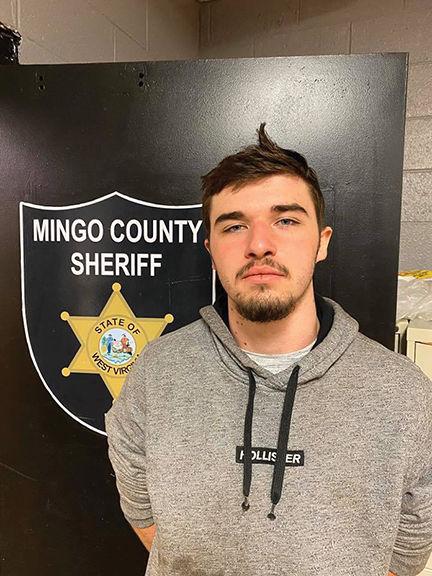 A Delbarton man is facing numerous charges after he allegedly drove his ATV side-by-side to Mingo Central High School earlier this week and began doing high-speed spinouts on school grounds.
Police said that event on school grounds ultimately led to a high-speed chase on the nearby King Coal Highway.
Police said the incident occurred shortly after school began Monday. Subsequent to that time, police said, Mingo County Sheriff's Office deputy Josh Tincher received a dispatch that a driver of an ATV, later identified as Zachary Fowler, 18, was on school grounds and was driving recklessly.
Tincher said the ATV was spraying a substantial amount of gravel and mud, which he further said hit at least three students as well as Principal Daniel Dean. He said Dean had gone out to the area to confront Fowler in an attempt to get him to stop.
Tincher said that when he and fellow Deputy Larry Thomas arrived at the school, Fowler had already left the scene, but had been spotted by Matewan PD Chief David Stratton coming back in the direction of the school.
"Chief Stratton said he had located the ATV and that it was headed from the Red Jacket area back to the new road," Tincher said. "We got behind the ATV and I then attempted to block him but he failed to stop. He eventually went back into the school zone and subsequently circled the property three times, destroying more of the school's grounds."
Tincher said Fowler then fled towards the football field, eventually making his way back onto the highway and driving towards Gilbert. While the officers were in pursuit, he added, Fowler began throwing beer cans from the ATV, which struck Thomas' cruiser and nearly caused him to wreck.
Tincher said the pursuit ended when Fowler left the roadway and used an ATV trail to evade the officers.
"We then received information that the ATV possibly belonged to the defendant so we went to his house and found the ATV, as well as talked to his mother advising her that the best thing he could do at that point was to turn himself in," Tincher said. "Later that day he did come to the sheriff's office to turn himself in."
As a result of the spinouts, Tincher continued, several vehicles in the adjacent parking area received varying degrees of damage from the mud and rock that were being sprayed up and outward in their direction by the ATV.
Tincher said an extensive amount of ground damage was also inflicted in those grassy areas where Fowler did the spinouts.
Fowler was arraigned by Magistrate Donald Sansom and formally charged with reckless driving, operating an ATV on a highway, destruction of property (two counts), assault on a school employee, battery (three counts), felony fleeing (vehicle) and obstructing an officer (three counts).