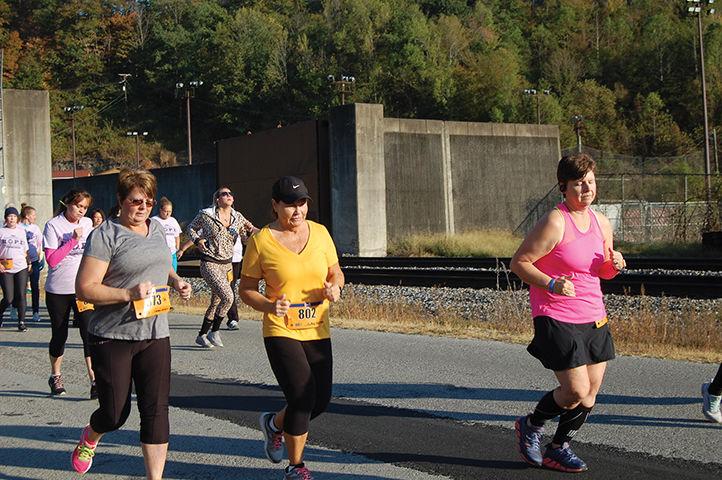 The first-ever H.O.P.E. 5K and 1-Mile Walk didn't have quite the number of runners that older and more established races like the Coal Dust Run  and the upcoming Halloween-themed Killer 5K usually accrue.
And it didn't include a specially-designed event medal being hung around the necks of the competitors as they crossed the finish line.
Instead runners and walkers having completed the two courses of choice were handed a simple but appropriately engraved Serenity Prayer coin denoting the specificity of the event and their participation in it.
But in spite of what the race didn't have, and perhaps even because of it, Jessie Spaulding nonetheless was pleased with the number of people who did turn out for Saturday's inaugural event.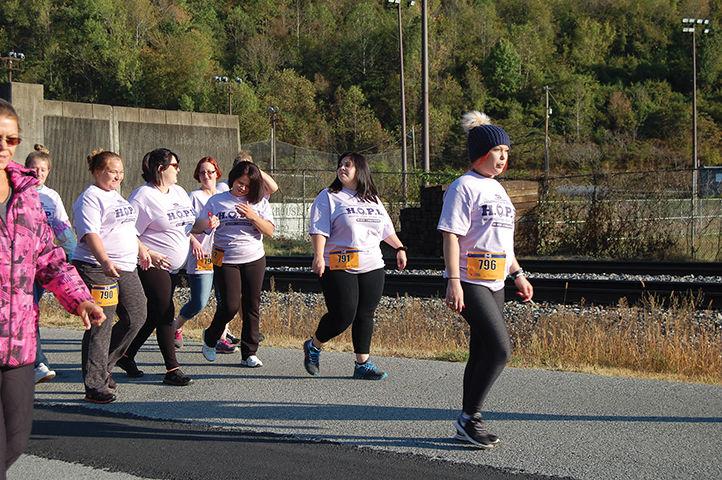 That's because participant numbers and medals, even offering running enthusiasts another weekend competition in which to compete, was not the actual reason behind this first event staged in West Williamson, nor was it intended to be.
Spaulding is the Fresh Start Coordinator as well as a Peer Recovery Support Specialist at the Southwestern Regional Day Report Center in Mingo County.
But, as he was quick to point out, his job and its responsibilities had nothing to do with why he very recently approached Tug Valley Road Runners Club President Alexis Batausa to get his assistance in putting together the race.
The purpose for Spaulding, at least, was the event represented a means to an end. Put in even simpler terms, it was a way to focus a little more attention on the drug epidemic as well as to provide those who have battled addiction a deserving platform on which to express to the community that there is life beyond substance dependence.
"This event wasn't so much about staging another race as it was to use a race to bring people together, to heighten awareness, and to fellowship and celebrate successes," he said. "That's the simple answer as to why we're doing this event today."
Another reason, he said, had a great deal to do with the fact that he personally is 898 days clean from his own 20-year opioid addiction and that he wanted to give both himself and others in various days of recovery a chance to personally demonstrate the meaning behind the race motto H.O.P.E.: "Helping Other People Evolve."
"I got involved with the Tug Valley Road Runners Club about a year ago and I recently approached Alexis and he quickly got on board with the idea," Spaulding said.
"I wanted to bring awareness and community connection here in town, but I also wanted to express my current service in the community and how I'm now able to give back, as well as highlight all the others here today who also have turned their lives around and are now giving back."
"We're all living proof that if you work at it, it can happen…that there really is hope beyond addiction."
Spaulding said no one was charged a registration fee for their participation in this year's race and that all the proceeds generated, which came from participant donations and outside sponsorships, will go to the Tug Valley Recovery Shelter in Williamson, the Crossroads Recovery Shelter in Gilbert and Anchor Point in Delbarton.
Saturday's race was followed up with a cookout spearheaded by Mingo County Magistrates Jim Harvey, Dave Justice and Donald Sansom, which was held in conjunction with a specially-planned recovery event with information and resource tables, Spaulding said.
A second H.O.P.E. race event, already being planned for next fall, will be similar to Saturday's race but additionally include the awarding of an appropriately designed medal for the participants, he added.