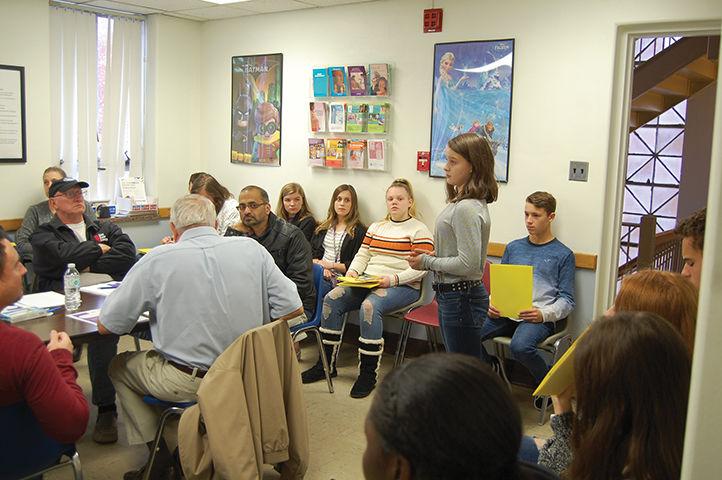 No one knows better than the Mingo County Board of Health the importance of people breathing clean air void of pollutants like cigarette smoke and/or clouds of water vapor being emitted via users of the latest craze, Juuls or e-cigarettes, especially in a confined public setting like a restaurant.
But it never hurts to be reminded, which was the motivation behind students from Williamson PK-8 attending last week's meeting to specifically request that the board transcend its current public smoking ordinance and pass one that would eliminate smoking in restaurants altogether.
The current MCBOH ordinance, which health officials said was put into effect in 2006 and is regularly enforced, only prohibits smoking completely in restaurants not serving alcoholic beverages. However, the exception is it doesn't prohibit smoking in those ABC-licensed clubs and restaurants serving both food and alcohol whose total gross alcohol sales are 80 percent or greater than their food sales.
Williamson PK-8 Principal Shannon Blackburn said the incentive behind the students' request originated from the school's film studies class, which each year focuses its efforts on raising awareness for a specific issue, such as bullying.
This year, he explained, the students chose to do a project on the harm and consequences of public smoking and vaping. He said they were particularly motivated by the fact that other counties, including Pike in Kentucky, have banned smoking specifically in all restaurants irrespective of the licenses they hold.
"They wanted to approach this as, 'Mr. Blackburn, why are other states and other counties in West Virginia having ordinances where you can't smoke in restaurants … some of us have asthma and inhalers so why do we go into a Mingo County restaurant and smell smoke?'" he said.
The board subsequently watched a video, which was produced and set at the school and which demonstrated the dangers of both firsthand and secondhand smoke as well as the peer pressure today's kids are under to smoke cigarettes and/or use e-cigarettes.
Kaylee Faye is a film studies student and one of the project leaders at the school. While addressing the board, Faye reiterated Blackburn's statement.
"This has personally affected me because multiple of my friends have asthma and if they walk into a restaurant smoke hits him in the face and they get attacks really bad," she said.
MCBOH Administrator Keith Blankenship explained that Mingo County's current ordinance essentially mandates a complete smoking ban in the vast majority of the county's restaurants. The exception would be those whose near-total income is derived from alcohol, particularly those private ABC clubs whose total sales ostensibly do meet the 80 percent requirement.
However he additionally noted that there are counties, such as Cabell, that have already revised their ordinances to include complete smoking bans in even these previously excepted establishments.
"Cabell County just recently updated their ordinance that says absolutely no smoking at any bar or lottery facility, so there definitely has been a move to do that," he said.
Blankenship went on to explain that an ordinance prohibiting vaping is currently problematic even for large boards of health like Cabell because the issue has not yet been addressed at the state level.
Although Cabell County, for example, did pass a resolution in support of a vaping ban, due to there currently being no policy at the state level Cabell's board of health as well as others around the state have been reluctant to pass their own prohibitive ordinances until the state sets the standard, he noted.
Blackburn wanted to know how changes to just the current smoking policy would be made, should the board decide to take that step.
Blankenship said once a request is made to have a policy put on the agenda for possible change, at its next meeting the board would then discuss, consider and ultimately vote either to make the change to the policy or leave it as is.
Should it vote to make a change, he further explained, the amended policy would then require three public readings during three successive monthly meetings with a formal public meeting being held at the last reading. The new policy would also have to be made available for public comment by being advertised in the local newspaper as well as on the board's Facebook page during this three-month period.
"Once these steps have been taken it then becomes the new policy," Blankenship explained.
Following a formal request by Kaylee Faye, the board expressed its full support and unanimously voted to have the item put on next month's agenda for continued consideration and further public input.