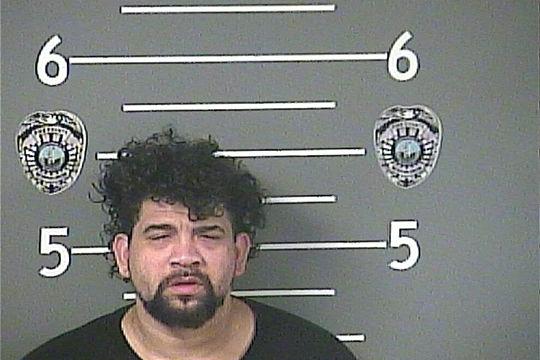 PIKEVILLE, Ky. — A West Virginia man living in Belfry was arrested by federal authorities last week on charges he was dealing in heroin and crack cocaine while in the possession of firearms, including at least one assault rifle.
According to federal court documents, Curtis Hight III, 37, whose address was listed as Retton Circle, Williamson, West Virginia, was arrested last Friday during the course of an investigation into alleged drug trafficking activities by Hight. According to court documents, federal authorities received information from a "reliable" cooperating witness that Hight was trafficking in drugs.
According to court documents, on Oct. 16, Hight sold approximately one gram of heroin and two grams of crack cocaine to the cooperating witness for approximately $550. The transaction was captured on surveillance footage inside of Hight's residence, court documents said, and the video captured images of a handgun sitting within arm's reach of Hight during the transaction.
The witness, the indictment said, also "observed an AK-47 style assault rifle, handgun, shotgun, bulletproof vest, approximately three or four ounces of crack cocaine, approximately two ounces of heroin and a digital scale in the room with Hight." Hight allegedly discussed shooting the bulletproof vest to test its protection capabilities and, court documents said, he also discussed the impact the ammunition from the assault rifle would have if it were used to shoot a person, namely the cooperating witness conducting the drug purchase.
Hight was arrested by federal authorities and Kentucky State Police and charged with distribution of a mixture of substance containing heroin and distribution of a mixture or substance containing cocaine base, also known as crack cocaine. He was also charged with possession of a firearm in furtherance of a drug trafficking crime.
Hight appeared in U.S District Court in Pikeville on Wednesday for a preliminary hearing and detention hearing in the case and more details of the events leading to his arrest were revealed during the hearing.
According to the testimony of Randolph Copley, a special agent with the FBI, the investigation which led to Hight's arrest began shortly before the Oct. 16 drug transaction at Hight's residence, which was the only controlled drug purchase conducted prior to his arrest. Copley said Hight's wife and a juvenile female were present during the transaction.
The warrant for Hight's arrest was later signed by a Pike County judge who was not specifically named during the hearing, Copley said.
When Kentucky State Police and federal officers arrived at Hight's residence in Belfry to execute the search warrant, Copley said, they made entrance into his residence using a tactical vehicle with an affixed battering ram to breach the front door of the residence. The front door, Copley said, was barricaded using a metal I-beam.
After officers made entrance, Copley said, Hight retreated to the bathroom of the residence before being taken into custody. Copley said he did not know what transpired in the bathroom.
Copley said Hight was cooperative with officers during questioning and during their search of his residence. Copley said officers found 13 firearms in the residence, 12 of which were loaded. The loaded firearms included eight handguns, two shotguns and two assault rifles. One of the handguns found during the search, Copley said, had a suppressor attached to its barrel. Officers also located the handgun believed to have been the one shown in video surveillance images of the Oct. 16 drug transaction.
Copley said officers also found spent Narcan containers in Hight's residence, to which he admitted to officers that he had administered to people to whom he'd sold drugs and who had overdosed inside the residence. Hight also told police that at least one person had overdosed and died in his residence after he'd sold them drugs, Copley said.
Copley said Hight was questioned for approximately three hours before being taken to the Pike County Detention Center to be lodged on the charges ultimately filed against him in federal court. According to court documents, Hight received additional charges, this time in Pike District Court.
According to court documents, upon being searched at the jail, a deputy jailer noticed a clear plastic bag containing a brown powdery substance believed to be heroin hanging out of Hight's rectum. As a result, Hight was charged in Pike District Court with first-degree promoting contraband and first-degree possession of a controlled substance.
He pleaded not guilty to the charges in Pike District Court.
During Wednesday's hearing, U.S. District Judge Ed Atkins made the determination based upon Copley's testimony and uncontradicted evidence submitted by the U.S. Attorney's Office that the case against Hight should be bound over to a federal grand jury for consideration. Trivette asked Atkins to consider releasing Hight on home confinement for the duration of the proceedings to follow, to which Assistant U.S. Attorney Jason Parman objected. Atkins said he would take the request under advisement and would make a determination at a later date.
According to Copley's testimony during Wednesday's hearing, Hight told police he'd been dealing in crack cocaine and heroin since 2018.