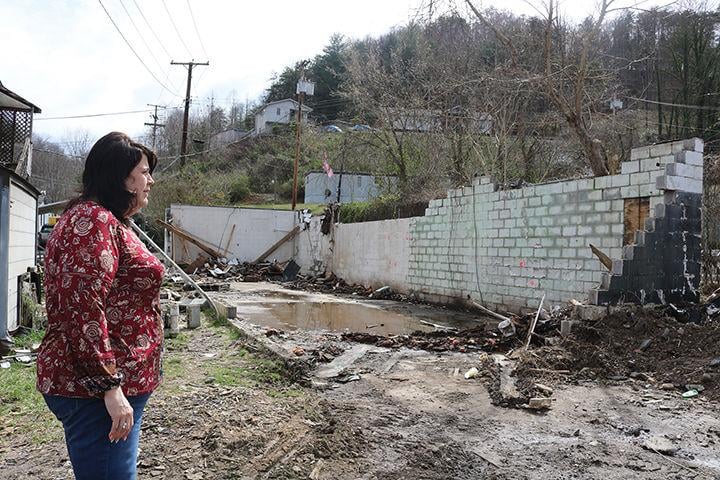 The Gilbert Happy Tails Animal Rescue seemed to get off to a good start. The town had provided the group with a building, initial fundraising efforts were successful and the community was supporting its work.
However, the group received a significant setback in its progress last week. As workers began taking down rafters to replace the roof of the 50-plus year old C&P Telephone building, blocks began falling from the wall, according to Victoria Surber who heads up the group.
"The building was in disrepair, but we thought we could redo the roof and fix the building," she said. "When they started tearing down the first rafter, a few blocks fell. As the second rafter was removed, then the whole wall collapsed.
"Now, there are only two walls standing and they have to be torn down as well," she continued. "All we have left is a concrete slab."
Despite the problems, the members of Gilbert Happy Tails have decided to continue with their efforts to build a rescue center for the town.
"This put a brake on the momentum we had, but it is not going to stop us from rescuing animals," Surber said and then jokingly added: "At least the floor is solid."
Surber said the group has already been evaluating its options and thinking about things that can be done to move the project forward. A meeting is planned for later in the month to formulate plans on how to proceed.
"I am thankful that no one got hurt when the walls fell and I'm glad that it happened now rather than when we were much further along," she said. "We have had so much support in our cleanup efforts. We will start with a smaller building and try to design it in a manner that will allow us to expand it later on."
A new fundraiser has been established to help with the construction of the new facility, she said. Donations can be made vis PayPal at victorialsurber@hotmail.com; by mail to Gilbert Happy Tails, 37 Perry Branch, Gilbert, WV 25621; or in person at the Gilbert Town Hall.