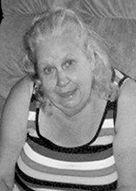 Alma Baisden
Alma Fay Baisden 75 of Elk Creek, passed away June 30, 2019 at her home.
She was born July 1, 1943 at Williamson, the daughter of the late James and Macie Marie Trigg Hubbard. She was also preceded in death by her brothers; Jimmy and John Hubbard, sisters; Ollie Hubbard and Mildred Kitchen and grandson; Steven Hurley.
Alma is survived by her husband; Eugene Baisden, son; Michael Eugene Hubbard of Elk Creek, daughter; Pamela Kay Dingess and husband Charles of Knoxville, Tenn., sisters; Joyce Wilkinson of Williamson and Illene Chin of Colegrove, Ohio. She also leaves behind to cherish her memories her grandchildren; Peyton Hurley, Brittney Newton, Dalton Hubbard and Cassie Hubbard, great-grandchildren; Paris Hurley, Ashlyn Turman, Austin Hurley and Hayden Newton.
Funeral services were held at the Chafin Funeral Home Chapel on Wednesday July 3, 2019, with Elder Eddie Layne officiating. Burial followed in the Farley Cemetery at Elk Creek.
Online condolences can be made at ChafinFuneralHome.Com
Jerry Cisco
Jerry Michael Cisco, 70 of Beech Creek, passed away Monday, July 1, 2019 at his home following a lingering illness. Born May 7, 1949 in Mingo County, he was the son of the late Sid and Hazel Lorraine Williamson Cisco.
In addition to his parents, he was also preceded in death by his wife, Peggy Kennedy Cisco.
Jerry was a retired coal miner.
Survivors include his daughter, Dr. Jodi Cisco-Goff (Philip) of Turtle Creek, his son, Sid Cisco (Rebecca) of Bean Station, Tenn.; a brother, Trimble Cisco (Janet) of Columbus, Ohio; a sister, Diane Cisco of Delbarton; and three grandchildren, Trinity, Kaiden, and Landon. Also surviving are his garage buddies and a host of other friends.
Graveside services were held Wednesday, July 3, 2019 at the Simpkins-Kennedy Cemetery on the Right Hand Fork of Beech Creek with Evang. Gene Clemons officiating and burial followed with family and friends serving as pallbearers.
Online condolences may be left for the family by going to. www.hatfieldfc.com.
Arrangements were under the direction of Hatfield Funeral Chapel of Toler, Kentucky.
Juanita Jarusik
Juanita Rutherford Jarusik, 92 of Newport, Tenn., formerly of Huddy, passed away on Sunday June 30, 2019 at her residence.
Juanita was born on October 8, 1926, the daughter of the late Landon and Dona Blackburn Rutherford.
She was also preceded in death by her son, Gary Neal Thacker; her brothers, Charlie Glen, Garland, Autumn, Irvin, John Opa, Link, and Rex Desota Rutherford; her sisters, Opal Scott, Audrey Murphy, Dixie Edith Rutherford, and Dozenia "Dean" Tiller and her grandchildren, Joey Thacker, and Denita Kelker.
Juanita was a member of the Big Creek Primitive Baptist Church.
Survivors include her sons, Terry (Gloria) Thacker of Newport, TN and Brian (Lisa) Thacker of Ratliff, Kentucky; her grandchildren, Robert Thacker, Barry (Denise) Thacker, Rebecca (Rusty) Stewart, Carolyn (Dave) Branham, Mariruth (Jacob) Morris, Bianca Thacker, Ruthia Thacker and Andrew Thacker. She also leaves behind 16 great-grandchildren.
Funeral services were held on Thursday July 4, 2019 at the Big Creek Primitive Baptist Church. with Randall Thornsbury, David Thacker and other Primitive Baptist ministers officiating. Burial followed in the Rutherford Cemetery, with her grandsons, and great grandsons serving as pallbearers.
Arrangements were under the direction of R.E. Rogers Funeral Home of Belfry, Kentucky.
Online condolences may be made at, rerogersfh.com.
Gabbi McCoy
Gabbi McCoy of Kimper, beloved daughter of Jason and Cindy Banks McCoy, treasured sister of Brittnee McCoy and Jason McCoy Jr. "little J" as well as an upcoming senior at Phelps High School of Phelps, departed this life on Wednesday evening June 26, 2019 in the emergency room of the Pikeville Medical Center of Pikeville.
Gabbi was 16 years old. Those that precede her in death include her maternal grandmother Diana Lynn Banks, maternal grandfather Eli Banks, paternal grandfather Sherman McCoy Sr. and an uncle Joshua Banks.
Gabbi was of the Apostolic faith and was an attendee of the Church of God in Jesus Name pastored by her beloved pastor Opie R. Harris whom she adored and thought he was the "most handsome older gentlemen she had ever seen!"
Gabbi not only enjoyed fellowship with her youth class that was hosted by her much-loved youth leaders whom she thought of as family Jamie and Devona Hatfield, Gabbi was quite the athlete having played basketball she was a force to be reckoned with. Gabbi's presence alone would illuminate a room for her when she smiled she radiated with a glow of love, fun and just a touch of mischievousness. Gabbi an upcoming senior at Phelps High School of Phelps, was beloved by not only the student body but also the teachers and staff as well for to know Gabbi was indeed to love her. Although Gabbi was tone deaf she still loved to sing for she lived life as a song and a dance she enjoyed the moments. Gabbi also enjoyed horseback riding for with her adventurous nature you never knew what was next. Gabbi was also creative in articulating her thoughts anything that did not set to well with her, a style that did not look just right or a hair-do that was not as it should be she would best sum it up as "so cringe!"
Those that survive Gabbi in addition to her beloved parents Jason and Cindy and her "favorite person in the world" her sister with whom she never parted Brittnee, Gabbi is survived by brothers Christopher King McCoy, Tyler McCoy of Clay City, and Jason McCoy Jr. "Little J" of Rogers; grandparents Flora Mae McCoy of Beattyville, Eugene and Renee Hurley of Edgarton, W.Va. and Bruce and Susie Dotson of Phelps; aunts and uncles Susan Spencer and her husband Bruce of Clay City, Steven Gibson of Texas, Thurman McCoy and his wife Shannon of Sidney, Jacob McCoy and his wife Serita of Beattyville, Josh McCoy of Beattyville, Sherman McCoy Jr. and his companion Faye Thomas of Booneville, Becky Caudell and her husband David, Lara Sparks and her husband Glenn of Beattyville, Brenda Blount and her husband Patrick of Beattyville, Crystal Watts of Beattyville, Renee Peach and her husband John of Harrodsburg; nieces and nephews McKenzie McCoy, Zachary McCoy, Bentlee Gearles and Kenlee Gearles.
Gabbi is survived by a host of cousins, loved ones and a community of friends including Dewayne Abshire who had a positive impact throughout Gabbi's life as well as Heather Hinkle whom always referred to herself as Gabbi's aunt
she also had a unique bond with special friends MaKenna Hurley, Tori Dotson, Chloe Smith, Johnathon Mullins and Cassidy Smith.
Honoring services will be conducted on Tuesday July 2, 2019 beginning at noon in the McCoy Athletic Center (Phelps High School Gymnasium) 11580 Phelps 632 Road Phelps, with Pastor Opie R. Harris, Bro. Dewayne Abshire, Bro. David Norman and Bro. Hobert McCoy officiating. Burial will then follow in the Billy Dotson Cemetery at Phelps, with pallbearers being Sherman McCoy Jr., Thurman McCoy, Jacob McCoy, Josh McCoy, Jason McCoy Jr., Jacob McCoy Jr., Matthew Caudell, Sonny Stepp Jr. "Bub," Thurman McCoy Jr. and David Caudell Jr.
Arrangements for Gabbi have been entrusted to Chambers Funeral Services, Inc., of Matewan, W.Va.
Expressions of sympathy may be shared with the family by visiting, www.chambersfuneralservices.com.
This is a paid obituary.