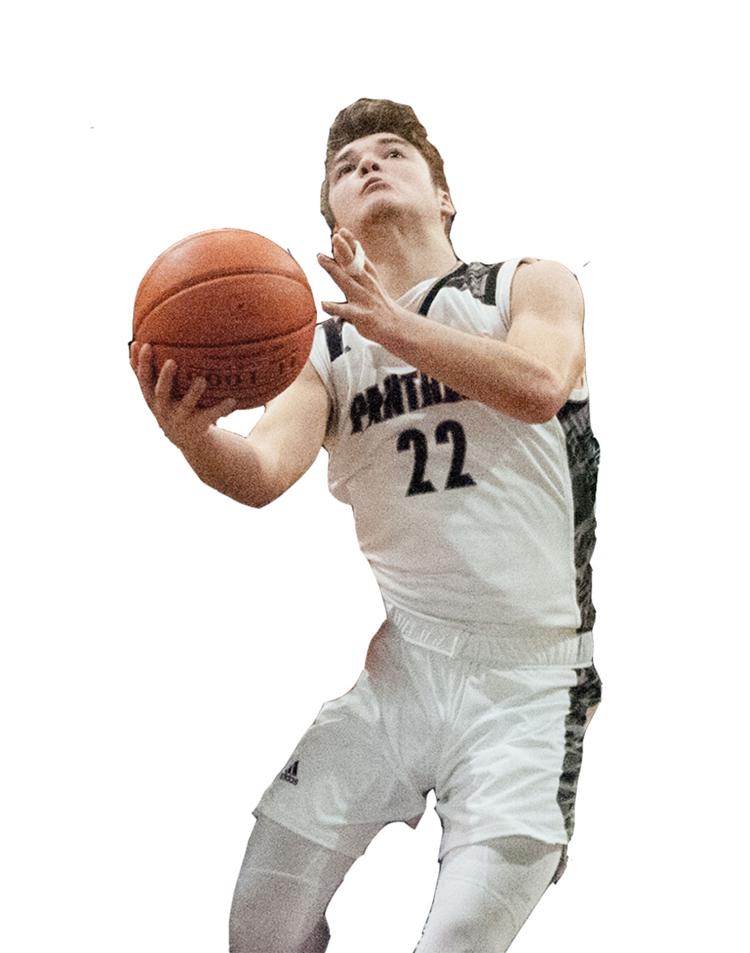 The Tug Valley Panthers basketball team has had a rough first half of the season sitting at 5-9 currently, but one of its stars knows that it will take every member of the team to reach their end goal.
"It gets frustrating at times and we have a tough schedule as far as that goes, but I feel like a tough schedule will help us in March when we need it most," said Tug Valley Panther Caleb May.
May has been a vital part in the success of the Panthers for the three seasons and is one of the leaders this year.
He is averaging close to 20 points a game and around six assists and five rebounds a game.
The junior guard doesn't believe that individual success is what will help his team get back to their winning ways, though.
"The player I am, I do score, but I'm more of a try to get everyone involved type of player," May said. "Which is the case for all of our guys. We just want to win. We will do whatever it takes to win."
The Panthers started the season 0-3 before picking up their first win over Van.
However, the team suffered a hard fought 48-45 loss to Charleston Catholic in its very next game.
The Panthers have one of the tougher schedules in their region and have done this on purpose.
It's a strategy that most collegiate and pro teams use in order to compete against the best talent they can so when the playoffs start, they are ready for whatever situation presents itself.
The Panthers are currently on a four-game losing streak, but are not discouraged in what they can accomplish by season's end.
"Right now, we are in a drought, but I feel like this tough schedule will help us later on," May said, "In the end, I feel like we can come out on top and overcome it."
May is in the right train of thought because though the Panthers record is on the losing side you can go back and look at the loses and you see this team is in every game.
The team has been consistent in competing well against all their opponents, but it just seems as though in the last few possessions something happens.
"That's what we learn from is those tough games that we get beat in the last few possessions," May said. "It makes us better as a team and what we learn from those games will get us over this lump and we can start winning games."
The Panthers and May have three tough road games coming up against Parkersburg Catholic, Greater Beckley, and rival Mingo Central before coming back home to face the currently undefeated Williamstown High School.
"I feel like we just need that one win that will put us on fire," May said "We definitely have something out for them (Parkersburg Catholic), because they knocked us out of going to the state tournament, so I definitely think we will bring it tomorrow (Friday)," said May.
May and the team have set expectations for themselves, but it is because of the program they play for and the success the program has had through the years being known as defensive teams and competing for state titles.
Competing at the highest level is what this school knows and not being in the picture doesn't sit well with anyone the roster.
"Honestly, in the games we have played what's been lacking is our team defense as a whole, and here at Tug Valley that's basically what the motto is, you have to play defense to win games," May exclaimed.
And May is correct as the team has no problem getting buckets when they need to and have been seen in win clicking on all cylinders (over the three game win streak mentioned earlier).
"I'm not going to say we have been playing bad defense, but we haven't been playing the defense we are capable of playing and lately our coaches have been stressing that on us. I'm excited to see these next couple of games because in practice we have been stressing hard on defense and I think will come out and start playing like we know how to," stated May.
Although the team is currently 5-9 the Panthers boast a 3-1 record in section play with only two section games remaining in the season and the No. 1 seed on the line.
"We definitely want to win those two games, they are probably two of the most important games left on the schedule because if we can get those and secure home court advantage, I think with our team and our fans we can be successful," said May.
Tug Valley may have gotten off to a slow start, but don't look for the Panthers to finish the same way.