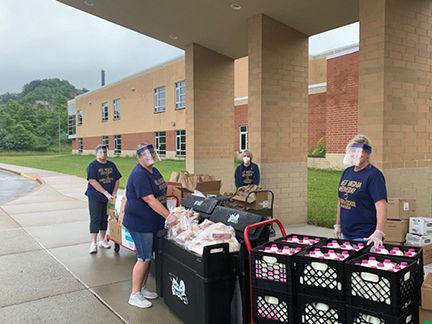 Immediately following the statewide school closure on Friday, March 13 due to the COVID-19 pandemic, Mingo County school officials began organizing a large-scale feeding program to ensure that the county's school-age children critically dependent on school meals would continue getting these meals uninterrupted.
Merely two days later on Monday, March 16, school employees and volunteers were onsite preparing, packaging, and transporting meal kits to designated pickup locations throughout the county.
From that time to when the school year officially ended on May 20, a total of 213,474 meals had been prepared at and then distributed from the two ideally centralized school locations--Lenore PK-8 and Mingo Central High School.
After a week of necessary transitioning from the official closure of the 2019-2020 school year to summer break, on June 3 workers and volunteers were again at the two schools preparing five-day meal kits for the county's summer school feeding program.
Mingo County Schools Superintendent Don Spence said the change from the regular school year to the summer feeding program went relatively seamlessly. During the off week, he added, the county's kids received a six-day meal package to ensure that their needs were still being met while the transition was being made.
"We had to take one week off to make adjustments ... to readjust because summer feeding is a little different than what we had been doing from March 16 to May 20," Spence said. "We had to close the schools at the official end of the school year and then make sure everything was sanitized and ready to go for this new summer feeding program, but everything went smoothly and has continued to go extremely well."
Although the types of food kits being prepared each Wednesday are essentially the same, Child Nutrition Director Kay Maynard said the manner in which they are being distributed has changed.
"Before we were distributing the meal kits from Lenore and Mingo Central out to the other schools and then having parents come to those schools to pick up the meals," Maynard said. "But because our buses are not available now, the meals have to be picked up by the parents at either Lenore PK-8 or Mingo Central."
As was the case during the regular school year, Maynard said the nutritious meal kits for the summer feeding program include milk and come with instructions for preparation for the various food items.
She said the meal kits, which are prepared and will continue to be available for curbside pickup at both schools each Wednesday between noon and 1:30 p.m. through Aug. 12, are available for all the county's children up to and including those 18 years old.
"This is a really good program for our families, and those families who do come and take advantage of it are so appreciative," Spence said. "The cooks and Kay do a great job getting the food out there ... and we want people to take advantage of it."
In the two weeks since the summer feeding program began more than 16,000 meals — which includes items for both breakfast and lunch — have been prepared and distributed to the county's kids, Maynard said.