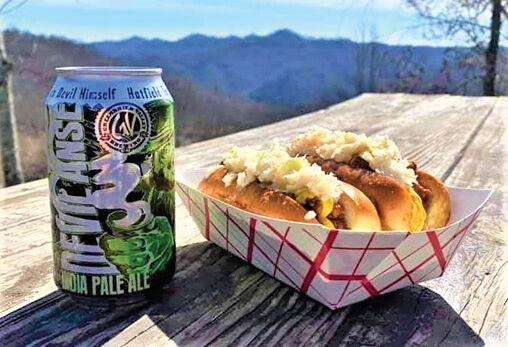 Mingo County has taken a big bite out of the competition by claiming 10 percent of the winning positions in a Mountain State food contest tour lasting 2 ½ years and including hundreds of offbeat and out-of-the-way eateries.
Have Fun WV, a Facebook page administered by the Charleston Dirty Birds New Business Director Jay Silverman, began the West Virginia Hot Dog Tour during the COVID-19 pandemic of 2020. The genesis of the tour, according to the first YouTube episode of the show by the same name, has Silverman in the empty Appalachian Power Park baseball stadium.
"There's no minor league baseball," he exclaims as the scene cuts to him pounding on the roll down shutter of Power Alley Grill — a concessions stand inside the stadium. "It's closed. I can't find myself a hot dog. What am I going to do about that?"
The simple answer to that question was a not so simple road trip throughout the state beginning in March 2020 and ending December 2022 with buddy Joel Bennett of Taste West Virginia magazine. The publication is a quarterly print magazine focusing on the Mountain State's expanding culinary scene. Taste West Virginia was launched by Bennett in 2014 and remained in print until a forced pause was created by the pandemic. It was relaunched in 2021.
The pair traversed the Mountain State stopping at hundreds of food establishments eating hot dog after hot dog and along the way they picked up several guest judges to assist in the quest to find the best "West Virginia style" hot dog. They announced their list of the Top 50 Best Hot Dogs in West Virginia two weeks ago on Christmas Day.
Among the Top 50 dogs, five of them hail from various locations in Mingo County. Gilbert's Trail 12 BBQ located at Twin Hollow Campground howled with success taking second-place honors. Wingo's in Matewan put a collar on the third best show dog in the listing. Three other Mingo County restaurants found shelter in the West Virginia Hot Dog Tour's kennel of fame – No. 25, Sherry Bo's Dinner, Delbarton; No. 30, Maria's Drive-In, Delbarton; and No. 35, Miss Wanda's, Williamson.
"We are very excited about how we ranked in the West Virginia Hot Dog Tour," said Cameron Ellis, who owns and operates Trail 12 BBQ. "When the original video came out, we saw an increase in our hot dog sales almost instantly. Now that the final list has been released with us being named No. 2 in the state, we are excited for the 2023 season."
As the results were posted, the listing brought notoriety to the county's local winners. However, one question that kept popping up in several Facebook responses was: "What is a West Virginia style hot dog?"
Silverman and Bennett explained it was a hot dog with mustard, onion, chili and slaw. Their definition of a West Virginia style hot dog was backed up by other opinions such as those offered by Huntington native Kathie Lee, who is the co-host of the Food Network television show "The Kitchen," and by the Morgantown-based Facebook/You Tube video blog "Food Supremacy," although Lee did omit the onion. Silverman is also adamant that a West Virginia style hot dog should never have ketchup.
Another mandatory caveat to the Best Hot Dogs in West Virginia was that all competitors were required to be "mom-and-pop" style establishments. They could be freestanding diners and drive-ins or snack bars in bowling alleys or golf courses. No franchises were considered.
The hot dogs and eateries were scored in three categories: Taste, presentation and cleanliness. Judges could award a possible total of 15 points in incremental amounts:
Five points – over the top;
Three points – average; and
One point – poor.
The taste category included how the wiener was prepared (grilled, deep fried, smoked, boiled) as well as whether the bun was soggy, greasy, steamed, toasted, grilled or cold. For presentation, the judges looked for hot dogs that could hold their shape and which were well groomed with generous toppings while being eaten yet not be too runny, too chunky, too sweet or too spicy.
In addition to its two-way tie for second place with the Dutch Haus of Lewisburg in the West Virginia Hot Dog Tour, Trail 12 has won numerous food competitions. It was named as the state's best barbeque joint in the 2019 Best of West Virginia ("West Virginia Living" a food and tourism magazine) and first runner up in 2018. The restaurant is operated by Ellis and his wife Kari Ellis. In 2019, Kari Ellis was also named as the first runner up in the Best Chef division. The restaurant and campground also boast several Tripadvisor certificates and other awards.
Local food establishments were able to run with the big dogs, claiming five of the 50 listings. Mingo County was second only to Kanawha which led the pack with a whopping 14 restaurants being included in the roundup.
The Trail 12 Hatfield Dog is their signature hot dog with a deep-fried wiener on a grilled English bun with homemade chili and slaw with onions.
At Wingo's in Matewan, owned by Donald and Kathy Hatfield McCoy, the restaurant is a nod to the direct lineages of both owners in relationship to the famous Hatfield and McCoy families. Kathy is a Hatfield by birth and married a McCoy.
"Our hot dog is the real McCoy," Kathy McCoy joked, "because it is made by a real McCoy."
The hot dog at Wingo's features a grilled all-beef wiener topped with homemade chili and homemade slaw.
McCoy also said being part of the West Virginia Hot Dog Tour has given Wingo's a lot of publicity.
"It really helped my business with our hot dogs." she said. "After the first episode, people could come in and say, "Hey, I saw the video and want to try your hot dogs. It's been fun."
Wingo's was part of a three-way tied score with Yokum's Grill in Seneca Rocks and Galaxy Lanes of Charleston.
Bogey's Driving Range of Tornado was the top dog, capturing first place.