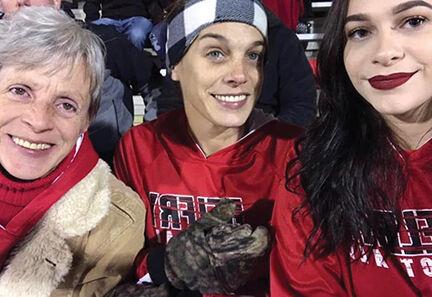 WILLIAMSON, W.Va. — She was only four-and-a-half years old. She had been shopping with her mother in downtown Williamson. Then the two went to the annual Christmas parade.
It was a day filled with the usual hustle and bustle of Christmas. Loud voices, music, sounds of excited people filled the air. Yet to Billie Roddy (now Billie Rogers), who was born deaf because of a defect in her ears, the world was silent.
"Because she could hear and couldn't talk, I had taken her to Murphy's and Hobbs so she could show me what she wanted for Christmas," said Linda Curry Maynard, Billie's mother. "Then we went to watch the parade afterwards. My niece was going to be in the parade as part of the Belfry marching band.
"I had been watching her but I especially watched her as the band came down the street to make sure she didn't run into the street because of my niece," Maynard continued. "I looked over and she was holding her ears and crying because of the sounds. The band was playing 'Here Comes Santa Claus' and that was the first sound she had ever heard."
That was 40 years ago. Now this year, Billie has been invited to be the grand marshal of the parade on Nov. 26 to celebrate her four decades of being able to hear.
"I will be there bawling my eyes out," Linda said. "Everyone around me will probably be wondering what is wrong with me or thinking, because I am old, that I'm just senile. But I will be watching my Christmas miracle. I have only missed a couple of the parades, because of COVID, since Billie was four years old. This parade is my Christmas present every year."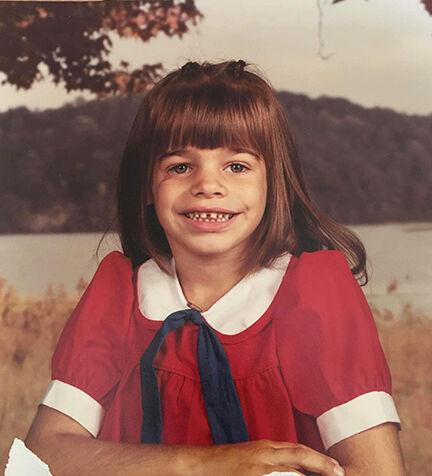 A medical mystery solved
While Billie had lived four years of her life in silence, Linda had exhausted almost every hope of finding out why her daughter never talked.
"This was in the late 1970s and early 1980s. Things were different. Technology was different, especially here," Linda said. "They didn't do hearing tests on infants like they do now. I kept asking the doctors why she wasn't talking."
Several doctors told Linda that her daughter was mentally challenged and that she would have to learn to live with that fact. The same diagnosis was given to her in Charelston, West Virginia, Lexington and even at Cleveland Clinic.
However, Linda, who is a self-described fighter, refused to accept that diagnosis.
"She was ahead in all of her milestones," Linda said. "She could make audible sounds. She could crawl. She could walk and run. I had her in ballet and she could do all the things the other kids were doing. Why did they automatically assume she was mentally handicapped?"
Linda was at her wits end. She knew something was wrong but not what. She wanted answers.
"Every Thursday night, when she was a baby, I had her anointed and prayed for," Linda said.
Then a discovery was made.
"My grandfather was a preacher and every night he would read Bible stories to us," Billie said. "He saw me watching his mouth and trying to read his lips."
Linda said that, about the same time, Marshall University, where she went to school on an athletic scholarship, had opened a new speech and hearing clinic. After contacting some friends who worked there, Billie was tested. It was then she was given a new diagnosis. She was deaf.
"All the doctors said I was mentally challenged," Billie said, "but I was just deaf."
Billie had been born with a defect in her ears where the eardrum was damaged and the three inner ear bones had fused together and twisted the cochlea nerve, preventing her from hearing.
Again, Linda set out on an almost impossible quest to find a way to correct the problem. Door after door was closed to her and her daughter. Then one day she heard about the Shae Clinic in Memphis, Tennessee. The doctor there was conducting research and developing his own transplant prosthesis to correct hearing loss.
"Billie was just four years old. They did not do procedures like this on children then," Linda said. "But Dr. Shae agreed to do the surgery as long as I understood that it might not work or make her ears worse. 'Deaf is deaf,' I thought. She can't hear anyway and this was a chance to correct it."
The doctor did only one ear in case the procedure did not work. Veins in Billie's hands were taken and used to create a new eardrum and the artificial bones were put into place. Linda said that, after the surgery, Billie's ears were heavily packed with gauze to allow for healing and they were sent home.
It was during that time that they attended Williamson's parade and the sound of the band penetrated the packing, and she heard for the first time.
"Looking back at old movies of her dance classes, we can finally understand that she was feeling and reacting to the vibrations of the music," Linda said. "You can now tell she would look at the other kids making sure she was in routine and copying what they were doing."
"After we found out she was deaf, I felt so guilty," Linda said. "I had punished her for not doing things I would tell her to do, but she just couldn't hear me. In four years, she had never heard me when I would tell her 'I love you.'"
A long road to recovery — and another battle emerges
Even though the defect had been repaired. She had had to have the transplants repeated as her body grew and developed — the last surgery being at age 13. And Billie still required the assistance of hearing aids which caused her to be the victim of teasing and bullying at school.
"As a teenager, I would sometimes get depressed," Billie said. "My grandfather always told me that God was preparing me for something even bigger."
Fast forward several years later and Billie found out what she was being prepared for. Her daughter Katrina was born with a genetic blood clotting disorder. The doctors kept telling Billie that her daughter kept failing blood tests regarding clotting.
In the same scenario as her mother, Billie would not give up until an answer was found. It turned out to be a condition that was never diagnosed until patients were dying or had died. However, because of the fighting instinct she had learned from her mother, Billie — who had moved to Columbia, Kentucky. — found a hematology clinic at the University of Louisville which was able to discover what was wrong with Katrina at age seven.
"I come from a family of fighters," Katrina said. "My mom learned to fight for me from my grandmother who never gave up on her. I want to have kids of my own someday. Because this disease is genetic, I will be fighting for them as well."
Katrina, who attended the University of Louisville on a full-ride academic scholarship, has graduated with a bachelor of science degree in psychology and is considering pursuing a medical career as a hematologist.
"I want to be able to help children like me someday," she said. "I want to be able to tell them they can have a happy life because I have lived through it myself."
While Billie heard her first sounds at a Christmas parade, Katrina was born on Dec. 23 and mother and daughter came home from the hospital on Christmas morning.
"This is always such a special time of the year for us," Linda said. "When Katrina came home from the hospital, we put a bow on her and placed her under the Christmas tree. Our family has been so wonderfully blessed."
Billie is excited about being the parade grand marshal. But it has not made her prideful. She only sees it as a way to hopefully pass on what she has learned.
"I am so humbled by being asked to do this," Billie said. "I just want to inspire other parents to keep pushing when there is a problem with their children. If my mother had not kept pushing the doctors to find out what was wrong with me, I would have been labeled mentally handicapped and would have never heard anything my entire life. Parents have to be their children's best advocates."