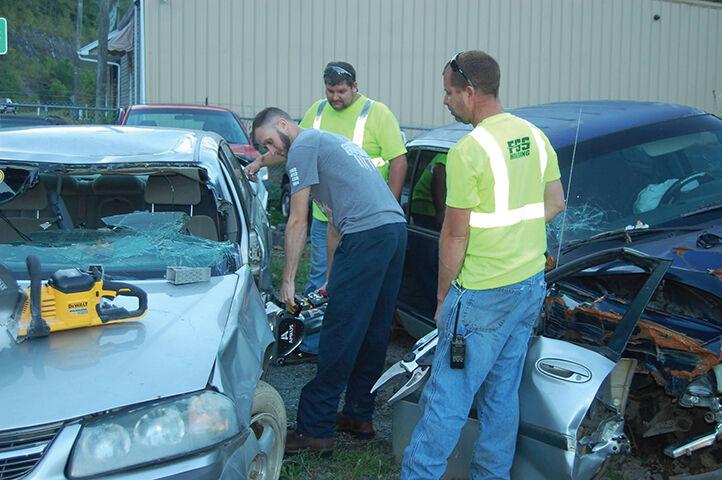 When NASCAR emergency personnel have to get to the driver of a mangled car fast and extricate him/her from both car and track in a timely fashion, these days they are able to do so with mobile battery-powered cutters and spreaders.
By contrast, whenever most fire departments get to a crash scene that requires extrication of the driver and/or passengers, they have to first hook up their tools to a cumbersome hydraulic pump powered by a separate power unit (gasoline engine), and then drag tools and hydraulic hoses to the vehicle before rescue can begin.
While this slower and much more labor intensive hydraulic system doesn't typically create a problem for firefighters on a quickly accessible highway crash, it becomes an altogether different matter if they have to get these vital tools to a vehicle that has plunged 300 ft. over a hillside.
No one has understood these problematic and frequently hazardous scenarios over the years more than the Chattaroy Volunteer Fire Department.
The CVFD is one of many fire departments that have had to perform rescues in locations not always conducive to these types of operations powered by and tethered to hydraulic-driven equipment.
And, like most fire departments, the CVFD has always realized this much-valuable lost time produced by the old equipment could someday mean the difference between a crash victim surviving or dying from their injuries.
Going forward, however, future rescues in otherwise uneasily and slowly accessed locations will not pose these consequential difficulties in the same manner they once did — at least not for the CVFD.
That's because the department recently purchased and added new Amkus Rescue System battery-powered extrication tools and accessories to its rescue gear — the same battery-powered tools used by racetrack rescue personnel.
The purchase included a cutter, spreader, four 60v batteries, a four-bank charging unit, and two additional ERTs (extended reach tips) for the spreader.
"This equipment is just such an important addition to our department's rescue equipment," CVFD Chief Joe Rumore said last Friday evening during an initial training exercise with the new tools. "Not only does it mean our guys can just grab the cutter and spreader off the truck and get to a car crash far quicker, regardless of whether it's on the four lane or down a steep hillside, we'll also now be able to better respond to ATV accidents that might occur on the Hatfield McCoy Trail System.
"To my knowledge, we're the first department in Mingo County to get them."
Steve Sullivan is a representative of Matheny Fire and Rescue, which is based in West Virginia, Maryland, and Virginia, and is the distributor of the Amkus equipment in these three states.
Sullivan, who also conducted the training session for the CVFD Friday evening, said the battery-powered tools are advantageous in more ways than one for firefighters.
"The obvious advantage for the firefighters is they don't have to have a power unit and hydraulic lines to operate these tools … they're not having to set up and then drag the lines and tools for use at the vehicle crash site," Sullivan said. "Also, because these tools are also much quieter, the guys can better hear what's going on around them, and that makes the scene much safer for them and the victim."