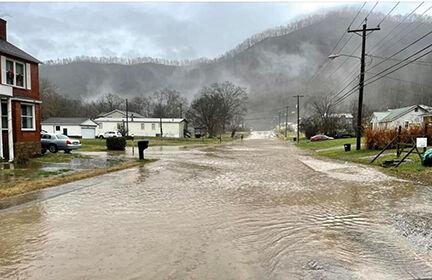 Although Mingo County experienced flooded roads, downed trees and power outages, unlike several communities in neighboring Pike County, Kentucky, that got slammed by raging waters and extensive flood damage, officials said the county managed to avoid the harshest effects of the New Year's Day storms.
Across the river in Pike County, the communities of Belfry, Toler, Upper Pond Creek and Sidney, as well as several others along Ky. 468, were hit exceptionally hard after storms dumped as much as three to four inches of rain in those locations in just a few hours.
"We were really fortunate that we didn't have anything close to the flash-flooding and devastation that parts of Pike County got," Mingo County Emergency Management Director Doug Goolsby said earlier this week. "That's not to say we got off completely unscathed, because we did have some problems."
Goolsby said a number of roads were blocked and damaged due to heavy runoff and blocked drainage systems, most notably in the Matewan area.
There, he said, clogged drains blocked Rt. 49 for a time at Hatfield Bottom and O'Brien Addition.
"We also had some major road damage at Sulphur Creek, as well as at Warm Hollow, due to debris-clogged drains and ditch lines," he said. "At Glen Alum, the road was completely washed out and the Department of Highways had to fix a temporary access road for three families that were unable to get out."
Goolsby said there were also power outages throughout the county due to fallen trees.
He said there additionally were a number of slides along Rt. 49 as well as one at Varney.
"There was also some high water in Delbarton along the low-lying areas of Pigeon Creek, but as a county, overall we got off in fairly good shape," he said. "To my knowledge there were no residences affected by high water, and we're really thankful for that."
In Williamson, Mayor Charlie Hatfield reported the closure of the underpass at Vincent Street due to heavy runoff and collection of high water there.
While the Tug River rose to just above flood stage at 27 feet following Saturday's flash-flooding event, according the National Weather Service in Charleston, the river crested relatively quickly Sunday at around 7 p. m. at a little over 28 ft. and didn't pose any significant flooding issues to communities on either side.