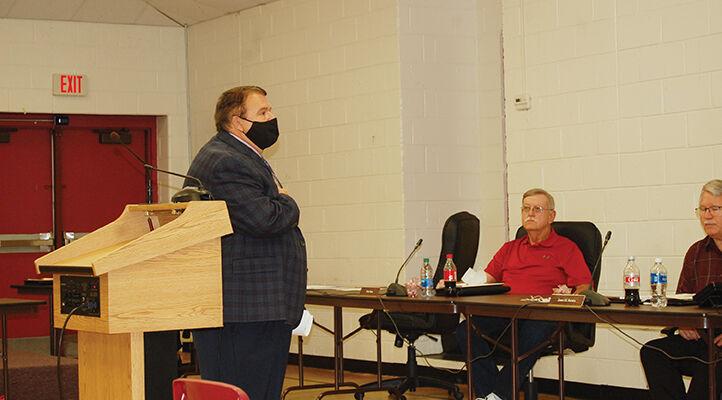 Prior to the Mingo County Board of Education's approval of the county's school reentry strategies during a special session two weeks ago, Superintendent Don Spence gave the board advanced notice that changes inevitably would have to made to various parts of the overall plan before and after school officially begins on Sept. 8.
During Tuesday's regular board meeting, Spence explained that in the two-week interim since the plan was approved, as expected, a few changes had to be made in one area — specifically to that part of the strategy detailing when and where students will be required to wear face coverings.
The overall reentry plan calls for a blended option which provides students with in-person learning Monday through Thursday and remote learning on a district-provided device on Fridays, as well as for 5-day-a-week virtual learning for students who choose not to attend in-person classes.
The previous requirement for those students opting for in-person learning called for all students PK-12 to wear face-coverings while on buses, and students in grades 3-12 and all staff members to additionally wear them in halls and common areas.
However, originally the plan allowed for masks to be removed after core group of students (students in grades 3-8) were in the classroom and seated, regardles of whether adequate social distancing at a minimum of 6 feet could be attained due to class size.
Spence said the revision now requires all 3-8 core group students to wear face coverings in the classroom when social distancing is not possible.
Per the governor's earlier mandate specifying face protection as part of school systems' reentry plans, Spence noted, students in PK-2 are not required to wear face protection. However, Mingo County Schools is providing these younger students with more age-appropriate face coverings and is still requiring that they wear them on the buses, he added.
Spence pointed out high school students who will be changing classes as usual and not core grouping (in the same classroom all day like PK-8 students), and who along with teachers and other employees would be placed at a greater risk, along with the already mandated hallways and common areas, will now also be required to wear face protection in the classroom.
"I've said many times that things will change daily and that we will have to make adjustments to our plan as we go forward, but with respect to our reentry plan this face mask issue is just glaring at me," Spence said. "So, we had to make some adjustments to our plan regarding the high schools. Also, we're working on the numbers right now with the K-8s ... we're trying everything we can do to get those in-person class numbers down."
Spence further explained that if the number of students in a particular 3-8 core group classroom could not be reduced enough to allow for proper social distancing, which he pointed out currently is a real possibility in many of the schools, the use of protective face coverings would be delegated to principals and teachers to enforce.
"If you have 23 kids in a classroom and they can't social distance, then the principal and teacher are probably going to have to designate masks being worn all the time," he said. "But on the other hand, if you have a 4th grade class across the hall with 15 kids and they can get the proper social distancing, then they wouldn't necessarily have to wear the masks while in the classroom."
Spence said the school system's overall reentry strategy posted on its website two weeks ago would be reposted again on Wednesday, Aug. 19, for employee and public review, which he pointed out would denote just those revisions to the face covering requirements.
In other business, the board also approved:
• United Dairy as the county's milk vendor for the 2020-21 school year.
• US Foods as the county's food distributor for the 2020-21 school year, and,
• Provisional placements of classroom teachers with professionals pending board action through Sept. 30, 2020.