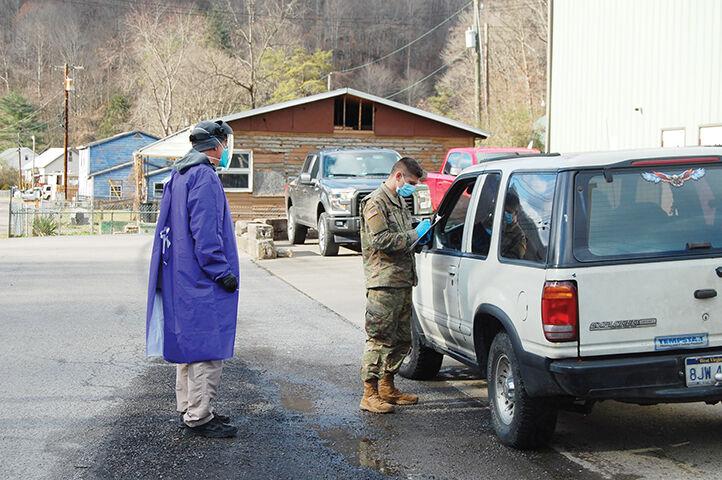 A significant drop in the number of people being tested this week for COVID-19 is expected to cause the county's positivity rate to increase and, at a minimum, put the county back into the orange category at the end of Thanksgiving Day.
Mingo County Health officials reported this bit of discouraging but not necessarily unexpected news earlier this week.
MCHD Administrator Keith Blankenship said the week of Nov. 15 through Nov. 22 saw more than 1,000 Mingo County residents tested for the virus.
This substantial increase in the number of people being tested, he said, not only enabled health officials to more efficiently identify and quarantine/isolate potential spreaders of the virus and reduce the infection rate, but also aided in reducing the positive to negative percentage ratio.
As a result of this larger number of people being tested, he explained, the county managed to ebb to a gold designation with a seven-day rolling average positivity rate of 4.71 percent during this period.
The significant decrease in positive cases for the first time in weeks also allowed for in-person instruction in Mingo County's schools on Monday and Tuesday of this week. Students were scheduled to be out the remainder of the week for the Thanksgiving holiday.
All the state's counties, regardless of color designation, were scheduled to proceed with remote/virtual instruction next week on Monday, Nov. 30, and continue to do so through Thursday, Dec. 3.
The governor and health officials said this additional time would allow for a seven-day virus incubation period for students and school personnel who may have been exposed during Thanksgiving family gatherings.
Those counties with a four-day in-person and one-day remote instruction model, such as Mingo County, that are in the gold or lower color classifications on Saturday, Dec. 5, would be eligible to return to in-person instruction the following Monday, according to the governor's directive.
Because of the Thanksgiving holiday, Blankenship said testing in Mingo County was temporarily paused this week at the end of the day Tuesday and wasn't scheduled to begin again until Saturday, Nov. 28.
He said the decrease in testing over this three-day period was expected to elevate the county's positivity rate for the next seven-day rolling average assessment (Nov. 18-26) and place the county back into a less favorable color category when the state's school alert map comes out Saturday evening.
"I don't think there's any doubt that we're going to lose ground this week because of the holiday," he said. "Last week we tested more than 1,000 people, but because we won't be testing Wednesday, Thursday and Friday this week, we feel we will have 25 percent or greater fewer tests."
As of presstime, Mingo County was classified orange on the state's alert map and had a positivity rate of  5.67 percent.
Blankenship said going forward the number of tests should increase substantially when testing begins again on Saturday. He said the rates should accordingly begin going down as well.
"Our hope is that the testing numbers will start climbing again after the holidays and as a result those increased tests we will again begin lowering the positivity rates," he said.
Since the governor issued his latest testing mandate nearly a month ago on Oct. 31, Blankenship said, the county has been averaging three to four testing sites a day at different locations throughout the county.
As of Wednesday, Nov. 25, 11,307 people have to date been tested, with 939 confirmed as positive cases.
There are 327 current active cases and there have been 597 recoveries. The death total now stands at 15. The county's latest death, that of an 83 year-old male, was confirmed Nov. 24.
Blankenship said locations and dates of future testing sites will be posted on the MCHD's Facebook page and website as they are determined and confirmed.