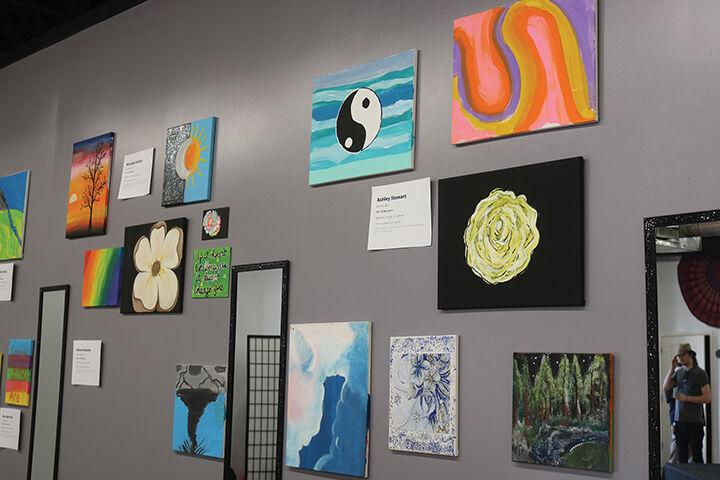 The second installment of the Art of Recovery pop-up gallery was a huge success according to the event planners for HeArt of West Virginia as they forge ahead toward their next event planned for August.
"We had a large turnout and it was a lively and fun night. There was a good flow of people coming in and out all the evening," said Jim Pajarillo who leads HeArt. "We had more than 60 pieces on display from members of the recovery community."
The Art of Recovery gallery was created to showcase the talents of those in the recovery community and to support the rehabilitation process among those who are working towards sobriety through programs such as the Mingo County Day Report and the Mingo County Drug Court, according to Pajarillo. In addition, the gallery featured art pieces from counselors, therapists and staff member from those programs.
"The work come from a place that a lot of us cannot relate," he said. "There are emotions … there are feelings you can see and sense in the art. I'm glad they are brave enough to come out and show their work."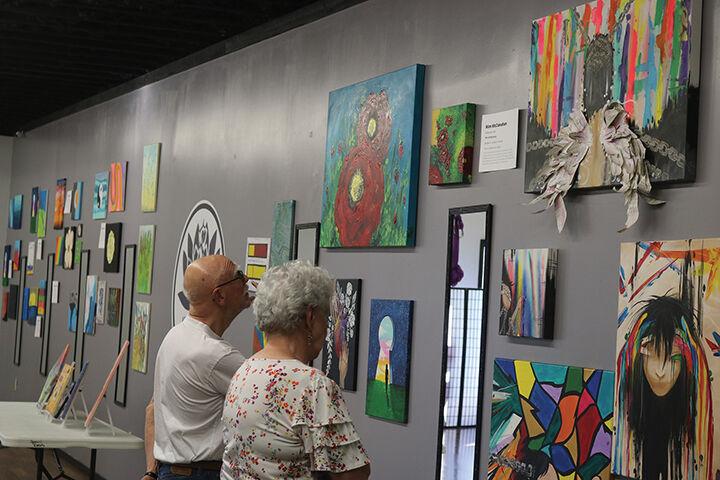 Kim McClanahan, who serves as an art therapist at the Day Report, said art therapy has a great impact on those in recovery programs. She agreed with Pajarillo that it takes courage for them to display their projects and to be involved in events such as the pop-up gallery. However, she added that positive benefits of the gallery will strengthen them in the recovery process.
"Most of these pieces are from clients we have at the center that are working their recovery and their sobriety right now. We have some beautiful pieces," she said. "The whole reason we do this is because we want to bring awareness to people. There is such a negative stigma attached to those who are trying to fight for their recovery. This puts them in a positive light and lets people see that change is possible.
"These people are tying to turn their lives around. Trying to make positive impacts. Trying to make positive impacts," McClanahan said. "This is a positive outlet for them."
One of the pieces displayed, which spoke poignantly to the purpose of the gallery, was done by Jennifer Hall. It was a simple silhouette depicting a set of bars with a pair of handcuffed hands reaching out below her interpretation of a verse from the sixty-first chapter of the biblical tome of Isaiah: "He comes to set the captive free."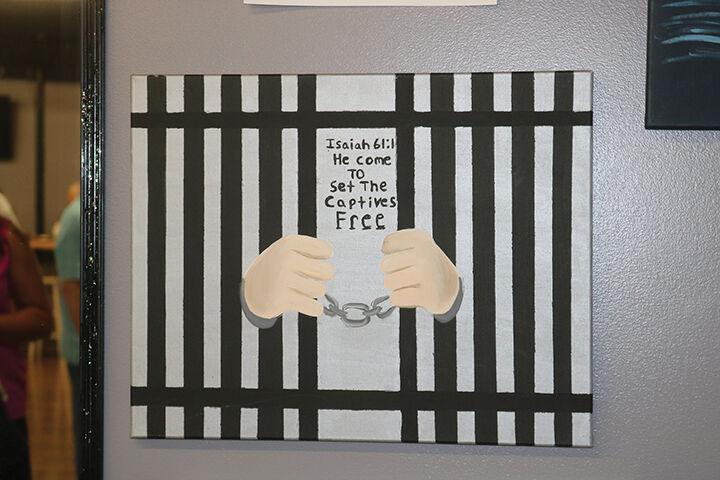 "Art inspires me to view life differently and to appreciate the little things in life.," James Kendrick, a Day Report client who attended the gallery and spoke with attendees, said. "With art it is easy to create something out of nothing and that is what I am doing right now because of substance abuse. I'm creating a new life out of nothing."
He said that art is providing him with a creative outlet to express himself in a more constructive, proper manner opposed to his prior behavior.
The same expressive quality coming from art was expressed by another Day Report member, Brandon Potter: "We are just regular people. We aren't doctors or lawyers, just regular people who have had our own struggles. Art helps us to express it in ways words necessarily can't. Some things are too painful to even talk about. But, drawing it out seems to help."