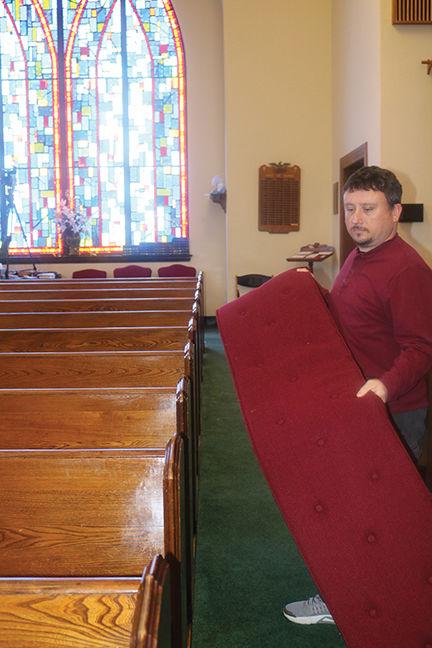 For the past several weeks, local churches have been much different places because of restrictions created by the COVID-19 pandemic. Congregants have not gathered to fellowship with each other. Songs of praise have not been raised. Sermons have not been delivered. There has not been any handshaking or hugging. The pews have been empty and the sanctuaries have been silent.
Local churchgoers have not been banned from worship as many churches have conducted services from parking lots and from a variety of social media options. But, they have uttered prayers as individuals instead of as a congregation and have been forced to miss being in the presence of their spiritual brothers and sisters.
Now, all that is about to change this week and church services will return to normal — at least to a certain point as churches and their parishioners learn and adapt to a "new" normal.
Gov. Jim Justice recently announced his "West Virginia Strong: The Comeback" plan to reopen the state after quarantine conditions that were put into place following the COVID-19 outbreak. Week Two of that plan allows churches to return to corporate worship. While churches were technically considered as essential organizations in the Mountain State, the governor had asked that traditional church services be suspended and congregations complied with that request.
"We at First Baptist Church of Williamson complied with the governor's request," Pastor Jarrod Belcher told the Mingo Messenger. "But, we will all be glad to be together once again. We miss the fellowship of being with each other. And, it is a command of the Lord for us to assemble together. We definitely want to honor that."
At the same time, Belcher wants the members of his pastorate to be safe.
"We stayed away because we didn't know anything about this disease and what would happen," he said. "As we come back we will be exercising caution."
Belcher and the church leaders have worked on a plan that will allow members to come to worship and yet meet many of the standards put in place because of the recent pandemic.
"We will be having two services on Sunday," Belcher explained. "The first service at 10 a.m. will be for members who are 55 years old and over and for those who have health issues. The second one will be at noon for other members."
He said, this way, people who are at a higher risk will be safer because they will be in the building first. Then, the church will be cleaned prior to the second service. Also, members are asked to take their personal status into consideration before coming to public services.
"I would like to emphasize that for anyone that has underlying health-related issues, or even those that are anxious or uncomfortable returning to public worship at this time, I encourage you to state home and worship by way of the opportunities afforded to you on the internet or through the broadcast," Belcher stated in a letter sent to each of the church's members detailing plans for coming back together.
During the services, people will be seated at every other pew to follow social distancing requirements with no handshaking or hugging. Those attending services will have to wear gloves and face coverings. The church will project songs on screens and the use of hymnals will not be allowed.
"Given the uncertain nature of this disease and the fact that many in our congregation are at risk, we have not had public church gatherings since March 18," Belcher said. "Due to several positive factors and more knowledge about the transmission of the COVID-19 virus, we believe the time for a responsible and careful return to church is upon us."
First Baptist will follow a phased in approach as well. Currently Sunday school classes, mid-week services and choir are suspended. Those activities will be added back, step by step, as the threats of the pandemic lessen.
"It's very strange to have to come to church with these types of restrictions, but let's give thanks that we are able to return," Belcher said. "We praise our God and Father in Heaven who is rich in mercy no matter the circumstances we face."
A great majority of churches across Mingo County will have public services on Sunday. However, some churches such as the Sharon Heights Assembly in Gilbert and Little Dove United Baptist Church in Lenore/Belo area are taking a slower approach.
Little Dove Pastor Jimmy Maynard said that returning under the current social distancing regulations would be extremely difficult because of space limitations inside the church building.
"The Lord has really blessed us and we have about 150 to 200 people on average that attend our services," Maynard said. "We would probably have to have four or five services to be able to do that. Also, we have so many older people who are struggling with health problems who come here. It may not be safe to come back together yet."
Maynard said the Little Dove congregation will continue with its social media services this Sunday. The church leaders are considering in a parking lot service next week. They will decide how best to proceed from that point in terms of the congregation conducting public services inside the sanctuary.
"We are trying to balance everything and to listen to the governor," Maynard said. "He said he was older and encourages people around his age to give it a couple more weeks before coming back to church. I'm in my 70s myself and I understand the concerns. We don't want to put any extra stress on anyone right now."
He said that if services were started right away that some people who should not attend might feel "peer pressure" to come to church.
"We have to remember that when the flood happened that Noah and his family remained in the safety of God's care," Maynard said. "They did not come out of the ark until it was safe and the time was right."
West Virginia State Health Officer Dr. Cathy Slemp also encouraged spiritual leaders across the state to consider the needs of their individual congregations and not to feel that the reopening is a blanket requirement for every house of worship to reopen immediately.
"When it comes to going to church, oftentimes it is a by higher risk population and churches have a special responsibility for taking care of each other," she said. "I really encourage churches to continue to use alternative ways to worship and to connect rather than traditional worship services."
She also encouraged a "gradual" approach carried out "in stages" for congregations that wish to meet together.
That is the approach being taken by the Sharon Height Assembly.
Arville Cline, pastor at Sharon Heights, said that social distancing would not be a problem for his congregation. An average attendance of 30-some people means there is plenty of physical room within the church, however, he believes that a slower return is a better option and will allow his members to set the tone for coming together.
"It will not be this weekend, maybe next Sunday. We will take progressive steps to acclimate coming back," Cline said. "During our online services Sunday, I will canvass members to see if they feel comfortable with returning.
"In fact, my father is 88 and I'm going to strongly encourage him not to come to church too soon," Cline continued. "We want to be able to have normal services again, but we want everyone to be safe in the process."