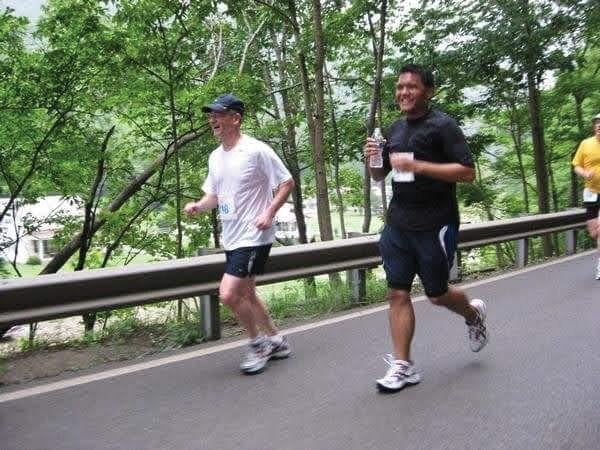 After 20 years of near uneventful and flawless running of the Hatfield McCoy Marathon, the renowned event darted headlong into an unprecedented wall in 2020 as a result of the COVID-19 pandemic.
Though somewhat addled, the good news was organizers were able to steady themselves enough in the waning weeks to arrange and stage a virtual race.
An additional event saver was when a few veteran die-hard competitors decided to brave the 26.2-mile course on the scheduled day as usual just to salvage some semblance of normality in an otherwise anomalous year.
Still, when the date of the race had finally come and gone, all concerned nonetheless could not help but consider it as having been a disappointing second weekend in June.
And the primary reason for the general disappointment was and still is simple: Even though the HM Marathon is a comparatively small race, it remains sanctioned by the Road Runners Club of America as a regional championship race and recognized as one of the premier marathons in the country due to its "New York Marathon popularity" among runners across the country.
In spite of last year's setback, if asked to express their thoughts in the present these same organizers and runners would quickly tell you the most important thing is that the famed running event is back on its customary track in 2021 and that this reality in itself is sufficient for the moment.
They would confidently insist that next Saturday, June 12, an expected 800 runners will be towing the starting line at Food City in South Williamson and further validating this collective buoyant sentiment.
"Obviously, last year was a huge disappointment for everyone … we already had our plans in place in October of 2019, already had our finisher's medal chosen, pretty much just fine-tuning our planning and waiting for June to roll around," Tug Valley Road Runners President Alexis Batausa said. "Then the pandemic hit and we were forced to make drastic adjustments. It pretty much forced us to get used to the 'new norm' that we were presented with and do the best we could with it.
"The marathon is a tremendous moneymaker for the entire region and we essentially lost that last year," he continued. "But we're very confident that we're going to make up for the disappointment and financial loss with a strong comeback in 2021."
Former South Williamson and current Danville, Kentucky, resident Harold Osborne was the second member and first treasurer of the TVRRC after its formation in 1999.
He has either run the full marathon or one of the half-marathons every year since the first one in 2000.
He also was one of the few of competitors who shrugged off all the inconveniences of last year and traveled from his home in Danville to run the actual course nonetheless.
"The marathon is just so special. It really means a lot to me personally because I have been involved with it since the very beginning," Osborne said. "For it not to have been held last year, at least in the way it always had been, was both different and disappointing. I am just really glad things have worked out and we can have it again this year."
Like Osborne, Flemingsburg, Kentucky, resident Rosemary Evans has competed in every HM Marathon since the race was first launched 22 years ago. While she also expressed disappointment over 2020, Evans managed to keep it all in perspective.
"No question last year was disappointing because of the change to virtual, especially for all those like me who compete in that race every year," she said. "But it was in the best interest of everyone, which still made for a great day.
"I have nothing but good things to say about the marathon … awesome community support, great folks and great scenery, which naturally is why I'm just so glad I'm able to come and compete in it again this year," Evans said.
Batausa said approximately half of the runners in this year's comeback race will hail from 40 different states. Due to their respective governments' continued pandemic-related travel restrictions, however, he said most if not all the marathon's typically faithful out-of-country runners would again be competing in the virtual version of the race.
He said the pandemic continues to present a few residual problems even this year. One of these is difficulty in getting the number of volunteers necessary to work the water stations.
Another is a shortage of people to deliver water and other supplies to those stations and other strategically vital points along the course.
"I think as has been the case in most races getting back to normality this year, is that everyone has had trouble getting the necessary volunteers," he said. "And I also think a lot of that has to do with the continuing fear people have of the pandemic.
"That's why we're still actively seeking people for general help. We want to let them know we still need volunteers and that there is still time for them to come out and lend a very much needed hand."