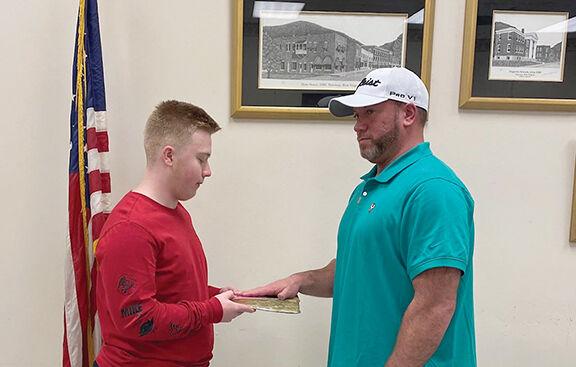 Mayor Sheila Kessler resigned her position as the mayor of Matewan effective immediately during a special-called meeting Monday night, Dec. 21. As part of that meeting, Councilman Matt Moore was named her successor.
Kessler, who has held the position of mayor for two decades, said repeatedly during Matewan Town Council meetings throughout the summer and fall that she would not seek reelection to her post in the upcoming municipal election which will be held in the spring of 2021. Also, political pundits across the Mingo County had been predicting Kessler's resignation for several months. Monday's meeting turned their speculations into a fact.
Kessler cited personal reasons for her resignation, saying she wanted to spend more time with her family. She said that she would still support the town however possible and would like to remain involved with the town as it moves forward.
Councilwoman Jessica Horner made the motion to accept Kessler's resignation which passed on a 5-0 vote.
Upon accepting her resignation as mayor, the council selected Councilman Matt Moore to finish Kessler's unexpired term which ends in June 30. Moore is currently in his first term on the council and has been a member of the governing body for three and a half years.
"I am honored and humbled to accept the position of mayor of Matewan, on behalf of our council's nomination. I am a lifelong resident of Matewan and plan to continue moving our town forward with the support from the community and council," Moore said. "I appreciate all Mayor Kessler has done and for the time she has given to this town. We have great people here and we have all began working together for the betterment of Matewan and that's what it takes to be successful I'm excited for not only myself and my family, but for our town, its' employees, and residents."
In his first action as mayor, Moore asked if the council was ready to fill his vacant council position. Councilwoman Kathy McCoy nominated Kessler to take that post. Kessler accepted the nomination and the council voted 4-0 in favor of the nomination.
"It's truly been an honor to serve the town of Matewan for the last 20 years as Mayor. My time as Mayor will always hold a very special place in my heart along with people that have helped and supported me throughout the years," Kessler said about her resignation. "I hope that I have served Matewan well and I look forward to supporting Mayor Moore in the future as councilwoman."
The candidate filing period for the upcoming election will begin in January 2021 with the municipal election being conducted on Tuesday, June 8, according to Town Recorder Crystal Moore. In addition to Matewan, the municipalities of Gilbert and Williamson will also conduct council elections this year. Kermit held its town elections earlier this year and Delbarton's council election was in June 2019.
In other actions, the council:
• Decided to table the execution of $40,000 historic revitalization grant until questions about contradictions in the documentation can be addressed;
• Approved a request by Rock Forge Bridge Company, which is replacing a bridge in North Matewan, to dump construction debris into the old swimming pool hole as long as they do not overfill the hole;
• Voted to give Christmas bonuses to city hall employees; and
• Directed the town finance officer to have Moore placed in a signatory capacity on town accounts.