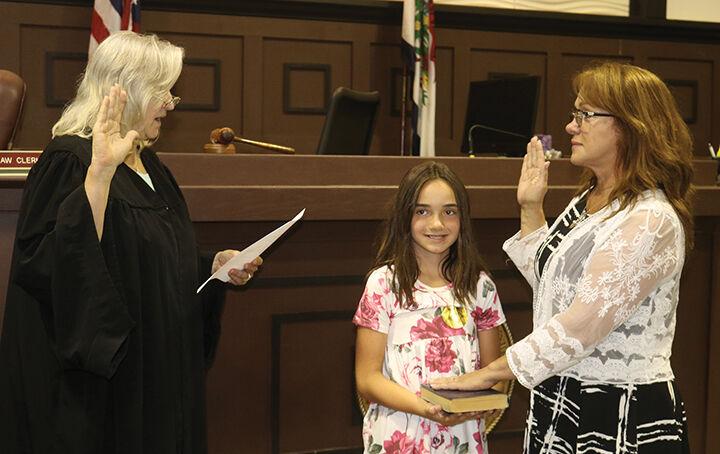 Mingo County Commissioners Thomas Taylor and Diann Hannah made a temporary appointment to replace Commissioner Gavin Smith who died suddenly last month. During a special meeting on Tuesday, Smith's wife was named his replacement until July 7.
The special meeting drew a standing-room only crowd as people attended to show their support for Audrey Smith to replace her late husband on the commission. The meeting became very emotional as members of the audience made impassioned pleas. Tears were shed by members of the crowd, courthouse administrators and the commissioners themselves as they found that state code is in opposition to the wishes of those who wanted Audrey Smith to succeed her husband.
The section of West Virginia's state code mandates that within 30 days of a commission vacancy, the remaining members of the commission must name a replacement for that seat. If an appointment is not made within that timeframe, the matter will then be sent to the Executive Committee of the former commissioner's political party.
According to Mingo County Prosecutor Duke Jewell, who acts as the county's attorney of record, Jewell told the commissioners that in order to be considered as a replacement candidate, a person must be an adult over the age of 18, a resident of Mingo County and must be of the same political party affilation as the person who vacated his or her position for at least 60 days prior to the vacancy.
Party affiliation was the problem the
commission found with Audrey Smith. She changed her voter registration to Republican, the party which her husband was a member, after his death. Prior to that she was registered as an Independent.
As a temporary action, the commission named Audrey Smith as her husband's replacement for the remainder of the 30-day period which ends next Wednesday. According to a representative of the West Virginia Secretary of State's Office, the political affiliation clause does not apply to that period. During that time, the commission is going to seek further direction from the SOS Office and the West Viriginia Attorney General's Office regarding the matter.
"I voted Republican in the last election. I voted for Gavin. I was not a Republican on paper but in my heart, I was a Republican," Audrey Smith told the commissioners. "If there are any questions about the rules, I ask the commission not to make a decision today. Dig a little deeper."
Kelly Cisco, a resident of Beech Creek, attended the meeting to support her.
"Laws are laws and rules are rules, but those laws can be challenged," he said. "Laws are changed for what the people want. The majority of people in Mingo County supports Audrey."
Jewell told the commission and those gathered at the meeting the code is clearly written.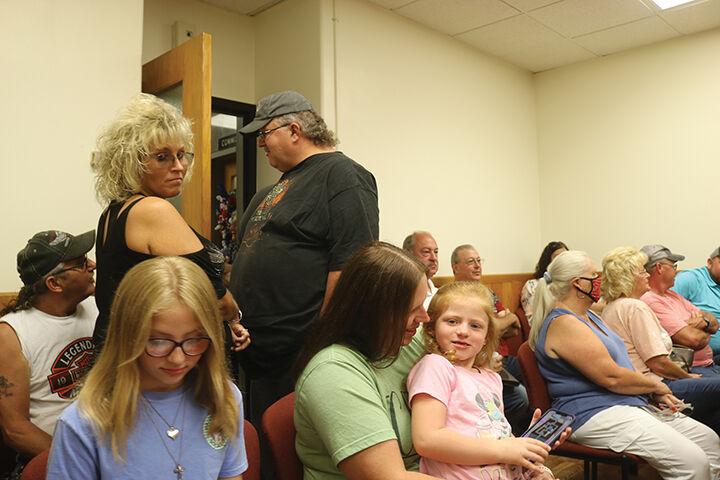 "Everything is spelled out in writing," Jewell said. "The law is very clear."
Taylor, who serves as commission president, said, "Gavin did not have a political bone in his body. The fact his wife was not a Republican showed what a breath of fresh air he was for Mingo County. He gave people hope. Audrey was there with him all the way. She knows his heart. Gavin always said, 'Do the right thing.' Sometimes the law is not what is right."
Sabrina Grace of Williamson echoed Taylor's sentiments.
"After the election last fall, I felt hope for county for the first time in a long time. It was refreshing to see the county put progress above politics for once," Grace said. "People believed in him, truly believed in him. It was not Gilbert that won the election for him, it was Mingo County that won it for him. You (speaking to Taylor and Hannah) work for Mingo County.
"You owe it to the people of Mingo County to turn over every rock and see what you can do," she continued. "I'm not saying to break the law – we have done that before in Mingo County and we see where it has gotten us – but you have eight days left before it goes to committee. We deserve that you do everything you can."
At one point as emotions rose, Taylor made a motion to appoint Audrey Smith as the permanent replacement.
"I have sat in this seat for five years now and sometimes it has been a miserable place to be because you can't accomplish anything," he said. "I will gladly give you a motion for Audrey Smith to serve and if a lawsuit comes, I will step down. I can't help people if I don't have somebody that will fight with me. I will gladly, if it comes to that, step down and somebody else can have it. You hit the nail on the head. You have to do what is right and sometimes that is not the law."
Audrey Smith also said that if she were appointed and the decision was challenged by legal actions she would resign as well.
"If you flaunt one law, you flaunt them all. If you break one law, you break them all. As much as I would like to say we will do this because it is the right thing to do in mind and in our heart, the law says clearly, we cannot do this," Hannah said. "We're both under bond and we have got to do what the law says. If we don't, we are going to jail. That is the problem with using sentiment over the law. If there is any want it can happen legally, we on board."
That motion by Taylor died for lack of second.
Following the passage of the temporary appointment, Audrey Smith was sworn into her position by Mingo Circuit Court Judge Mika Thompson.
"It is an honor to sit in the Gavin's seat, even if it only for a week," Audrey Smith told the Mingo Messenger. "Gavin gave people enthusiasm. I want to keep that going forward. I will try to follow in his footsteps and if it cannot be me, I hope whoever is put in will have Gavin's morals and convictions."