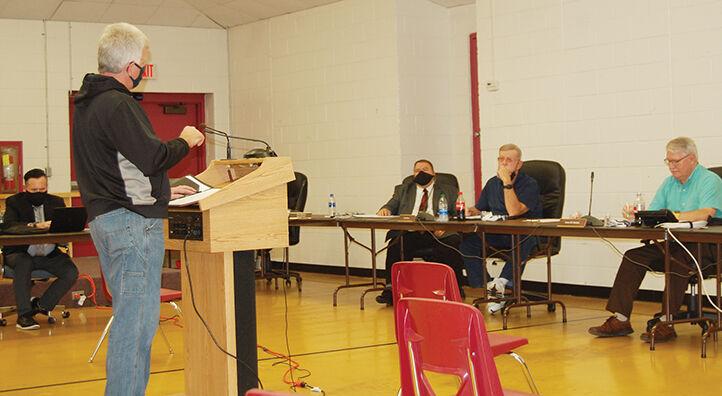 Whether or not to financially help a community center at Lenore keep its doors open and the facility available to local Mingo County schools sports and cheerleading teams was a topic of lengthy discussion Tuesday evening during the Mingo County Board of Education's regular meeting.
Lenore resident Ronnie Blankenship, who had previously addressed the board on behalf of the Lenore Community Center (the old Lenore High School), again came requesting financial assistance.
Blankenship said the facility has been serving as a community center as well as an addendum basketball/cheerleading competition and practice venue for local schools for a number of years now.
He said the Tug Valley High School Cheerleading Squad and Lenore PK-8 basketball teams, for example, have typically used the facility whenever they have been unable to use their own facilities due to things like scheduling conflicts with their respective school's other teams.
The center, which Blankenship pointed out has been openly available for use by any of the county's schools, in the past had been operating primarily on a self-sustaining basis with the revenue it always generated coming from events like fall festivals, basketball camps and basketball leagues.
However, due to the COVID-19 pandemic and the safety measures having been put into place drastically restricting public activities and gatherings as a result, along with other factors, he said revenue for the continued operation of the facility has essentially dried up.
"There's basically four of us really dedicated to keeping the center operational, but it's been really hard," he said. "So we would graciously accept anything you guys could offer."
Because the board currently pays the Williamson Park Board and the towns of Delbarton and Matewan a yearly stipend of $30,000, $5,000, and $15,000, respectively, for the use of their facilities to accommodate school-related sports activities, and because he believes it would be an apples to apples situation at Lenore, Vice-president John Preece recommended that the board give the center $10,000 this year and then revisit that amount next year.
However, board member Sabrina Grace pointed out it was more of an apples to oranges situation at Lenore because, in those other instances, the county doesn't have the facilities for student-athletes to use at those locations.
"I'm not opposed to helping and giving (the Lenore center) money, but that is for extra…the schools that use that (facility) all have facilities," she said. "These that we pay for, we pay out of necessity, and I think we all should keep that in mind."
Board member Tom Slone said he would not be opposed to helping the center either but felt the help should not exceed the lowest amount currently being received by Delbarton.
"Ronnie I really appreciate the work you're doing and you and all the others are to be commended for it," he said. "But I feel if we matched what we give Delbarton then there would be very little backlash on the assistance."
When asked his opinion by President James Ed Baisden, Superintendent Don Spence agreed that the center was worthy of the board's financial help but, like Slone, believed the amount should not exceed $5,000.
"I taught school in that area and grew up in that area and I know what Ronnie's trying to do, and I know that building is used by our community and our schools and our kids," he said. "I know we pay Delbarton $5,000 and I don't have a problem with us helping out Lenore with that amount, but I would not exceed that amount. They're trying to do something good for our kids, and that's kind of the business we're in ... and when it comes down to it, we do use that building for some activities."
Following further discussion, the board voted 3-2 to give the center the $10,000 recommended by Preece.