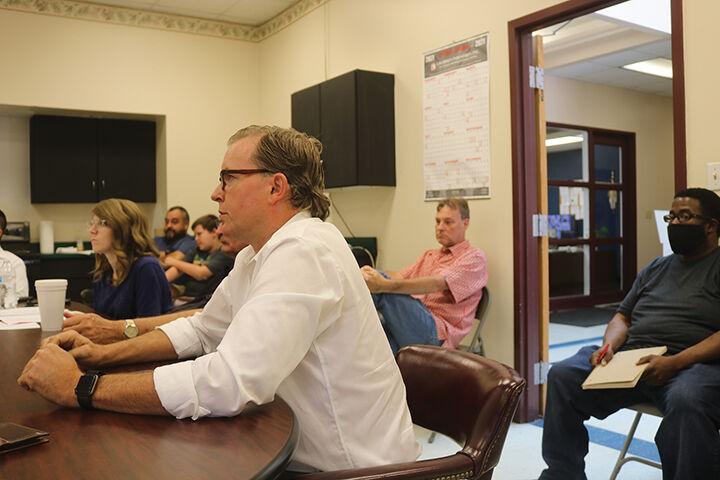 The Matewan Town Council met this week with a brand-new slate of members excluding Mayor Matt Moore and Town Recorder Crystal Moore. As the meeting progress, it became a tutorial session for the freshman council.
In addition, West Virginia State Sen. Mark Maynard attended the meeting to introduce himself to the council members and to offer the support of his office for any needs the town may have.
"I had wanted to come down to Matewan and was able to make the time," Maynard said. "I have a few ideas that I've been saving up for any municipality. I knew the election had just happened recently, but I did not realize this was the council's first meeting. It was a pleasure to sit in on the meeting. I got a crash course on what the council was hearing for the first time, and I learned a little bit too."
Maynard complimented the Matewan council saying the members seem organized and genuine.
"They want to help take Matewan to the next level," he continued. "I will be glad to help them any way I can."
Maynard talked to the council about a variety of topics from tax incentives to COVID funding to ATV rescue units to highway signage.
As the meeting progressed, Town Accountant Kelly May and Water and Sewer Plant Manager Jason Allen both gave the new council members detailed information concerning the town's financial structure and the workings of the utility systems. In addition, the council has arranged a time to conduct a more involved financial work session with May.
Town Recorder Crystal Moore addressed the council about ongoing problems with town's internet domains and email systems and a proposal from an internet firm to the town.
"Right now, the town does not have anybody to oversee our system and, if something goes wrong, there are no contractors we can get to help," Crystal Moore said. "We have talked about it before but have never really moved forward."
She said a supervised server system would provide the town with interactive and working public and private website pages along with proper emails with town domain names.
"There are no town emails. With this we would all have our own town email and would not have to use our personal emails," Moore said. "Cost wise, we need service. Email wise, for me using our personal email accounts for town business is not a good idea."
Audience member Bill Sutterlin said the town has a website that just needs to be fixed.
"I am not going to start that conversation," Mayor Matt Moore interjected. "It is not fixed."
Sutterlin continued to press the issue and said the website is only five years old, but has not kept up with the security updates.
"I will say this: I have been sitting at this table for four years going on five now and I have yet to have one person to be able to tell me how to log on to that website and change or fix anything. Did I not ask you to set up the emails? That website does not work. Our email situation was a nightmare a few years ago and I do not want to go back there. We have got to move forward."
Town Clerk Rachel Fleming, as well as May, said a new website with updated capabilities could help the town with a variety of daily tasks and could save the town money in the long run. The council members also agreed that a new system would allow the town to conduct tourism marketing and promote local businesses.
"I agree with you, something Matewan is lacking is a digital footprint," said Councilman Michael Dotson. "I do not see a downside. I see nothing bad with it just upward mobility. The town of Matewan lacks digital organization. When I go somewhere, I want to be able to go online and find things to do and places to eat. We cannot do that."
"To move forward and to be respected," Matt Moore said, "you have got to be professional."
The council asked Crystal Moore to invite the person she had been speaking in reference to the new system to attend the next meeting and to speak with the body in person. Also, the council will seek out other providers as well in order to obtain the best service.