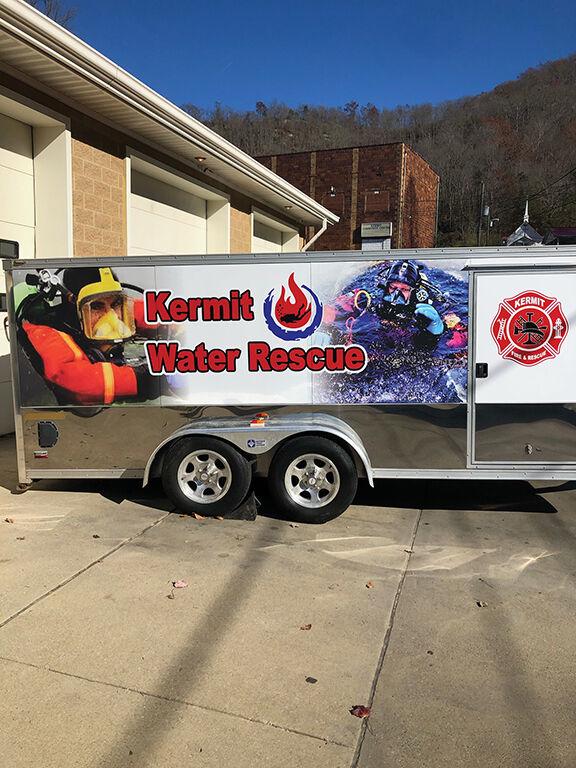 A request to the Mingo County Commission to use a county-owned pull trailer resulted in an unexpected gift to the Kermit Volunteer Fire Department.
The KVFD had been placed on the Commission's Nov. 17 meeting agenda for the purpose of requesting the use of a trailer in which to haul its water rescue equipment. However, as the matter was discussed, Commissioner Greg "Hootie" Smith made a motion to completely donate the trailer to the fire department.
"We have no use for the trailer," Smith said. "We had offered it to the Sheriff's Department for a mobile unit, but they never did anything with it. The Kermit fire department has been using it and has fixed it up for its water rescue efforts. It looks outstanding. I think we should just donate it to the department."
Smith said the donation would serve a two-fold purpose. One, it would provide the department with a much-needed piece of equipment. Secondly, by transferring the ownership of the trailer to the fire department, it could be removed from county insurance policies.
Smith and Commission President Diann Hannah voted in favor of the measure. Commissioner Thomas Taylor was not at the meeting because of illness.
During that meeting, the commission also voted to award the bid for the construction of the Kermit Boat Ramp to Eric Sarton Construction, which was the only company to submit a bid on the project.
"If the bid is within the guidelines and there is no fatal flaw with it, I move that we award the bid," Smith said.
County Grants Coordinator Leigh Ann Ray told the commission the bid was in order and there were no problems with it. Smith's motion passed.
Emergency Management Services Director Doug Goolsby informed the commission that Brother Towing owned by Williamson Blackburn had requested to be placed on the county's towing services list.
"We have to follow our resolution," Smith told Blackburn. "You will have to do your due diligence and begin a one-year waiting period before being put on the list."
Goolsby said he had explained the details of the resolution including the one-year period and Blackburn was willing to follow the guidelines. At the end of the probationary period to establish its services, the company can be placed on the calling list.