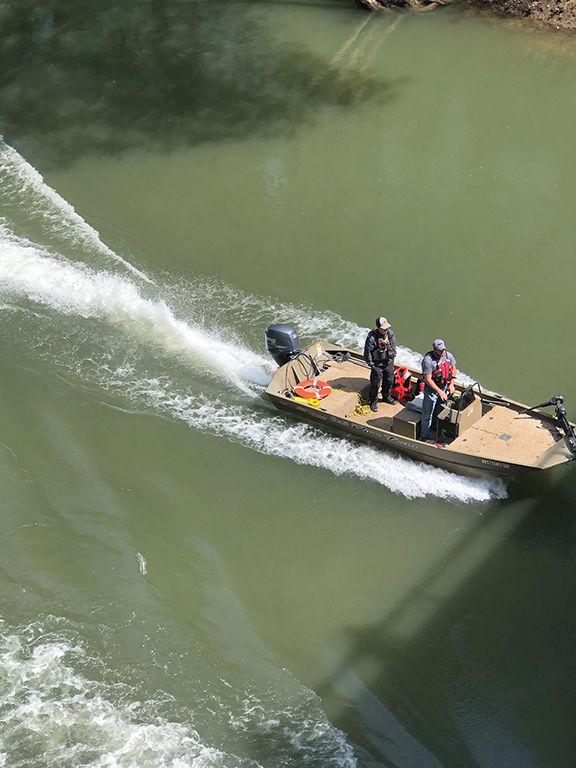 An intensive search continued April 23 for a Martin County, Kentucky, man who is believed to have drowned in the Tug River after he attempted to evade police late Saturday evening.
Authorities said the man has been identified as Arnold "Birdie" Mills, 28, of Turkey Creek in Martin County.
According to authorities, shortly before 11 p.m. Saturday, Martin County Sheriff's deputies attempted to perform a traffic stop on Mills and three other occupants of a vehicle in Warfield when the vehicle sped away.
Martin County deputies pursued the vehicle across the Kermit Bridge into Mingo County, authorities said, where it abruptly stopped just long enough for Mills to exit the vehicle.
The vehicle then sped away again and was eventually stopped a few minutes later in north Kermit by Martin County deputies, authorities said.
As of presstime, no charges had been filed in Mingo County against the three other individuals.
Authorities said Mills exited the car with a gun and a "bag" containing unknown contents. Authorities said Mills apparently discarded the gun but held on to the bag and then went into the swollen and fast-moving river on the Mingo County side just south of the bridge.
"They put a spotlight on him and almost immediately he went under the water and didn't come back up," said Kermit Volunteer Fire Department Chief Tommy "Tomahawk" Preece. "When they spotted him he was in the middle of the river in very swift water about 100 yards north of the bridge and that's when he went under and they lost sight of him."
Preece said both sides of the riverbank were subsequently searched for signs that Mills may have made it to shore and exited the water, however, there were no indications that he managed to do so.
Preece said the Kermit VFD Swift Water and Rescue team conducted a search until about 2 a.m. Sunday, at which time the search was suspended.
A concentrated recovery effort involving numerous boats, helicopter and drone aerial searches, as well as cadaver dogs, began later Sunday morning and was continuing as of presstime.
Aside from the KVFD, Martin County REACT, the Warfield Volunteer Fire Department, Mingo County Emergency Management, the Martin County Sheriff's Department, the West Virginia State Police, the Man Volunteer Fire Department, Taylor County  Search and Rescue, and Pike County (Kentucky) Search and Rescue are assisting in the recovery operation.