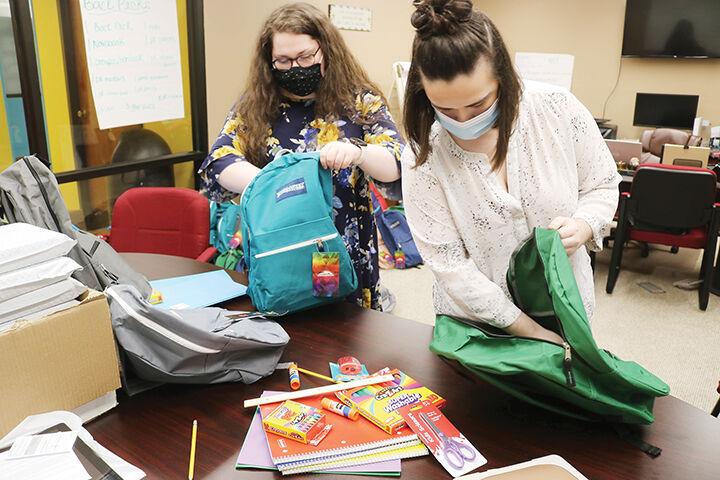 The Williamson Housing Authority's Family Resource Center was named an EnVision Center last fall and the authority is continuing its works to make the center fully operational. Last week, the hiring of two staff members for the facility was announced.
Katie Deaton and Ashley Justice were recently added to the WHA staff, according to Executive Director Pauline Sturgill. Deaton is the Authority's new VISTA and Justice is a social work graduate intern from the University of Pikeville. 
"Both of these ladies will be responsible over the next year with helping get our EnVision Center programs up and running," Sturgill said. "We are excited to have them on our staff. Katie and Ashley bring a new energy to our staff and I am looking forward to seeing what they will do. They are very organized and have already began planning several projects that will run from now to throughout the summer."
Justice said that many of the projects planned for the near future will be virtual activities because of COVID
restrictions on public gatherings. However, both Justice and Deaton are hoping some in-person projects may be able to be conducted during the summer when weather permits outdoor activities.
"We will be doing a lot of Zoom projects," Justice said. "Just because can't be in the same room doesn't mean we can't see each other. With Zoom we can still be able to see each other and talk to each other."
Sturgill said several residents at the housing authority she has talked to are excited about the projects. To facilitate Deaton and Justice's virtual plans, the authority has purchased a large number of tablets that residents can borrow if they don't already have any electronic devices which can connect to Zoom.
"We've tried to come up with events that will appeal to everyone from single elderly residents to full families," Deaton said. We want everyone to feel included."
To add the feeling of inclusion, she said, activities conducted through the EnVision Center are designed for members of the community as well as housing authority residents.
Deaton and Justice are currently distributing back-to-school backpacks to families at the housing authority.
"School has just restarted in-person classes in Mingo County and right now many families are not as stocked with school supplies as they usually are," Deaton said. "Christmas can be hard enough on families financially and adding the cost of school supplies can be difficult for them."
Other projects include things like virtual bingo, family game nights, Read Aloud Wednesdays, life lessons and healthy habits classes.
"We want the EnVision Center to be a hub of resources," Deaton said. "We want to find out what the needs are in the community and then find and offer the resources to fill those needs."
EnVision Centers were first introduced by U.S. Department of Housing and Urban Development (HUD) Secretary Ben Carson. While there are 60 centers across the country, The Williamson location is the first such facility within the state of West Virginia and the eighth HUD's Mid-Atlantic Region.
The designation of the Williamson Resource Center as an EnVision Center was made in October 2020 by HUD Mid-Atlantic Regional Administrator Joe DeFelice.
"These EnVision Centers are extremely important and were the brainchild of my boss Ben Carson. He thought it was nice to build buildings, but we should really be investing in our people. In 30 or 40 years we will be tearing down those buildings for new ones," DeFelice said during the designation ceremony He believes it is more important to break the cycle of intergenerational poverty which has had too many people for too long."
EnVision Centers offer families who receive HUD assistance access to support services that can help them achieve self-sufficiency, according to DeFelice. This in turn will make federal resources more available to a greater number of households currently waiting to receive HUD assistance.
The facilities are located on or near public housing developments. EnVision Centers are centralized hubs that support four key pillars of self-sufficiency:
• Economic empowerment;
• Educational advancement;
• Health and wellness; and
• Character and leadership.