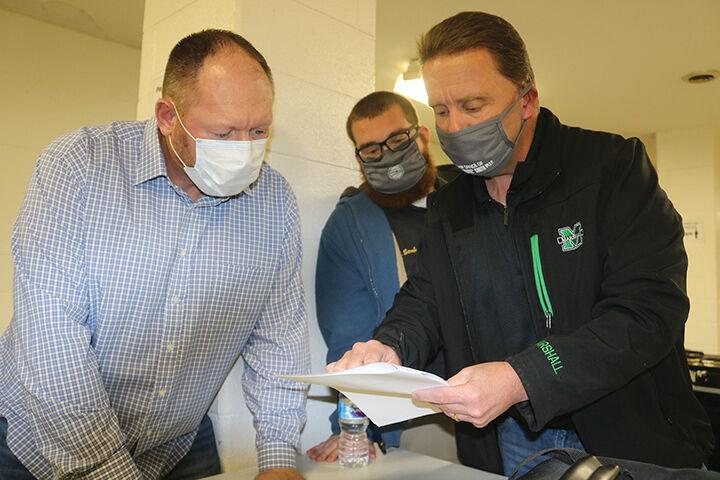 (Editor's note: The results listed in the following story are based solely on the ballots cast from Mingo County voters. Statewide and national results are not reported below.)
The 2020 general election, other than a couple of local races, held few surprises as Republican nominee for president of the United States incumbent  Donald Trump easily won Mingo County by a wide margin of votes over Democratic nominee Joe Biden.
According to Mingo County Clerk Judy Harvey, voter turnout for the election was extremely high with about 50 percent of Mingo County's approximately 20,000 voters casting ballots. Of those, Trump claimed 8,521 votes with Biden taking 1,385.
Two other candidates for the office of president of the United States, Jo Jorgensen (LBN.) received 58 votes and Mountain Party candidate Howie Hawkins garnered 23 votes.
The local surprises came with an upset by Republicant political newcomer Gavin Smith defeating three-term Democratic incumbent Greg "Hootie" Smith in the race for Mingo County Commissioner and incumbent Mingo County Prosecutor Jonathan "Duke" Jewel squeaking past Republican challenger Brock Mounts by a narrow margin of 12 votes.
Gavin Smith took 5,605 votes for the victory over Hootie Smith's 4,179 votes to become the commissioner-elect. In the prosecutor's race Jewel took 4,753 votes to Mounts' 4,741 votes. Both of these races were being closely watched by local political pundits who were very vocal about the possibility of a changing of the guards taking place.  (See related stories.)
West Virginia statewide offices
United States Sen. Shelly Moore Capito (R) claimed 7,742 votes, easily retaining her seat over Paula Jean Swearengin (D) who took 1,512 votes and David Moran's (LBN) 226 votes.
Likewise, incumbent to the U.S. House of Representatives Third District Carol Miller (R) kept her post with a vote of 7,045 to 1,784 over Democratic challenger Hilary Turner.
Incumbent Gov. Jim Justice (R) will serve another four years garnering 7,436 votes over Ben Salango (D) with 2,011 votes; Erika Kolenich (LBN), 127; and Daniel Lutz Jr. (MTN), 79. The governor's race also had 139 write-in votes from Mingo County residents. This was more than the combined total (110) of write-in votes for every challenged race on the general election ballot. It was also just short of the combined total (153) of write in votes for the three uncontested races.  
Incumbent Mac Warner (R) won Mingo County's nod for the post of Secretary of State with 6,206 votes over Democratic challenger Natalie Tennant's 2,979..
In the race for Auditor, incumbent John McCuskey (R) defeated Mary Ann Roebuck Claytor (D) 6,466 to 1,991.
Riley Moore (R) took 5,115 votes in the Treasurer's race over incumbent John Perdue (D) 3,818 votes.
For the post of Commissioner of Agriculture, incumbent Rep. Ken Leonhardt claimed 6,129 votes to Democratic challenger Bob Beach's 2,181.
Incumbent WV Attorney General Patrick Morrisey (R) received 6,855 votes to Sam Brown Petsonk's (D) 2,289.
Republican incumbent West Virginia State Senator Sixth District Chandler Swope who ran unchallenged garnered 4,683 votes.
In the race for West Virginia State Senator Seventh District Rupie Phillips (R) captured 1,969 to Dem. Ralph Rodighiero's 1,030 votes.
Incumbent Nathan Brown (D) easily defended his position from challenger Matthew Deskins with a vote of 3,206 to 2,388 in the 20th District Delegate's race.
West Virginia House of Delegates 21th District incumbent Mark Dean (R) managed to keep his office with a vote of 2,582 to 1,280 against the challenge waged by Phyllis White (D). The 21 District is composed of portions of Mingo and Wyoming Counties. The final total for the entire district gave Dean an even greater lead over White with a vote count of 4,284 to 1,874.
Mingo County races
In addition to one Mingo County Commission seat and the post of  Mingo County prosecutor, all other county elected offices were up for grabs in the general election.
Larry "Yogi" Croaff (D) landed a victory against Russell Deskins (R) with a vote of 5,258 to 4,162 to fill the term for Mingo County Clerk. Former Clerk Big Jim Hatfiled resigned the post in October 2018 and the Mingo County Commission named Deputy Clerk Judy Harvey as interim clerk until an election could be conducted. Harvey was selected because she did not desire to have the position on a permanent basis, thereby not giving any potential candidate any undue preference as the incumbent. In the previous election Hatfield was elected as the county clerk over Croaff by only 17 votes.
Democratic candidate Joe Smith easily took a victory over Republican candidate Ernest Sammons with a vote of 6,202 to 3,398 for office of Mingo County Sheriff.
Incumbent Ramona Mahon (D), who ran unopposed, garnered 7,462 votes.
Likewise, incumbent Jimmy Webb (D), who had no challenger, took 7,180 votes.
In addition to high voter turnout Tuesday, the 10-day early voting period also saw a high number of participants. According to Deputy Clerk Angie Bowning there was a record number with 2,493 voters taking part in early voting. That amounted to approximately 45 percent of the total number of voters (5,598) who cast their ballots in the May 2020 primary election.
There were 700 absentee ballots mailed to Mingo County voters for the general election, Browning said. Of those, 650 were received back at the clerk's office on Tuesday. The remaining 50 will still be counted if they are returned to the clerk's office with a postmark of 11:59 p.m., Tuesday, Nov. 3.
"This was the biggest election Mingo County has ever had," Browning said. "It was all we could do to keep ballots at all the precincts. We were at almost every precinct throughout the day."
Other than precincts running low on ballots, the only other problem Browning reported during the election was the counting of the early votes that were cast at the courthouse created by a problem with the machine's memory stick.
"We reran all the ballots through the machine and a person from the secretary of state's office watched as we did it," Browning said.
The totals given during Tuesday's election are considered unofficial. According to Browning, an election canvass will be held Tuesday afternoon at which time any remaining absentee ballots will be counted and provisional ballots will be either validated and counted or spoiled and not counted.