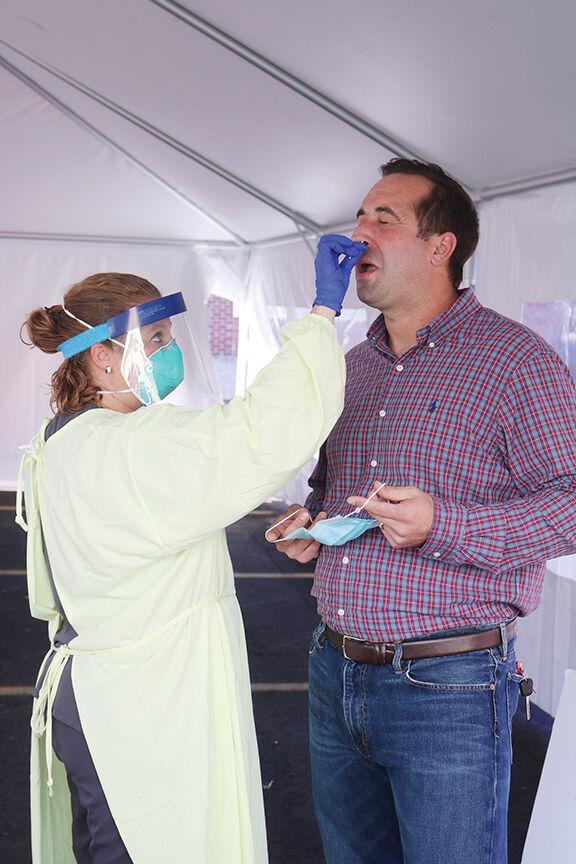 Mingo County Health Department officials have launched a new Facebook campaign that they are anticipating will encourage more of the county's residents to get tested for COVID-19.
The campaign is also intended to get a greater number of people to begin following safety measures and protocol much more closely going forward than generally has been practiced in the past.
The initiative coincides with Gov. Jim Justice's recent new mandate directing counties that are in the gold, orange, or red categories on the state's color-coded alert map to test at multiple sites at different times of the day throughout the week.
Due to testing numbers continuing to be too low and general public indifference towards the virus seemingly remaining too high, said MCHD Administrator Keith Blankenship, the health department is challenging residents and government leadership to post either a hopeful blurb or video on Facebook.
"We remain in the red and our kids remain out of school, so if we're going to get our kids back in school then we have to get people more serious about face-coverings, social distancing, and getting tested so we can begin to lower our positivity rate," Blankenship said. "We decided a possibly good way to do that was to make this challenge to everyone. Our hope is it will snowball and lead to people making the challenge to their family members, friends and co-workers so that maybe we can start getting a handle on this thing."
Blankenship said he has already posted a video of himself getting tested and has already received positive feedback from not only local residents but also a number of elected officials.
"Several local and state officials have already done one or told us that they plan to do one, so we feel like we've already been getting and will continue to get a lot of support," he said.
Blankenship said a total of 583 people have been tested since Nov. 5 through Wednesday, Nov. 11, with 53 having been confirmed positive through that period.
The county's 7-day trend as listed on the WV DHHR's Dashboard, which determines a given county's color code on the alert map, begins at midnight on Thursday each week and extends to the following Thursday at midnight.
As of presstime, Mingo County remained at a 9.1 positivity rate through this period and kept the county red on the alert map.
"We have to be at or below 7.99 percent by midnight Thursday this week to leave red and achieve orange," he said. "To get the kids back in school next week we have to be below 5 percent by that time."
In order for the county to be successful in lowering positivity rates enough to get kids back into the classroom, Blankenship said, a minimum of 1,000 people have to be tested each week.
He said a big problem the county is still experiencing with positivity rates is too many of its residents are going to larger franchise rapid test centers in bordering states like Kentucky for the rapid test that gives near immediate results.
He said the results of these tests — particularly the results of the more numerable negative cases needed to offset and lower the positivity rates — are far too often not being reported back to Mingo County.
"ARH doesn't do the rapid test and they have been absolutely wonderful getting results back to us," he said. "But ideally we need to have as many people as possible getting their tests done in Mingo County so we can make 100 percent sure we're accurately accounting for all of them."
Blankenship said another alarming development that health officials are now watching closely is the fact that more of the county's young people are beginning to test positive for the virus. Of the 83 confirmed positive cases reported during the week of Nov. 1-7, he said about half of these were young people.
"A new trend we're seeing is more and more young people are testing positive," he said. "Of the 83 confirmed cases last week, 42 of them were under the age of 30. So it's clear younger people are getting it now."
To date, there has been an overall total of 9,035 people tested in Mingo County, 797 of whom have been confirmed positive cases. Currently there are 308 active cases.
There have been 477 recoveries and 12 deaths, the latest two deaths being that of a 72 year-old woman who died at Cabell-Huntington Hospital on Friday, Nov. 6, and a 67 year-old man who died Tuesday, Nov. 10, at Saint Mary's Hospital in Huntington.
The county's testing schedule for next week, Blankenship noted, will be posted on the MCHD's Facebook page when sites and days are finalized.
Testing sites and times for the remainder of this week, Nov. 13-14, are as follows:
Friday, Nov. 13:
9 a.m. – noon
Williamson First United Methodist Church
2nd Ave. and Dickinson St., Williamson
2 p.m. – 6 p.m.
Delbarton Volunteer Fire Department
68 Farley Ave., Delbarton (In front of the fire department)
9 a.m. – 2 p.m.
Williamson Health & Wellness Center
183 2nd Ave., Williamson (Under the Tent)
Saturday, Nov. 14:
9 a.m. – noon
Wharncliffe Volunteer Fire Department
Wharncliffe
2 p.m. – 6 p.m.
Baisden Volunteer Fire Department
Baisden
In addition, Hurley Drug Company in Williamson is testing daily from 10 a.m. to 3 p.m.