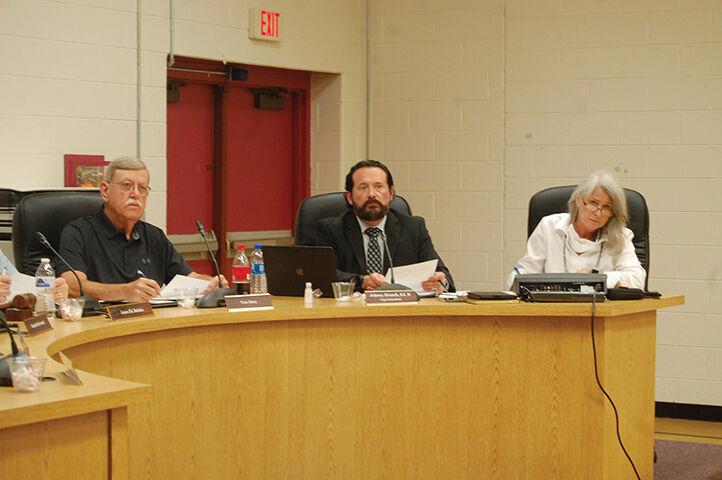 After reconvening from a lengthy executive session to discuss personnel issues during the initial part of last Thursday's workshop meeting, the Mingo County Board of Education voted to approve a contract with Ashlock Consulting.
The contract will have that company aligning with and preparing Ashlock phonics materials and resources for the county's newly adopted ELA (English/Language/Arts) textbooks.
While addressing the board about the proposed contract, Director of Early Learning Programs Dr. Sabrina Runyon said Ashlock is recognized throughout the world as being a multi-dimensional company whose learning materials have proven to be very effective in the development of students' phonics and reading skills.
"We had a discussion a couple of years ago with our teachers while we were out observing some classes, and I got in contact with Ms. Ashlock to begin conversations," Runyon said.
After then explaining the program to now retired Superintendent Don Spence, which Runyon described as being a complete ELA reading, phonics and writing curriculum for the county's textbooks, she contacted Ashlock and began a training program for herself and the instructional coaches. Training, she said, remains ongoing.
"We've been going for a whole year now and still haven't finished everything … so (the instructional coaches) can be trainers as well as help the teachers to facilitate Ashlock," she explained.
Runyon said Ashlock provided the county's principals and those designees at the schools with a free program with which they could watch videos on how to schedule optimal proficiency in reading.
"What we as a county decided to do at that time was to not move forward because of the adopted ELA textbooks we had last year, but now with our newly adopted textbooks, we will have (Ashlock) perform the duties…they're checking every single page in every grade level, PK through four," she said. "The teachers and coaches are so excited because we tried to have our coaches do all these a few years ago but it wasn't like what (Ashlock) does."
Runyon said Ashlock would be making practice sets, priority reading plans, priority reading standard maps, K-1 star lesson plans, clipboard checks, priority language plans, priority writing standard maps, as well as offering sustained professional development training via virtual until January 2022. She said in-person training would follow the virtual training.
While she pointed out the consultation program and training for it is not inexpensive—costing around $290,000—Runyon said the money to pay for it will come from leftover Title I funds as well as from a literacy grant for which she applies and receives each year.
In other business, the board began discussion on a number of goals that board member John Preece recently compiled, some of which he believes can be reached this coming school year if officially set by the board in a timely manner.
Among the goals listed by Preece during the workshop meeting were to establish CTE classes for students in grades six through 12; one that would have schools scoring at or above the WVSGA and SAT School Day medians; one that stresses a phonics-led curriculum in grades PK through four, with the emphasis being on comprehension in grades three through four; and one specifying that attendance rates for both students and teachers increase to 95 percent.
Additional goals, as well as possible action taken on them and those listed last week, will be further discussed during the board's next regular meeting on July 27.