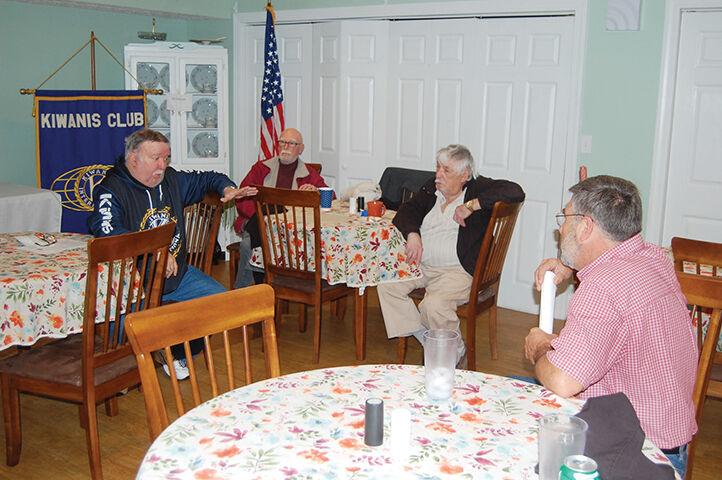 The few remaining Williamson Kiwanis Club members might soon look back and sum up their organization's current dilemma using a most fitting line from literature: "It was the best of times, it was the worst of times."
The best of times because next month — Nov. 12, 2020 to be precise — their club will be celebrating a noteworthy accomplishment for any organization: the 100th year of its founding; the worst of times because, unless the club's fortunes change soon, this 100th anniversary year could also mark the final one of its existence.
Presently the club stands at a mere eight members, with an average of three to four of these now managing to attend monthly meetings. (Only three members attended the October meeting, which was held Monday evening at the Tug Valley Inn in Williamson.)
During one of its zenith periods in the mid-1950s, when Bob Gilliam became a member, the club had around 150 members coming from all walks of life.
Doctors, lawyers, bankers, various other business owners, as well as both local and state government officeholders, were just a representative sampling of the kinds of people who made up the club's membership back in its more halcyon days.
And while there was a slight drop-off in membership eight years later in 1963 when 80 year-old Doyle Van Meter joined its ranks, the club not only maintained this impressive assortment of individuals but still boasted 113 members.
"It really doesn't matter how far you go back, because when my father (M. W. Gilliam) was president in 1935, there was always a large membership with people who worked hard to make the community better," Bob said. "There's just no interest from the younger people today and that's why we're at the place we are now."
Van Meter expressed a similar sentiment.
"It seems there are just so many other things for people to do with their time these days that they've become indifferent to things like taking an interest in their community and trying to improve things for everyone," Doyle said. "I also think people have become discouraged during the last several years over the local economy and just the state of the country itself, which also has played a big part in it."
A third generation of the Gilliam family, Matthew, who at the encouragement of his father Bob became a member in 1985, said he would like to believe the COVID-19 pandemic has had a big hand in the club's decline as well.
However, much like his father and Doyle, he understands the cause of the club's current troubles goes much deeper and has lingered for a much longer period of time than that.
"Obviously, generating interest this past year has been very difficult with everything that's happened with the virus, but the problems we're facing right now have been building for a long time," Matthew said. "The bottom line is we're running out of members, and if we don't begin getting some new ones much sooner than later, the reality is we're no longer going to exist as a club."
Noting that Kiwanis Club International has always been a big supporter of youth, Matthew said among the many areas for kids on which the Williamson club has specifically focused over the years include the annual Kiwanis Senior Bowl, featuring teams from the bordering states of West Virginia and Kentucky; a yearly Halloween Party for the community's youth at the Williamson Fieldhouse; the annual "Top of the Class," which celebrates and provides scholarship money for the top seniors from Mingo as well as Pike and Martin counties in Kentucky; the sponsorship of Little League Baseball and youth football teams; and for having been the chartering organization for the local Boy Scout Troop 321.
Keith White, who is the president-elect of the WV District of the Kiwanis Club as well as a member of the Logan chapter and who attended Monday's meeting, offered a consolation of sorts by telling the Williamson club members their current situation is far from being an isolated case.
"Right now there are only 589 members statewide, and it's not all that much better in other states," he said. "Kiwanis International is concerned because it feels with a country as large as ours and with as many people as we have this should not be happening.
"But the reality is, all clubs, not just ours, are facing the same serious decline in membership, and unfortunately it mostly has to do with a lack of interest."
Despite the low membership problem and its threat to end the Williamson organization, Matthew said the club is still working on plans to commemorate next month's milestone anniversary.
"With COVID, we're not too sure what we're going to be able to do just yet, but we're definitely going to celebrate the occasion in some way because it is a milestone that not too many others have had the privilege to reach," he said.