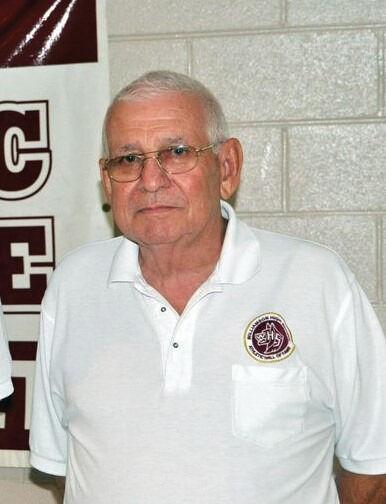 The long-time serving executive director of the Tug Valley Chamber of Commerce and a veteran educator died Tuesday, Nov. 16, at the Pikeville (Kentucky) Medical Center.
Cecil Hatfield, 83, left his mark on the Williamson community in many ways from his work with the chamber, the school system and local athletics.
"Cecil is one of those people who we will be lost without," said Leigh Ann Ray, who served as both vice president and president of the chamber while Hatfield was the executive director.
She called Hatfield an historian both in the sense of his family heritage and of local, community knowledge.
"He thoroughly enjoyed talking about the area and its history," Ray continued as she wiped away tears. "Cecil had a way with people. He cared for them and it showed. I will miss him."
Hatfield was a Williamson native and graduated from the former Williamson High School. He earned a degree in education from Berea (Kentucky) College and his master's degree from Morehead (Kentucky) State University. He conducted advanced graduate studies at Marshall University and earned an NDEA fellowship at the University of Maryland.
He was a career-long educator in Mingo County teaching in both the high and junior high schools. He was an assistant principal at Williamson High School. He was the first principal at the Williamson Junior High School and the director of the Mingo County Vocational School when it became a separate facility.
He was very involved with various athletic organizations and was one of the founders of the Williamson High School Athletic Hall of Fame. He was the head coach for the baseball team as well as an assistant coach for the football and basketball teams. One of the teams he coached won the West Virginia State Baseball Championship in 1964. He worked tirelessly with the WHS Athletic Hall of Fame to recognize the WHS Athletes who excelled.
It was after his retirement from teaching that he accepted his post at the chamber. While there, Hatfield was instrumental in bringing attention to Mingo County as a tourism destination and was instrumental in creation of the Hatfield-McCoy Marathon.
Hatfiled was active in both the Moose Lodge and in the BPOE Lodge. He served as Exalted Ruler of the West Virginia Elks organization. Through these organizations, he sponsored baseball teams for many young men of the Tug Valley area and assisted students with college scholarships.
Because of the COVID-19 pandemic, private services were conducted at R.E. Rogers Funeral Home in Belfry, Kentucky, on Thursday, Nov. 19, He was buried in the Mountain View Memory Gardens at Maher.