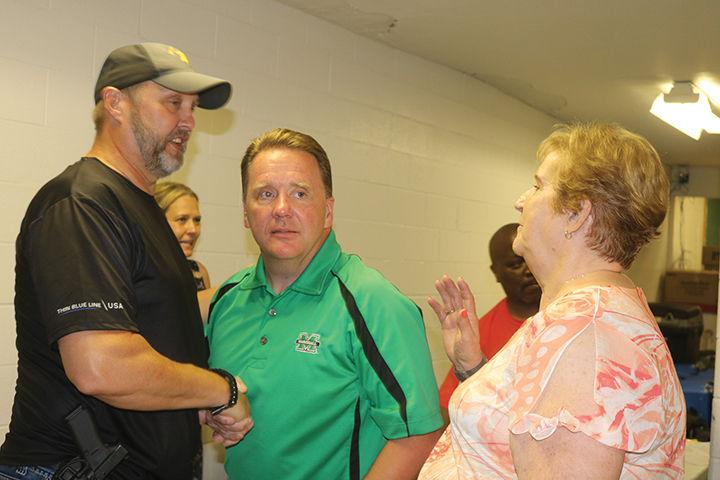 The Mingo County primary election was conducted Tuesday, June 9, while there were many changes concerning the physical aspects of the election, the vote tallies showed little surprises in the outcome.
Last week, the Mingo County Commission was forced to execute an emergency order to move the polling location for Precinct One (East Williamson). Voters in that precinct normally vote at Williamson Towers, however, management of that facility informed the commission that the building would not be able to be used because of increased fears of a COVID-19 exposure to the elderly residents of Williamson Towers. Voter in East End were allowed to vote at the Williamson Fire Department.
Other changes to the election process included new voting machines and maintaining COVID-19 restriction protocols including social distancing and  providing PPE (personal protection equipment) such gloves and masks for both poll workers and voters, according to Mingo County Clerk Judy Harvey.
Harvey also said that approximately 1,200 absentee ballots were mailed to Mingo County voters who chose to cast their ballots via mail. As of election day more than 900 of those had been received by the clerk's office meaning less that 300 votes were not counted Tuesday. Voter choosing to vote by mail could send in ballots as long as they were postmarked prior to midnight on Wednesday, June 10.
Harvey said she believes many of those ballots would be spoiled as voters opted to vote in person at their local precincts. Any voter who had changed their minds about mail-in ballots simply had to bring the absentee ballot with them to the precinct and exchange it for the ability to vote in person. The number of such spoiled ballots was unavailable as of presstime. However, the few local races on the ballot which were contested were won by more than a 300 vote margin.
Voter turnout was light with only slightly more than 28 percent (5,598) of Mingo County's 19,922 voters casting ballots in the primary election.
Locally, most races were unopposed except for a county commission seat, sheriff, one magistrate division, and two positions on the Mingo County Board of Education. All of the incumbents easily retained their offices.
Incumbent Mingo County Commissioner Greg "Hootie" Smith handily defeated political newcomer Johnny Nick Hager to win the Democratic nomination. Smith captured 2,252 votes to Hager's 1,452 votes. Smith will square off with the only Republican challenger, Gavin Smith who took 1,091 votes, during the general election in November.
"This was very difficult election. It was in the middle of June and everyone is concerned because of the coronavirus," Smith said. "But, I am so excited and thankful for my family and the voters of Mingo County who although the economic times have been difficult for our area and out state the showed tonight by more than 800 and some votes that they truly believe in me and trust in my leadership. I promise the voters of Mingo County to lead Mingo County to better days."
Incumbent Mingo County Division Three Magistrate Jim Harvey also faced a contested race. As the case in the commissioner's race, Harvey also easily maintained his position of magistrate as he soundedly outpaced challenger Billy Sexton by a margin of just over 2 to 1. Harvey received 3,253 votes to Sexton's 1,570 votes.
Division One Magistate Donald R. Sansom took 4,365 votes. Division Two Magistrate David Justice won 4,247 votes. Each of them ran unopposed.
The races for both Mingo County Sheriff and Mingo County Board of Education members were highly anticipated races (see related story).
The sheriff's race saw four Democrat and one Republican candidates. Sammons Earnest (R) with 973 votes will face Joe Smith (D), who won 2,158 votes, in the Fall. Smith currently serves as chief field deputy at the Mingo County Sheriff's Department. Smith's challengers received the following votes: David "Dave" Stratton, 457 votes; Jeff Cline, 371 votes; and Earl Spence, 823 votes.
Another political newcomer showed extremely strong results in her bid for a spot on the county school board. Machelle McCormmick was the top vote getter with 2,143 votes. She bested current Mingo County BOE President Sabrina Grace who garnered 2,037 votes. McCormick and Grace will take the seats up for election. Other candidates are: Robbie Adams, 1,627 votes; and Rita Adams Hatfield, 1,432 votes.
Larry "Yogi" Croaff (D) and Russell Deskins (R) were unopposed in their respective parties. Croaff won 2,838 votes. Deskins took 1,001 votes.
Incumbent Mingo County Prosecutor Jonathan "Duke" Jewell (D-unopposed) received 2,789 votes while Republican challenger Brock Mounts, also unopposed, had 973 votes.
Ramona Mahon (D), incumbent Mingo County Assessor, who ran with no Democratic or Republican opposition easily kept her position with 2,823 votes. The same case applied to Jimmy Lee Webb who ran for county surveyor getting 2,411 votes. Non-partisan Conservation District Supervisor candidate ran unopposed and took 3,538 votes.
On the national level President Donald Trump (R) took 1,525 votes in Mingo County and 194,975 votes across the state. Democratic challenger Joseph Biden captured 916 votes in Mingo County and 117,795 votes statewide.
For the position of U.S. Senator, incumbent Shelly Moore Capito (R) trounced challengers Larry Butcher and Allen Whitt. Capito won 1,266 votes in Mingo to Butcher's 110 votes and Whitt's 88 votes Statewide, Capito took 170,436 votes compared to Whitt's 19,535 votes.
On the Democractic side of the aisle, Richad Ojeda II won Mingo County with 1,384 votes against Paula Jean Swearengin's 524 votes. However, voters across the Mountain State disagreed with those results with Swearengin getting 68,888 votes to Ojeda's 59,826 votes.
Incumbent Carol Miller (R) took the Republican nomination for U.S. House of Representatives in the Third District over challenger Russel Sigel by more than a two to one margin with a vote of 39,110 to 16,661 statewide and 1,077 to 241 in Mingo County.
Paul E. Davis took the Democratic lead in Mingo County with a vote of 884 to Lacy Watson's 459. However the tide changed as votes from across the state came in giving Watson the victory with 16,308 to Davis' 13,382. Hilary Turner received 607 votes in Mingo County, 15,881; Jeff Lewis 501 in Mingo, 9,189 statewide.
For state offices, incumbent Gov. Jim Justice (R)  easily took the nomination receiving 1,178 votes in  Mingo County and 131,131 statewide. Mingo Countians gave the following votes to the following Republican candidates: Shelby Jean Fitzhugh12; Brooke Lunsford, 34; Doug Six, 16; Michael Folk, 155; Charles Sheedy Sr., 11; and Woody Thrasher, 90.
Ben Salango took the Democrat's nomination for governor with 1,056 votes in Mingo County with 72,364 votes statewide. Other candidates received the following votes in Mingo County: Ron Stollings, 606; Jody Murphy, 75; Stephen Smith, 514; and Douglas Hughes, 713.
Both Republican and Democrat candidates for Secretary of State ran unopposed in their respective parties. Incumbent Mac Warneer (R) took 1,134 votes in Mingo and 176,915 in the state. Challenger Natalie Tennant took 2,556 votes in Mingo and 175,600 across the state.
Candidates for State Auditor also ran unopposed. Riley Moore (R) took 1,004, Mingo, 166,977, statewide; Mary Ann Roebuck Claytor (D), 1,920, Mingo; 156,089, statewide.
Voters gave Riley Moore (R) 1,004 votes in Mingo County and 166,977 statewide for the office of Treasurer. John D. Perdue (D) took 2,373 in Mingo and 170,519 statewide.
The Republican nomination for the office of Commissioner of Agriculture went to Kent Leonhardt with 482 votes in Mingo County and 113,586 statewide. While challenger Roy Ramey did not fare as well statewide, he did take Mingo County with 650 votes. Bob Beach (D) had 1,128 votes in Mingo County and 81,074 votes statewide. Other Democratic challengers took the following votes in Mingo County: WM J.R. Keplinger,472; Dave Miller, 781.
Incumbent Attorney General Patrick Morrisey (R) ran unchallenged and received 1,126 votes in Mingo County and 172,477 statewide. Democrat Sam Brown Petsonk took 1,386 votes in Mingo County while challenger Isaac Sponaugle had 990 votes but the tide changed statewide has Sponaugle landed 84,112 to Petsonk's 83,195.
Chandler Swope (R) did not fare well in Mingo County for the office of Sixth District State Senator gaining only 118 votes to Wesley Blankenship's 688 but districtwide he swept the votes with 6,475 to 2,474. On the Democratic side of the aisle there was no candidate who ran for the office.
Seventh District State Senator candidate Rupie Phillips (R) had no challegengers and received 374 votes in Mingo and 5,747 in the district; Ralph Rodighiero took 675 votes in Mingo and 9,963 districtwide.
In the race for 20th District House of Delegates, Matthew Deskins (R) was unopposed and took 592 votes in Mingo County and 673 in the district. Incumbent Nathan Brown (D) had 1,981 votes in Mingo County and 2,174 in the district.
Incumbent Mark Dean (R) and challenger Phyllis White (D) both were unopposed in their bids for their parties' nominations for 21st District House of Delegates. The votes were: Dean, 612, Mingo, 962, district; White, 1,015, Mingo, 1,431, district.
Mingo County results for the justices of the Supreme Court of Appeals of West Virginia are as follows:
Division One: Richard Neely, 2,002; Tim Armstead, 1,574; David Hummel Jr. 349, and 14 write-ins. Division Two: Joanna Tabit, 1,225; Jim Douglas, 1,156; William Wooton, 1,102; Kristina Raynes 473; and three write-ins. Division Three (unexpired term): Bill Schwartz, 1,460; John Hutchison, 1,356; Lora Dyer 782; and three write-ins.
All local voting results were supplied by the Mingo County Clerk's Office. National, state and district results were taken from the West Virginia Secretary of State's Office. All results are considered unofficial until the canvass is conducted.