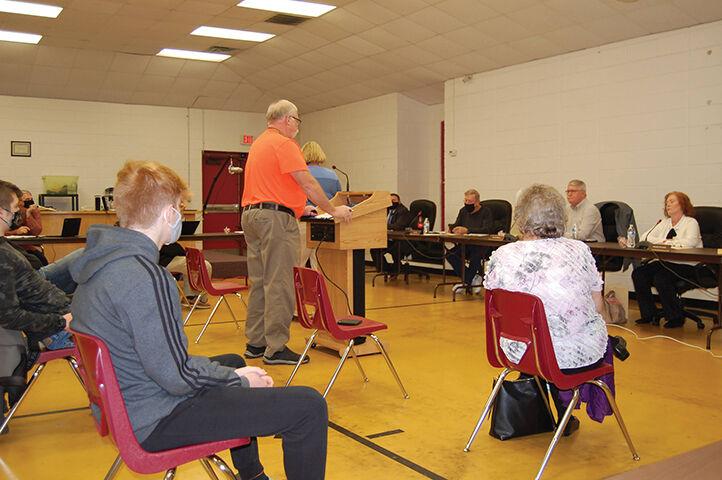 Coming directly on the heels of the state giving the green light for at least elementary and middle school students to return to in-school instruction, during its regular meeting Tuesday evening the Mingo County Board of Education voted unanimously to keep in place the 4-1 learning model that it adopted in August.
In late December, Gov. Jim Justice issued a directive allowing for the state's elementary and middle school students to return to in-person instruction this week, regardless of color designation on the state's color-coded mapping system.
The exception was for all high school students, who for now will remain under the direction of that mapping system and in remote learning on a week to week basis while their respective counties attempt to achieve an orange or lower color designation.
Justice based the exception for high schools on the science that children 14 years old and younger transmit the virus at a lower rate than do children above 14.
The BOE's reentry schedule officially adopted Tuesday evening will have students attending in person four days, Monday through Thursday, and receiving instruction on Friday via remote learning. Those students opting for virtual learning five days a week will still have that opportunity.
Aside from the 4-1 model, the board also considered a blended A-B model. This specific schedule would break up the week into alternating two-day in-person learning sessions (for example Monday/Tuesday and Wednesday/Thursday) with three days of remote learning.  Half of the students would attend the "A" session and the other half would attend the "B" session.
While the blended model would provide for less student population in the schools at one time and achieve more effective social distancing within the classrooms, the Board ultimately decided that getting all students back into the buildings and affording them some semblance of normality had to be a top priority in the selection of any reentry schedule.
As expected, Tuesday's decision did not come without a great deal of discussion and debate. Many of the county's teachers and service personnel had previously voiced their concerns over returning with the pandemic still very much prevalent within the county.
Through group or individual phone/email/video conference communications, some school employees had asked board members to consider remaining in the remote model or at least in the blended option until first and second vaccine inoculations could be given to teachers and other school employees.
While he acknowledged all the diverse concerns expressed, as well as the reasons given for adopting the blended schedule, Board President James Ed Baisden said most if not all the emails and calls he had received were in favor of getting kids back into the classroom for as many days a week as the situation would allow.
"I personally want our kids back in school, and every teacher I've spoken to wants the kids back in the classroom … but this is a serious topic in need of serious discussion and I want to make sure we do discuss it and get the opinions of the entire board before we decide anything," he said.
Board member Tom Slone said most of the school employees he communicated with also indicated they wanted to return to the 4-1-classroom schedule, mainly because this schedule would also provide teachers with at least one day to teach and prepare for virtual/remote learning.
He pointed out it would also allow for the time needed for the preparation and delivery of home meals for both remote and virtual students on Friday.
Board member Machelle McCormick said she was in favor of the 4-1 model when it was first adopted at the beginning of the 2020-21 school year and that she continued to support it now.
Board member Sabrina Grace said she not only wanted to get the elementary and middle school students back in the classroom for as many days a week as possible, but that, if workable, also afford high school students the same opportunity.
Grace noted how the state's color-coded alert map has limited Mingo County's students' classroom time to only 12 days this school year. She said smaller counties with higher infection rates have been able to attend in person more days due to their having adequate healthcare facilities to conduct more COVID-19 tests, having many times reduced positivity rates enough to allow them to attend school.
She further pointed out the importance of students attending school for as many days a week as feasible because, along with having repeatedly been denied the critical daily social interaction and support they need and depend on from their classmates and teachers, "good students are failing."
Citing he personally felt as if both the A-B and 4-1 schedule options fell short of what was needed to bring the county's students back a little closer to normality, board member John Preece suggested that Mingo County adopt a 5-day in-school schedule.
Because the other board members were in agreement that Fridays are needed for remote instruction as well as for teacher planning and home meal preparation/delivery, no further consideration was given to Preece's suggestion.
Although she firmly reiterated her belief that students should be receiving instruction in the classroom instead of by what many teachers and students describe as being frequently problematic remote learning, Grace suggested a compromise and then made a motion that would have students begin the second semester with the blended option for the first two weeks before settling in for the remainder of the year with the 4-1 option.
That motion died for lack of a second.
Following a recommendation by Superintendent Don Spence that the board embrace the 4-1 in-school model, ultimately all five board members voted for the measure.