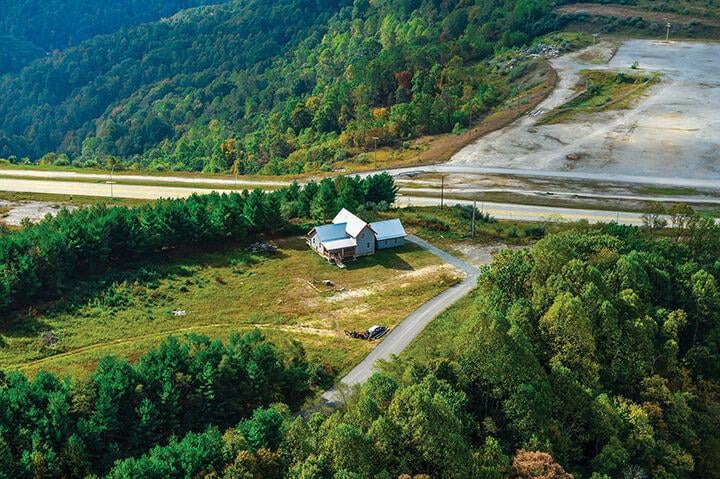 A private development project that will transform a stalled housing site into a first-class ATV resort represents, particularly for Mingo County, still another promising local tourism enterprise.
During a recent interview with the Messenger, Mingo County Redevelopment Authority Executive Director Leasha Johnson said, when fully developed, the MCRA's former Central Mountain Heights housing site located alongside the King Coal Highway and near Mingo Central High School is expected to feature high quality vacation cabins, a pavilion, a wellness center and an art exhibit/sculpture denoting the history of coal mining's contributions to the country's growth.
Johnson said the housing site was jointly purchased recently from the MCRA by HighWall Properties, LLC, which is comprised of Gilbert natives Terry and Penny Sammons and Coalfield Development Corporation.
"Jointly, the Sammons and CDC presented an impressive development concept for a large portion of the property," Johnson said. "Initially, they proposed to purchase only the lots that are situated on the highwall, which are lots 19 through 26, with plans for a mixed use development."
Because both the Sammons and CDC have experience in developing properties for successful commercial use, and because they both bring distinct skill sets to the proposed development, Johnson said the MCRA was "encouraged by their [initial] proposal" and accepted their offer to buy lots 19 through 26 of the highwall properties.
Johnson said the Sammons and CDC ultimately also agreed to buy the "spec house" and the lot upon which it's constructed (lot 18), as well as the adjacent lot 17. She said immediate plans call for several landscaping improvements as well as to furnish the house for near-term renting to trail riders.
She added that HighWall Properties, LLC has also signed a one year option to buy the remaining 24.39 acres for further and continued development of the tourism resort.
When the Mingo County Redevelopment Authority decided to develop the Central Mountain Heights housing site during the construction of the King Coal Highway while that roadway project was under constructed between 2006-10, Johnson said prospects that Mingo County residents would purchase lots and build new homes there in the future were high.
A new highway allowing for easy access to the site, a newly constructed ultra-modern high school almost within walking distance, the site being safely out of the floodplain and, as an added bonus, coming with a panoramic view of mountain and valley scenery likely not comparable anywhere else in southern West Virginia, seemed strong selling points.
As a way to jumpstart the property's development in the sluggish housing market that resulted from the downturn of coal at about the same time, Johnson said the MCRA partnered with Coalfield Development Corporations's Revitalize Appalachia to build a spec house on the property that it anticipated would then sell at a fair market price and ultimately serve as a catalyst for additional construction on the site.
Due to the continued downturn of the coal industry, however, Johnson said the MCRA was unsuccessful in selling the house at a fair market value, and that continued development of the site by the MCRA became no longer economically feasible.
"We instead believed we should market the entire property as a tourism development site," Johnson said. "The development of a tourism site is more consistent with our mission of creating jobs and increasing the tax base, and with the exponential growth in our tourism sector, the timing of this strategic pivot presented an opportunity to grow our tourism infrastructure and to foster more entrepreneurial growth."
After advertising the property for sale in 2019, which included advertising locally, regionally and in a national developer's publication, Johnson said the only response the MCRA received was from the Sammons and Coalfield Development.
As it happened, she said, it couldn't have worked out better.
"These high quality vacation cabins for trail-riders and their families and that will offer a rustic-elegance feel, as well as a luxurious respite from the stress of everyday life, represent the first part of the mixed use development," Johnson said. "A pavilion and overlook that will take advantage of the incredible views afforded by this site, will attract special events such as weddings, reunions, retreats, etc., and it will also be part of the attraction for guests in the cabins.
"The future development of wellness center will benefit both residents and tourism guests, and the art exhibit (Coal Heritage Interpretative Installation) will be a major attraction for everyone, especially tourists wanting to learn more about our coal history".
Johnson said both the Sammons and Brandon Dennison with CDC have both given assurances that they intend to use local labor whenever possible, and to buy as much of the construction materials locally as possible, which she said "will add to the multiplier effect of the job creation from this project."
"They've already contracted with West Brothers, a locally owned contracting company, to do some groundskeeping on the property, and they're also planning to connect with the Graphic Arts class at Mingo Central to engage those students on integrating the natural views with the project design," she said. "This is such an exciting development for Mingo County. With quality of life and job creation at livable wages underlying their entire development, this project will be transformational for Mingo County's tourism and hospitality industries, and we're incredibly grateful for both their vision and their investment."