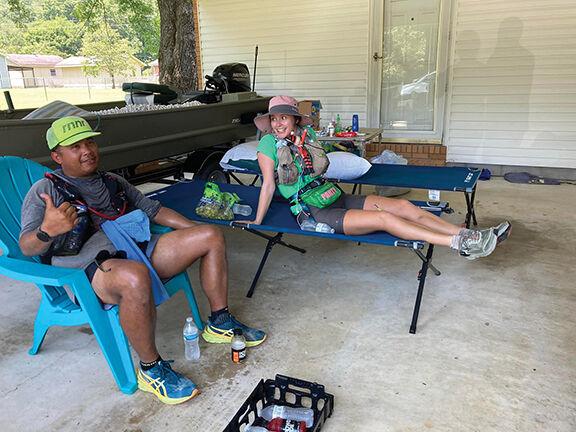 When Alexis Batausa and fellow local runners Salena Porter Ferguson and Rich Hanson first decided to enter the "Last Annual Vol State Road Race" a few months back, they fully understood it was going to be the most physically and mentally challenging race that any of the three had ever attempted before.
The race encompasses a 314-mile course through five states — Missouri, Tennessee, Kentucky, Alabama and Georgia.
Considering it was being held in arguably the hottest month of the year (July), requiring the participants to sleep and grab meals anywhere they could, overcome physical and mental issues that were sure to arise, all while being required to finish the course in just 10 days, they didn't realize at the time how right they were going to be.
Just three days into the race that began on July 14, Ferguson failed to reach a certain point in the course in the amount of time allotted and was forced to withdraw. Hanson additionally dropped out, simply concluding the race was too physically demanding.
Batausa was also seriously considering dropping out for similar reasons. And he would have had it not been for another runner, a complete stranger to the three named Jessy Nelson from Greeley, Colorado, managing to convince him to give it a little more time.
"I physically wanted to quit, but mentally I didn't," he said. "Rich decided he wasn't going any farther and Selena had to withdraw, but Jessy convinced me to try to keep going until we reached 'The Bench of Despair,' which is a well-known point in the race that traditionally if you make it there — which is about 200 miles into the race — you usually finish the entire course."
Batausa said, for him, the race turned out to be two metaphorical journeys: The first being taken with Ferguson and Hanson to enter and begin the race, with the second coming when he partnered with Nelson to continue on and see it to its end.
While most of the runners did manage to spend some of their rest time in hotels, and while some of them sometimes got the chance to eat a meal at a fast-food restaurant of some kind along the way, Batausa said rest periods more times than not came along the highway and meals from convenience stores that could be spaced out as far as 36 miles apart from each other.
Other physical trials, he said, included having to navigate the course at night when it was cooler but much more precarious and challenging, dealing with constant foot blisters and chafing, and trying to avoid being hit and killed by a car, as was nearly Nelson's fate not long after the race began.
He said all the trials notwithstanding, a remarkable 83 of the 113 runners who began the race managed to finish, with one of those competitors even more remarkably being an 80-year-woman who previously had only competed in a handful of endurance races.
"Through everything, we just kept finding ways to motivate ourselves and stay in the race," he said. "It was a very emotional experience for me because you really do learn a lot about yourself when doing something so physically and emotionally challenging and exhausting … you had to constantly fight the low points because any one of them could have possibly caused you to quit right on the spot."
Batausa said another important motivation came in the form of the support he received from friends and relatives back home who were following his daily progress via his regular Facebook posts.
"Jessy and I were complete strangers from two different parts of the country, and somehow we created this bond that helped each of us get through," he said, choking back tears. "But being spurred on by people back home really, really helped both of us get through the rough spots ...helped us get from the starting point in Hickman (Missouri) to the finish line in Castle Rock (Georgia)."
While even the most competitive runner might be satisfied with possibly having been only the second person in West Virginia to complete the Last Annual Vol State Road Race and therefore be perfectly content never to attempt such a physically challenging race again, not Batausa.
"It was the toughest thing I've ever done in my life, but it was also an amazing time because we met people from all over the world and we had an experience we'll never forget," he said. "That's why I want to do it again; that, and because I now know what to expect, maybe see if I can do it in six or seven days."