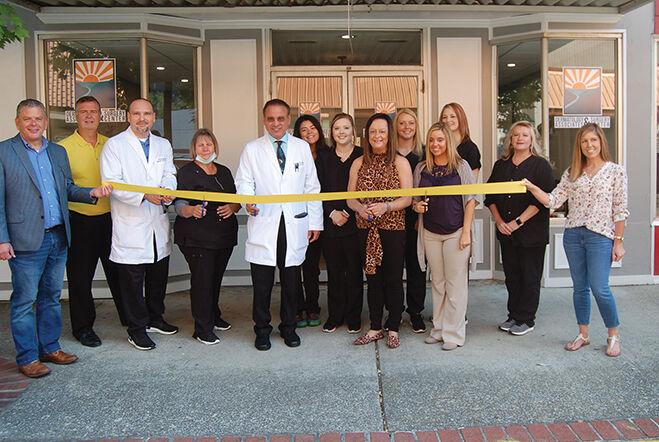 Should you have eczema, psoriasis or some other chronic skin disorder, or worse, suspect that small lesion on your face is skin cancer, prior to Monday, Aug. 31, if you were a Tug Valley area resident you would have had to travel to areas like Pikeville, Kentucky, or Charleston to have it looked at and treated by a dermatologist.
And, should you have chosen to travel to these other areas for treatment, chances are very good your appointment date would have had you waiting several weeks, if not months, before you finally got to see the dermatologist.
That's no longer the case in either instance. That's because the Tug Valley area now has its own dermatology center — Dermatology Associates and Surgery Center.
Although the center began seeing patients nearly two weeks ago, Tug Valley Chamber of Commerce and other officials joined staff on Sept. 8 to hold a ribbon-cutting at the center's location — 150 E 2nd Ave. in downtown Williamson — to make the center's grand opening official.
Eric Besenyei, who is director of Business Development, said the Williamson location is the eighth dermatology center the company's founder and owner, Dr. Nelson Velazquez, has established in West Virginia since opening the first in Beckley more than 25 years ago. The others are located in Princeton, Logan, Charleston, Martinsburg, Hagerstown,and Hurricane.
Besenyei said the mission of the center, the primary reason Dr. Velazquez opened his eighth practice in Williamson, is to continue to offer a valuable medical service to patients who have limited or no access at all to dermatology care in their immediate areas; this, as well as offer the added commitment of seeing and treating patients within two weeks of them making an appointment.
"By simply listening to the patients's concerns and needs, combined with a thorough examination of their dermatological issue, the 13 doctors at the eight centers provide the most efficient and effective care possible," Besenyei said.
Besenyei said the centers offer Mohs Micrographic Surgery for the treatment of skin cancers, which he explained is a procedure that entails individual layers of tissue being excised and examined under a microscope one at time until no further cancer tissue is detected. This procedure, he said, allows the surgeon to remove all cancerous cells while sparing as much normal tissue as possible.
He said the procedure is considered to be the most effective technique for removing basal and squamous cell carcinomas, which are the two most common types of skin cancer.
Besenyei additionally pointed out that DASC's in-house, full-service pathology lab and board certified dermatopathologist, offer patients fast and accurate biopsy results.
"Something else that makes Dermatology Associates a little different is we accept Medicare and both Kentucky and West Virginia Medicaid," he said.
Although Dr. Velazquez "floats around" and works at all the centers, which will include Williamson, Besenyei said Dr. Thomas Hagerman is the resident physician at the Williamson center.
For more information, visit the company's website at dascwv.com. To make an appointment call, (304) 237-5780.